Thursday night in the Portland Trail Blazers Practice Facility was the opportune time for Team USA to unveil its pressure defense, up-tempo style, and togetherness that it hopes will ultimately lead it to victory against the World Team on Saturday.
---
[url=2014 Nike Hoop Summit International Practice Day Four
2014 Nike Hoop Summit USA Practice Day One
2014 Nike Hoop Summit International Practice Day Three
2014 Nike Hoop Summit International Practice Day Two
2014 Nike Hoop Summit International Practice Day One
2014 Nike Hoop Summit International Measurements
2014 Nike Hoop Summit International Roster Breakdown
---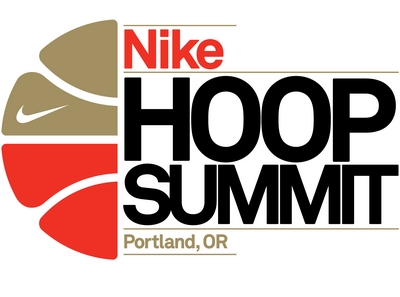 In a gym lined from wall to wall with NBA scouts and executives, against a team of former mid-major college players with nowhere near the talent of Team USA, the stage was set for the country's top prospects to dominate the four-quarter scrimmage and make a strong impression on some of the NBA's top decision-makers.
While Team USA won every quarter and ultimately finished the scrimmage victorious, 71-58, it certainly wasn't the dominating performance
Mike Jones
' team had been looking for.
The scrimmage squad broke Team USA's press with regularity and drilled outside shot after outside shot against a team full of long and explosive athletes.
On the flip side, Team USA struggled mightily to get anything going from the perimeter on the offensive end, one of its biggest concerns heading into Saturday's game. The starting lineup of
Jahlil Okafor
,
Cliff Alexander
,
Stanley Johnson
,
Theo Pinson
and
Tyus Jones
got Team USA out to an early 8-0 lead, but things got sloppy from there on out.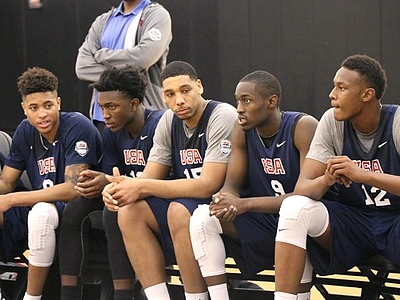 They hoisted up brick after brick from the perimeter and failed to knock down any 3-pointers over the course of the 40-minute game. Even made mid-range jump shots were few and far between.
But against a scrimmage team whose tallest player maxed out at 6' 6" (Markhuri Sanders-Frison), Team USA didn't need perimeter scoring to get the win.
While not all that efficient, Okafor had his way in the interior on multiple occasions, finishing an And 1 around the rim and getting to the foul line with regularity.
Reid Travis
dominated the offensive glass, finishing put backs and keeping plays alive for Team USA.
Cliff Alexander
also made his presence felt with a pair of big dunks and a couple finishes inside.
The bigs got it going early, and after Team USA weathered the storm for the majority of the game, point guard
Tyus Jones
closed things out with a few impressive floaters in the lane. Jones played with poise and nice pace down the stretch, showing why he'll be running the show at Duke next season.
Stanley Johnson
also made some big plays for Team USA on both ends, forcing turnovers in the back court and attacking the rim aggressively. Mid-way through the third quarter Johnson caught the ball in the left corner, exploded to the rim and threw down a vicious two-handed dunk to give Team USA some life offensively.
Team USA's size and athleticism was clear, but its flaws were also very obvious. With limited spacing due to lack of perimeter shooting, they struggled getting into their half court sets, leading to a host of bad turnovers and transition points.
Backup point guard
Joel Berry
, who struggled badly all game long, had major issues protecting the ball in the half court against pressure, as even post entry passes were no easy feat. Berry's teammates didn't do him any favors either. Spacing was poor and players forgot where they were supposed to be on the floor regularly. Pinson also missed a large chunk of the game with a leg injury that he would eventually return from.
It's been a long couple of days of two-a-day practices for Team USA, and these are still 17 and 18-year-old kids facing off against mostly grown men with college experience.
But with that said, Thursday night's scrimmage showed that Team USA has a lot of fine-tuning to do before taking on the World Team on Saturday.
While Stephen Madison, Kaleb Korver, and Markhuri Sanders-Frison certainly aren't your average rec league players, they definitely aren't in the same echelon as
Emmanuel Mudiay
,
Karl Towns
,
Nikola Jokic
and the rest of the World Team.
The US team will need much better showings from their role-players
Kelly Oubre
,
Joel Berry
,
Myles Turner
, and
James Blackmon
, but their stars will also need to be much more assertive. The NBA folks in the gym walked out talking mostly about how weak the 2014 high school (and 2015 NBA Draft) class is shaping up to be so far, but there's no doubt that this group is better than what they showed last night.
The US group has one practice and one scrimmage today to try and right the ship before the game on Saturday (4pm PST, Moda Center, Portland, ESPN2). If they can't find a way to make some outside shots, it could be a long night on Saturday.