Behind sensational performances from
Jamal Murray
,
Skal Labissiere
and
Ben Simmons
, the World Select Nike Hoop Summit Team defeated the US Team, 103-101, Saturday afternoon at the Moda Center in Portland.
Murray, Labissiere and Simmons combined for 64 points, 17 rebounds, 14 assists, and seven blocks, each bringing a different element to the table against a talented US Team that fell victim to the World Team's three-headed monster as Alonzo Trier badly missed a contested triple that would have won the game at the buzzer.
Murray came out firing early and didn't slow down as the game progressed, going for a game-high 30 points and five assists on 12-for-23 shooting and 3-for-7 from three. The 6' 5" versatile guard from Kitchner, Ontario showed the entire package on Saturday. He knocked down shots with range both off the catch and the dribble, carved up the Team USA defense with crafty change of direction dribbles, and finished creatively in traffic both in the half court and transition.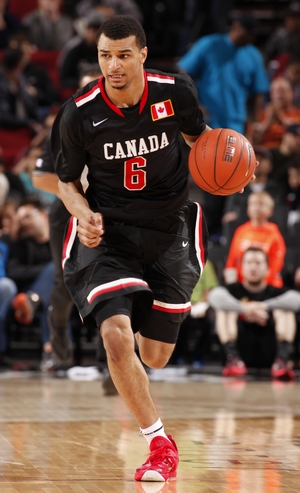 Murray certainly wasn't perfect, as he made a couple of crucial turnovers toward the end of both halves, missed a layup with 17 seconds left and the World Team up three that he probably should have pulled out to run clock, and showed a tendency to over-dribble in the half court, having to heave up a tough jumper at the end of the clock.
But overall he was absolutely stellar, showing his ability to play both guard spots and score from all three levels effectively. Murray's skill set has really evolved since the 2014 Nike Hoop Summit, a game where he played fairly well scoring 10 points on 4-for-8 shooting while grabbing five rebounds and dishing five assists.
At this point last year Murray was predominantly a spot up shooter who could handle a little bit in small doses, but didn't have much in his arsenal in terms of shot-creation and ball-skills. The game was a bit too fast for Murray and his lack of elite athleticism was clear. But after a year of seasoning Murray was the best player on the floor on Saturday against a US Team loaded with high-level guards.
All week long we harped on the stellar guard play of the US Team, but when the lights came on it was Murray who stole the show. The 2016 guard is currently uncommitted, but said Saturday that he's going to consider reclassifying to the 2015 class.
While Murray paced the World Team with his play in the backcourt, Labissiere manned the middle, putting a lid on the rim on defense while scoring in a variety of ways in the half court and transition. The 7-foot pogo stick and our current projected No. 1 pick in the 2016 NBA Draft went for 21 points on 9-of-15 shooting to go along with six blocks and six rebounds in 27 minutes.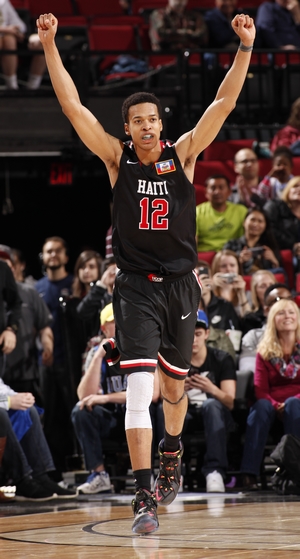 The fluid and explosive Kentucky bound big man showed excellent timing and instincts as a shot blocker, helping frustrate the US Team early on as they failed to score until
Luke Kennard
hit a jump shot with 4:28 left in the first quarter.
As expected, the World Team bothered the US Team all game long with its size and length and Labissiere was a big reason why. Aside from protecting the rim, Labissiere showed excellent versatility as a perimeter defending with excellent footwork on closeouts, evident late in the game as he was able to keep Kennard in front and get a piece of his potential game-tying jumper with 3.9 seconds left.
Labissiere was much more than just a defensive presence, however. The 7-footer knocked down a couple of mid-range jumpers, finished several jump hooks in the lane, some with great range, and finished over length at the rim due to his excellent leaping ability. The bouncy big man also flashed his quick second jump on the offensive glass. Labissiere's physical tools, versatility on defense, and offensive skill-set him up for a monster season at Kentucky and should make it tough for whatever team ends up with the No. 1 pick in the 2016 NBA Draft to pass him up.
Australian point forward
Ben Simmons
was the final piece to the puzzle for the World Team. The LSU-bound Simmons finished a rebound and assist shy of a triple double, posting a stat line of 13 points, nine rebounds and nine assists. He showed off his tremendous versatility and feel for the game that's unlike any other player in high school basketball.
Simmons did an excellent job moving the ball ahead in transition, finding shooters, bigs and cutters in the half court, and mixing some trademark behind the back passes in the open court. The Aussie lefty also showcased his tremendous ambidexterity with a couple of off-hand finishes in traffic. Simmons has room to improve as a shooter and as an overall scorer in the half court, and can do a better taking care of the ball (four turnovers), but overall his unique talent shined through as he played multiple positions and was a big factor in the World Team victory.
Despite some stretches of sloppy play and struggles against the US Team press (20 total turnovers), the World Team played with cohesion, shot the ball well from the perimeter (9-of-21 from three), and did a great job bothering the US inside both in man and 2-3 zone.
While the World Team was victorious, the talented US squad hung around after digging itself a 12-0 hole early on. They forced 20 turnovers with their swarming defense (leading to 25 points) and found a way to combat their inability to finish over the World Team's size and length by getting to the line – for 31 free throw attempts.
Kennard, who was outstanding in practice all week, played a fantastic game as he went for 22 points on 9-of-18 shooting. The smooth lefty knocked down two triples, a few 1-2 dribble pull ups after attacking a closeout, and grabbed five offensive rebounds, showing his overall basketball instincts. The US Team had five players in double figures as a handful of individuals played well, but it wasn't enough to neutralize the size and length of the World Team, and the overall play of Murray, Labissiere and Simmons in an extremely high-level, fluid, and competitive game.
Hoop Summit Records
-12 total blocked shots was a Nike Hoop Summit World Team record
-Simmons' nine assists was a World Team record
-Nine made 3-pointers was a World Team record
-38 made field goals tied a World Team record
Other Player Notes
World Team
Cheick Diallo – 12 PTS, 6 REBS (3 offensive), 3 blocks, 5-for-9 FGs in 16 min
The 6' 9" big man only played 16 minutes after starting the game, but made a few impressive plays as a finisher, offensive rebounder and shot blocker that make it easy to see him as a high-motor, energy big man in the NBA. He blocked three of the US Team's 12 shots, finished a big dunk in transition, and showed good activity on the offensive glass. On the flip side, Diallo forced up a bad shot in the lane, got the rebound and missed another tough, highly contested left handed jump hook. Although his feel for the game and offensive skill level leave much to be desired, Diallo's 7' 4" wingspan, motor and fluidity should make him a highlight reel at the college level.
Thon Maker – 2 PTS, 10 REBS (5 offensive), 0-for-5 FGs in 14 min
Maker played hard and was very active on the glass but really struggled on the offensive end, bobbling passes (which he did all week), forcing shots at the rim and showing below average basketball instincts. Maker is a unique prospect given his size, length and mobility but the game was too fast for him on Saturday and he didn't show much in terms of touch or skill in the game after an up and down week of practice.
Federico Mussini – 9 PTS, 3 AST, 3 TOs, 2-of-5 3FGs in 19 min
The Italian guard had an up and down game for the World Team. After torching the nets all week in practice, Mussini splashed a few triples and was fouled on a corner three late in the game, knocking down all three free throws in crunch time. Mussini also made some nice passes on the move but had his struggles handing the US Team's pressure in the back court and the half court. He had the ball ripped away in the back court early in the game, was a second late on a pass to Maker in the lane, and dribbled off his foot late in the second half. Mussini has a nice stroke and a good feel for the game, but will have to be a little better with the ball to make up for his lack of size and athleticism. For the time being, he'll be a very fun player to watch at the college level.
Nedim Buza
– 6 PTS, 2-for-2 3FGAs in 12 min
After struggling to shoot it consistently during the week leading up to the game, Buza knocked down both of his triples, one a step back off the dribble and another deep three of the spot up variety. Buza didn't' play at ton but gave the World Team size and shooting at the wing spot. He shoots it a bit flat but made it work on Saturday, which he'll need to continue to do moving forward to give him a consistent skill to go along with his physical tools. Buza committed a bad turnover in traffic as his limited ball skills clearly showed. But given his size and potential as a shooter, Buza could hear his name called in the second round of the NBA Draft in the future.
US Team
Brandon Ingram – 12 PTS, 3 REBS, 1 STL, 5-for-6 FGs in 26 min
Although he didn't get a ton of looks in 26 minutes, Ingram was the US Team's most efficient player as he showed his versatile skill set and potential on the offensive end. Ingram knocked down a spot up mid-range jumper, hit two pull up jumpers, got the defender up in the air on the perimeter with a head fake, and got to the rim in a straight line and finished. He also got to the line off of a straight line drive going right.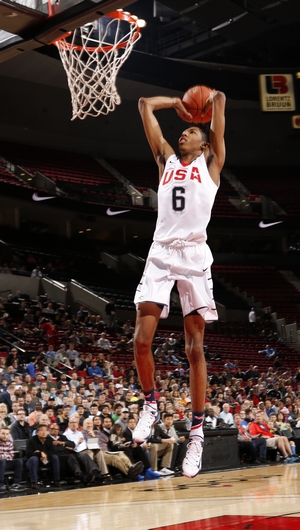 Ingram is very skilled and has excellent size and length for wing – 6' 9.5" with a 7' 3" wingspan. He has a lot of work to do on his body and can improve his overall effort level but there's a lot to like about Ingram, and he showed why on Saturday.
Jaylen Brown – 8 PTS, 2 REBS, 2-for-9 FGS, 4-for-6 FTs in 16 min
The highly-touted uncommitted recruit was very underwhelming for the US Team. Brown threw down a monster dunk in transition and did a nice job attacking the rim when he was on the floor but he missed his only spot three and threw up some questionable shots in the lane. Brown has the prototypical NBA wing physical tools and a nice skill set to go with it, but like the rest of his teammates, he struggled against the World Team's size and length on the interior.
Malik Newman
– 10 PTS, 2 STL, 4 PFs, 4-for-8 FGS in 16 min
Newman played only 16 minutes but flashed his talent as a scorer both making shots from the perimeter and attacking the rim both in transition and the half court. Newman knocked down two triples, had an impressive finish in transition showing excellent body control, and split the zone defense in the half court and dropped in a floater over the World Team's back line. Newman also showed good instincts in the passing lanes and caused some turnovers in the back court. The 6' 3" scoring guard has room to improve as a decision maker but gave scouts a small taste of what he can do with the ball in his hands all week and on Saturday.
Isaiah Briscoe – 9 PTS, 9 AST, 3 STL, 2 TOs, 3-for-7 FGS in 19 min
Briscoe did a handful of nice things for the US Team, forcing turnovers in the back court, slashing through the World Team's zone defense and finishing shooters or cutters, and initiating contact in the paint and earning trips to the line. Briscoe has excellent court vision and feel and is a load as a penetrator. Some of Briscoe's flaws also showed on Saturday. He committed several low IQ fouls, airballed a very important free throw late in the game, missed a pull up jumper badly and almost airballed a floater in the lane. Briscoe is an ox at the PG spot and has great feel, but needs to improve as a shooter to make up for his lack of explosiveness.
Stephen Zimmerman – 8 PTS, 2 REBS, 4-for-6 FGS in 17 min
Although he only played 17 minutes Zimmerman was the US Team's best big man on Saturday. He showcased his mobility and athleticism with two straight line drives and finishes over length (once vs Labissiere), knocked down a fairly deep mid-range jumper, and finished a put back. Zimmerman also did a decent job defending on the interior, collecting two steals and two blocks despite his developing frame. The US Team's big men struggled in scrimmages the week leading up to the game but Zimmerman showed up on Saturday and should be a very effective college player on both ends wherever he decides to go.
Allonzo Trier – 11 PTS, 2 STL, 4-for-12 FGS, 2-for-5 3FGS in 23 min
Trier had an up and down game for the US Team after a solid first half. He flashed his athleticism early on by attacking a closeout and finishing at the rim in the half court and getting a steal in the passing lane and flushing an And 1 two-hand jam in transition. Trier also made two spot up threes but showed he still has room to grow as a shot creator and shooter off the dribble. He missed a step back jumper badly, missed an easy layup down the stretch, and took and missed a few ugly floaters in the lane. Trier is a bucket-getter and should fill it up at Arizona with his athleticism, size and solid stroke, but he'll have to improve his shot creation ability and become a more consistent shooter to make up for the fact that he's not quite great in one area.