Top NBA Prospects in the SEC, Part 4: Malik Newman Scouting Video
September 26, 2015
Mike Schmitz continues our coverage of the top NBA prospects in the SEC with a video scouting report of the #4 prospect in the conference, Mississippi State's Malik Newman.
---
More DX Conference Preseason Previews:
-The Top 20 NBA Draft Prospects in the Pac-12
-The Top 20 NBA Draft Prospects in the Big East
-The Top 15 NBA Draft Prospects in the Big 12
---
Top NBA Draft Prospects in the SEC


(#1) Skal Labissiere (Scouting Video)
(#2) Ben Simmons (Scouting Video)
(#3) Jamal Murray (Scouting Video)



#4, Malik Newman, Freshman, PG/SG, Mississippi State



Strengths:



Weaknesses:



Mike Schmitz is the video analyst for DraftExpress. Follow him on twitter and check out his archive. He will be breaking down the NBA draft in digital format all year long for us.

[Read Full Article]

---
2015 Nike Hoop Summit Final Recap
April 11, 2015
Malik Newman – 10 PTS, 2 STL, 4 PFs, 4-for-8 FGS in 16 min

Newman played only 16 minutes but flashed his talent as a scorer both making shots from the perimeter and attacking the rim both in transition and the half court. Newman knocked down two triples, had an impressive finish in transition showing excellent body control, and split the zone defense in the half court and dropped in a floater over the World Team's back line. Newman also showed good instincts in the passing lanes and caused some turnovers in the back court. The 6' 3" scoring guard has room to improve as a decision maker but gave scouts a small taste of what he can do with the ball in his hands all week and on Saturday.

[Read Full Article]

---
2015 Nike Hoop Summit Video Interview: Malik Newman
April 11, 2015
An interview with elite guard prospect Malik Newman of the USA Junior National Select Team at the 2015 Nike Hoop Summit.

(Video may not load with Internet Explorer. Use Chrome or Firefox)

---
More DX Nike Hoop Summit Coverage
-Ivan Rabb Interview
-Nike Hoop Summit Shooting Drills: Skal Labissiere
-Nike Hoop Summit Shooting Drills: Tai Wynyard
-Team USA Scrimmage One Recap
-Cheick Diallo Interview
-Tai Wynyard Interview
-One on One Drills: Skal Labissiere vs Thon Maker
-Federico Mussini Interview
-2015 Nike Hoop Summit: International Practice: Day Three
-USA Practice Day One
-Skal Labissiere Interview
-Ben Simmons Interview
-International Practice Recap Days One and Two
-World Select Team Measurements and Analysis
-USA Junior National Select Team Measurements and Analysis
-2015 Nike Hoop Summit International Roster Breakdown
---
[Read Full Article]

---
2015 Nike Hoop Summit: USA Junior National Select Team Measurements
April 10, 2015
Malik Newman
Height (w/ shoes): 6-4
Height (w/o shoes): 6-2.5
Weight: 179
Wingspan: 6-5
Standing Reach: 8-3

Malik Newman doesn't have great size for a scoring guard and hasn't improved much on his 180-pound frame over the last few years (he was 170 three years ago), but he measures up favorably to another extremely prolific scoring guard from Mississippi in Monta Ellis. Considering Ellis went to the NBA straight out of high school, we can compare their measurements on even footing. Newman has a size and length advantage on Ellis who stood 6'3.25 in shoes with a 6'2.75 wingspan and 177-pound frame at the 2005 NBA Pre-Draft Camp. Newman's lack of length is something teams will scrutinize when evaluating his defensive potential, and it will be interesting to see if he can continue to add more strength to his frame once he reaches a college weight room.

[Read Full Article]

---
2015 Nike Hoop Summit: Team USA Practice: Day Two
April 10, 2015
While Briscoe did an excellent job distributing and scoring at the rim, Newman did his damage from the perimeter, knocking down a handful of pull up jumpers sporting good elevation, a testament to his overall explosiveness. The 6' 3" guard is dynamic in transition with an ability to shift gears and turn on the jets when the defense is sleeping.

The Jackson, Mississippi product was most effective as a scorer, as he wasn't relied on much as a distributor in the half court. Newman told us he sees himself as a point guard at the next level, and did make a nice pick and roll feed to Ivan Rabb early in the game, but will most likely be used as a scorer for the US Team.

[Read Full Article]

---
2014 U17 World Championship Interview: Malik Newman
August 14, 2014
[Read Full Article]

---
High School Class of 2015 Scouting Reports
September 6, 2013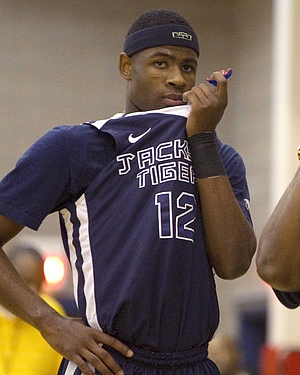 US Presswire



Jonathan Givony

Recruiting Rankings: 247: #1, ESPN: #2, Scout: #2, Rivals: #1

Strengths:
-Arguably the best scorer in all of high school basketball. Averaged 24 points in 28 minutes per game at the Nike EYBL, best in the league both per-game and per-minute, despite being a year or more younger than virtually everyone he played
-Extremely athletic. Has a great first step and is very explosive
-Excellent body control in the lane
-Can operate at different speeds
-Terrific ball-handler. Can create his own shot driving left or right
-Very good footwork on his drives. Stops and starts, has all kinds of moves and is extremely difficult to stay in front of
-Great in transition
-Doesn't have any issues driving right into the teeth of the defense. Takes hits at the rim and finishes. Extremely tough for a player his age (16) and weight (176 pounds)
-Gets to the free throw line at a great rate
-Creates excellent separation for his pull-up jumper. Can stop on a dime and elevate. Knows how to use his body to keep his defender off-balance
-Very reliable shooter with his feet set
-Strong rebounder for his position
-Can find the open man. Court vision is not terrible. Generates a decent amount of assists
-Only 16 years old. Won't turn 17 until February

Weaknesses
-Doesn't have great size or length for a shooting guard. Measured 6-4 in shoes with a 6-4 ½ wingspan
-Somewhat of a one man show at the high school/AAU level. Shot-selection and decision making isn't great
-Made just 44% of his 2-point attempts at the EYBL. Reliance on difficult long 2-point attempts hurts his efficiency
-May struggle defensively against bigger, stronger shooting guards

Outlook: Scoring machine in the Monta Ellis mold. Has an amazing knack for putting the ball in the basket. Talent is off the charts. Does not look like a selfish player, but may be picking up bad habits in the shoot-first ask question later environment of AAU.

[Read Full Article]

---