Team USA scrimmaged the PDX Ex-Legends, a group of former college players and Oklahoma bound point Payton Pritchard, Thursday night in the Trail Blazers practice facility in front of scouts and executives from every NBA team. Being the only practice or scrimmage open to NBA talent evaluators due to league restrictions on watching high school players, this was an especially important showcase for the USA prospects to continue to show their strengths and weaknesses moving forward.
---
More DX Nike Hoop Summit Coverage
-Cheick Diallo Interview
-Tai Wynyard Interview
-One on One Drills: Skal Labissiere vs Thon Maker
-Federico Mussini Interview
-2015 Nike Hoop Summit: International Practice: Day Three
-USA Practice Day One
-Skal Labissiere Interview
-Ben Simmons Interview
-International Practice Recap Days One and Two
-World Select Team Measurements and Analysis
-2015 Nike Hoop Summit International Roster Breakdown
---
Behind the strong guard play of Kentucky-bound bulldozing PG
Isaiah Briscoe
and undecided scoring guard
Malik Newman
, the US Team took care of the PDX Ex-Legends quite handily, winning all four quarters by a combined score of 107-65.
The US Team rolled through the first three quarters but almost fell to the PDX-Ex Legends in the fourth until the heroics of
Allonzo Trier
, who converted a four-point play from the top of the key to give them a 16-15 lead with 4.4 seconds to go.
Despite the lackadaisical fourth-quarter effort, head coach Eric Flannery's squad coasted past the PDX Ex-Legends thanks to its strong guard play, which is expected to be one of its biggest advantages against the World Select Team in the Nike Hoop Summit game on Saturday.
Briscoe carved up the Ex-Legends' half court defense with his 220-pound frame, slick ball handling, change of speeds and ability to drive both ways and pass with both hands. The New Jersey-native found spot up shooters on the move, delivered smooth pocket passes to the bigs and finished in the paint and at the rim with both hands while also knocking down a mid range jumper.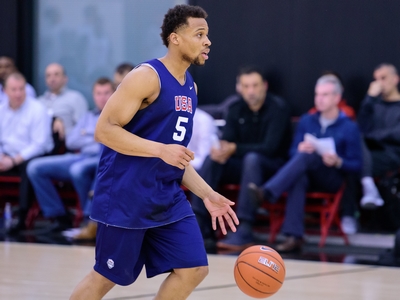 Briscoe isn't an elite athlete, however, and struggled staying in front of Prichard, whose shot wasn't falling from deep but played with toughness on both ends and showed aggressiveness attacking the rim and distributing in the half court.
Briscoe may be better suited defending shooting guards at the college level as he's strong and long enough (6' 9" wingspan) to hold his own but lacks elite lateral quickness needed to stay in front of speedy point guards. Despite his average quickness on the defensive end, Briscoe's physical tools and tremendous feel for the game certainly stood out to NBA scouts and executives.
While Briscoe did an excellent job distributing and scoring at the rim, Newman did his damage from the perimeter, knocking down a handful of pull up jumpers sporting good elevation, a testament to his overall explosiveness. The 6' 3" guard is dynamic in transition with an ability to shift gears and turn on the jets when the defense is sleeping.
The Jackson, Mississippi product was most effective as a scorer, as he wasn't relied on much as a distributor in the half court. Newman told us he sees himself as a point guard at the next level, and did make a nice pick and roll feed to
Ivan Rabb
early in the game, but will most likely be used as a scorer for the US Team.
Duke-bound
Luke Kennard
also did some nice things offensively for the US Team after a strong showing in 5-on-5 play during the team's early afternoon scrimmages. The 6' 5" smooth lefty wasn't completely automatic from the perimeter, but drilled a handful of spot up triples with a hand in his face, sporting a smooth compact release to go along with his excellent basketball instincts.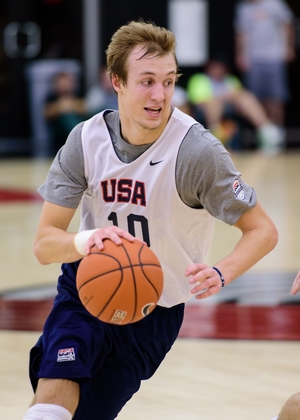 Kennard proved he still has room to improve his ability to pull up off the bounce or get to the rim in a straight line, but the Franklin, Ohio native does a lot of really impressive little things that, combined with his shooting stroke, should make him a very productive player for Duke next season.
Kennard makes the simple play offensive, sees the floor and finds cutters on the move, shows impressive anticipation in the passing lanes and keeps plays alive on the glass despite his fairly thin body and poor wingspan, things that should make him a Cameron Crazies fan favorite.
Trier rounded out the US Team's strong perimeter play by attacking the rim relentlessly in transition and slashing in the half court. Trier knocked down a couple of spot triples as well, which carried over from an impressive shooting display in the early afternoon session.
Team USA's big man group of
Chase Jeter
,
Ivan Rabb
,
Stephen Zimmerman
and
Caleb Swanigan
did some nice things as finishers in the paint, but struggled at times on the interior defensively, especially on the glass. Jeter, Rabb, Zimmerman and Swanigan will have their hands full with the World Select Team's crop of long and athletic frontcourt.
Flannery's team gave the PDX Ex-Legends different zone looks, throwing a 1-1-3 zone at them in the half court and breaking out its diamond, trapping zone in the back court. The US Team was able to speed up the PDX Ex-Legends, a major emphasis against the World Select Team on Saturday. On the flip side, the PDX Ex-Legends played a 2-3 zone for stretches. Team USA still has room to improve its zone attack, as they looked a bit stagnant Thursday night.
But overall the Team USA turned in a fairly impressive performance against a group of much older, albeit less talented players. They did it without highly-touted, uncommitted recruit
Jaylen Brown
as well, who didn't play due to a sore hip flexor. With a healthy Brown and the rest of Team USA's versatile guards and wings, the World Select Team will have quite the challenge on the perimeter come Saturday afternoon.