Mike Muscala established himself as one of the best scoring big men and rebounders in the country this season for Bucknell. What kind of NBA prospect is he and what awaits him over the next three months?
-
NBA Draft Prospect of the Week: B.J. Young
-
NBA Draft Prospect of the Week: Tony Mitchell
-
NBA Draft Prospect of the Week: Giannis Adetokunbo
-
NBA Draft Prospect of the Week: Nerlens Noel
-
NBA Draft Prospect of the Week: Marcus Smart
-
NBA Draft Prospect of the Week: Victor Oladipo
-
Kelly Olynyk Video Scouting Report
-NBA Draft Prospect of the Week: Russ Smith
-
NBA Draft Prospect of the Week: C.J. McCollum
-
NBA Draft Prospect of the Week: Anthony Bennett
-
NBA Draft Prospect of the Week: Ben McLemore
Mike Muscala, 6-11, Center, Senior, Bucknell
Scouting report by Joseph Treutlein. Video analysis by Mike Schmitz
After making steady and noteworthy across-the-board improvements in both his sophomore and junior seasons,
Mike Muscala
came back an even better player as a senior, continuing to take advantage of his steep learning curve en route to becoming one of the best scoring big men in the country.
Muscala increased his pace adjusted points (+1.2), offensive rebounds (+0.1), defensive rebounds (+2.1), assists (+0.6), and blocks (+0.8) per-40 minutes this season, while also cutting down on his turnovers (-0.5). His overall rebounding improvement was so pronounced that he became the second best rebounder (14.8 boards per 40 minutes pace adjusted) in college basketball this season, and tied with
Kevin Love
and
Andrew Bogut
in our historical rebounding database.
While Muscala's production and skill set improvements were probably most impressive for him as a senior, he's also continued to make subtle strides in filling out his frame, looking like a noticeably different person than the one we first profiled two years ago. His excellent size and length are clear positives for him from an NBA perspective, but he's done a great job of developing his frame to become less of a liability in the strength department, even if there's still plenty more work to be done. His frame still appears like it can handle quite a bit more weight, and he should benefit greatly transitioning to a NBA strength training regimen.
Video Analysis:
On the offensive end, Muscala has developed into an incredibly dangerous post threat over the past three seasons, being equally dangerous with both his left and right-handed hook shots while sporting some deceptive range and quickness with his moves. He shows a very good feel when he gets the ball in his hands and is remarkably efficient with his movements, getting off shot attempts very quickly and rarely wasting time, something that surely contributed to his decrease in turnovers this season.
There are some concerns about how Muscala's post game will translate to the pros, as he sports a noticeable size advantage against most of the competition he faced in college, but the style of back-to-the-basket game he plays appears well suited to his physical profile and the type of role he likely projects to in the NBA. Combine this with the high effort level he shows for getting open and the excellent learning curve he's shown, and his post game is probably not something one should rule out so quickly.
Muscala's perimeter game is less featured than his post offense in the NCAA, but given the pick-and-pop tendencies of the NBA combined, with his 4 straight seasons of 79% or better free-throw shooting, it's not hard to see it becoming a larger staple of his game. Muscala shows good touch and range on his jump-shot, operating comfortably out to just inside the NCAA three-point line, though he's never really developed three-point range. If he works on adding that to his game either in the pre-draft process or once he's in the NBA, it certainly wouldn't hurt his stock.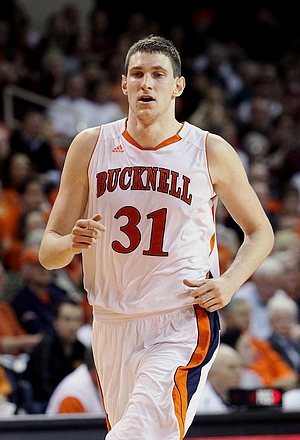 Muscala's offensive game doesn't stop there, though, as he's a very well-rounded player, finishing well on cuts, crashing the offensive glass consistently, contributing nicely in the passing game with 2.4 assists per game, and even showing flashes of face-up ability from the perimeter, being able to put the ball on the floor for one or two straight-line dribbles.
His ability on cuts and offensive rebounds is probably the biggest selling point of Muscala's off-the-ball game, however, as he's very frequently involved and doesn't shy from contact, as evidenced by his impressive 6.9 free-throw attempts per game, which are extra valuable given his superb free-throw shooting percentage. How this will translate to the NBA against bigger and stronger competition, especially if he doesn't make further improvements in the weight room, is yet to be seen however.
Muscala also made some nice strides on the defensive end this season, as he's developed a strong fundamental base and excellent awareness in his time in college. He plays defense with good focus and a strong motor, rotating well in help-side defense and doing a good job staying in front of his man and contesting shots in the post. How he will deal with the increased physicality of the NBA and if he can translate his defensive prowess to the NBA may be the biggest question mark in Muscala's game, but being a very young senior at still just 21 years old and likely not yet benefitting from a top-tier strength training program, he probably still has plenty of room for growth here as well.
Looking forward, Muscala has developed into a very intriguing prospect in his four years in college, showing a remarkably steep learning curve along the way. 6'11 players with his level of length and mobility don't grow on trees, and when you add in his perimeter prowess, well-developed post game, defensive abilities, and intangible profile, it makes for an intriguing overall package. The level of competition he faced and his still below average strength are definitely things to be concerned about in terms of how his game will translate, but those are things he should have a decent chance to overcome.
Muscala's draft stock may have suffered somewhat due to his poor showing in the NCAA tournament against Butler, where he struggled to make many of the makeable looks he was able to create for himself against a very aggressive post-defender in Andrew Smith, going just 4-17 from field.
Because of the fact that he hasn't faced a great deal of high-level competition (with the exception of one very strong performance
against Alex Oriakhi and Missouri
) NBA scouts may have some question marks about how his productivity might translate against NBA level size and athleticism.
That's where Muscala's performance during the pre-draft process will likely be very important, as it will give NBA teams an opportunity to match him up with a plethora of other highly touted center prospects, such as
Gorgui Dieng
,
Jeff Withey
, and others. Given the value NBA teams place on skilled big men, it wouldn't be surprising to see Muscala rise up draft boards (perhaps similar to the way
Nikola Vucevic
did a few years back) if he's able to hold his own in these settings.