With two practices in the books, we take a look at the story lines developing at the 2013 Nike Hoop Summit, which could prove to be one of the best in recent memory.
2013 Hoop Summit Coverage
-
World Select Team Measurements
-
World Select Team Roster Preview Podcast
-
World Select Team Roster Preview
2013 Nike Hoop Summit World Select Team Practice Recap
Since its comeback in 2004, the Nike Hoop Summit has annually assembled a collection of talented young international players to compete against a USA Basketball Men's Junior Select Team regularly littered with future NBA lottery picks. Though the World Select has featured its fair share of high draft picks and potential stars in the past, even winning two of the last four games after coming up short in the previous six editions of this event, the most significant development in first two days of practice at the Portland Trailblazers Practice Facility is just how high the talent level of this group is relative to previous years.
With a mix of elite NCAA recruits (
Andrew Wiggins
,
Dante Exum
, and
Karl Towns
), players already gaining significant experience at the highest levels of European basketball (
Sergey Karasev
,
Dennis Schroeder
,
Livio Jean-Charles
,
Nikola Ivanovic
), prospects with promising upside and physical tools (
Mouhammadou Jaiteh
and
Joel Embiid
), and players who impressed in various junior competitions (
Gabriel Deck
and
Tomas Dimsa
), this group looks truly impressive both on paper and in person. Considering the strong turnout among NBA scouts to the first few practices, it is clear that this group, along with the crop of 2013 high school seniors, has no shortage of NBA intrigue.
Five players of the eleven World Select Team members are already in our 2013 and 2014 mocks, and it would not be at all surprising to see this group ultimately challenge the 2007 World Select Team for the record of most NBA Draft selections.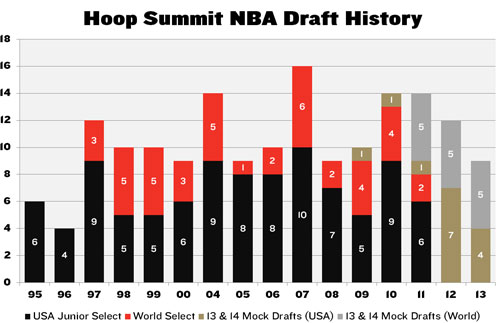 Despite most of the players flying in late Sunday evening, the intensity at the first (open) practice on Monday was solid. Returning for his second season as the World Select Team Head Coach after guiding the 2012 team to victory, Roy Rana started the evening session by running the players through some light warm ups and a full court game where no player was allowed to dribble, which presented a challenge to the team from the get go and elicited plenty of defensive effort.
Breaking into position groups to do some first-team-to-three shooting drills, the players got plenty of opportunities to find their legs and get comfortable shooting the ball on both day one and day two. Last season, we spoke with Rana, who is a coaching staple of the Canadian National Junior Teams, about the progression of pupil
Andrew Wiggins
. Mentioning that he hoped to see Wiggins progress as a shooter by raising his release point over last summer, it was clear that the potential top pick in the 2014 NBA Draft took that guidance seriously. Both in the shooting drills and in the scrimmages, Wiggins showed an improved release point on his jump shot, and though he still has plenty of room to improve his consistency, the ball looks better off his hands and the results already appear to be following that qualitative improvement.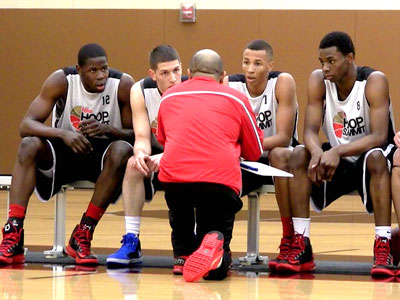 Letting the players scrimmage at the end of each session, Rana afforded those in attendance plenty of opportunities to see the players compete within the offensive and defensive frameworks he installed with shell drills early in the week. As one would expect, the scrimmages were quite intense and fairly physical relative to what we've seen from past World Select Teams. No one player was able to dominate the competitive portion of practice, but a number of players had some fine showings.
With plenty of size on the interior,
Karl Towns
,
Mouhammadou Jaiteh
, and
Joel Embiid
all came up with at least one impressive defensive display on day one. Towns was especially vocal defensively and active on the glass, earning himself some easy scoring opportunities including a few impressive hook shots and showing why many consider him one of the top players in the 2014 high school class. Jaiteh had some nice moments as well, using his strength and near 7-foot frame to his advantage in close.
Andrew Wiggins
showed some flashes as well, knocking down a few shots and making some athletic plays at the basket, but often looking to make the post entry or swing pass when he saw an open teammate. Measuring in at 6'8 with a 7'0 wingspan, he's grown an inch from when he was measured here last year (but only added two pounds of weight) and was dominant in the three on three drills early in the day.
Dante Exum
, like Wiggins, was also impressive for stretches. An incredibly fluid athlete, Exum is crafty, aggressive, and spent some time running the point. Capable of using his first step to turn the corner and get to the rim, Exum did a fine job creating for himself and others in both practices. Unranked by most recruiting services since he doesn't play in the US, the Australian Institute of Sport product is a uniquely talented player at 6'6 who could have an immediate impact at a high major program in the fall of 2014.
Dennis Schroeder
and
Sergey Karasev
also showed well, which should come as no surprising considering the year each is having as a professional for their respective teams in Europe. A 6'2 point guard, Schroeder shot the ball well in drills and made a handful of solid plays getting in the lane and creating offensively in addition to providing excellent ball pressure defensively. Karasev knocked down plenty of shots, both in drills and during the scrimmages, showcasing his spot-up game.
With just two of six scheduled practices in the books, we're certainly looking forward to seeing more of this group of international talent. While it would be unfair to make too many definitive statements about what we saw in the two practices we took in, it seems fairly safe to assume that this group has the athleticism, skill level, and depth to challenge what will also be one of the more impressive USA Basketball Men's Junior Select Team rosters in recent memory.