Josh Riddell
After graduating in four years from Marshall University and joining the Iowa State Cyclones as a graduate transfer (he redshirted his freshman season as a partial academic qualifier),
DeAndre Kane
is playing by far the best basketball of his career under
Fred Hoiberg
, and is doing so on a national stage on a top-10 ranked team. Kane missed out on the NCAA tournament in his four seasons at Marshall and looks to lead the Cyclones to the second weekend or beyond this season after ISU exited in the second round in each of the last two years.
While Kane's production in terms of raw numbers has stayed relatively consistent from last season, a deeper examination finds that he has taken a significant leap in becoming a more efficient player. Although his minutes are down from 37 to a much more manageable 32 per game, his per-40 pace adjusted production has increased notably, in terms of scoring (16.3 to 19.4) and rebounding (4.5 to 8.4), while his 2-point (48% to 58%) and 3-point percentages (25% to 35.9%) have shot up dramatically as well.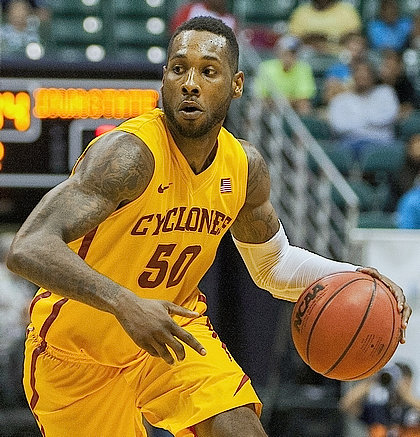 Kane has an excellent physical make-up, as he has a strong, developed frame while being measured at 6'4". He is quick with the ball in his hands, which helps him lead one of the fastest offensive teams when they want to run in transition. He has an adequate wingspan for a player of his size and great leaping ability to complement his strength and quickness.
Nearly 30% of Kane's offense comes in transition, which is a testament to how difficult he is for opponents to stay in front of with his combination of strength, athleticism and aggressiveness, as well as Iowa State's style of play. The Cyclones love to attack defenses early in the shot-clock, sometimes even off a made basket, as they currently rank 7th in the nation in average possession length.
Kane's best skill right now is his ability to push the ball in transition and either get to the rim and finish, or draw a foul. His 8.1 free throw attempts per 40 minutes pace adjusted
is an excellent mark
for a guard, although it would be beneficial for him to improve on his 62.5% free throw percentage.
He has not relied much on a jump shot so far this year, shooting 35.9% on just 39 three point attempts so far, with less than one make per game on average. This is a sharp decrease from last season, which is part of the reason that his efficiency has jumped, as he is settling for difficult pull-up jumpers far less frequently, and is instead more focused on getting to the basket or creating for others. Kane actually has solid shooting mechanics, but he tends to get off balance in his lower body at times, which is something he can still improve on.
Going into the season, Kane was just a 28% career 3-point shooter and 59% free throw shooter, and his continued struggles from the charity stripe raise some question marks about just how good of a shooter he might be long-term, especially with the longer 3-point line in the NBA.
Kane has made major strides as a passer this season, as the quality of his teammates and
Fred Hoiberg
's guidance has allowed him to become a much more effective distributor. He has improved his pure point rating from 0.77 to 3.76, due both to an increase in assists and a decrease in turnovers per 40 minutes pace adjusted. Despite his improvement in this area, he still struggles at times with his decision making, particularly in the half-court, causing him to force unnecessary passes which lead to turnovers. He is very right-hand dominant, looking very out of control when forced to drive left, and usually opting to spin back to his right hand, which defenses have started to pick up on.
Kane's strong frame allows him to post up weaker opponents at times and establish deep post position. He doesn't have advanced footwork here, and often tries to just power his defender, which he may not be able to replicate with quite the same success at the next level.
Defensively, Kane uses his physical assets well to slow down defenders, although he needs to show a little more consistent effort. He is often locked in when guarding the ball but has a tendency to drift when playing off the ball or when having to fight through screens. When he is engaged, the combination of his size, strength and agility allows him to cut off dribble penetration by moving his feet to slow down offensive players.
Kane is an excellent defensive rebounder for a guard, as his 6.7 defensive rebounds per 40 pace adjusted
ranks tops amongst all point guards
in college basketball. Part of this may be due to ISU's scheme, as he relies on the big man to box out, allowing him to crash the glass, but he has an excellent nose for the ball and uses his athletic ability to secure the rebound in traffic, and then ignite the break.
Kane is in an excellent situation at the moment, with plenty of opportunities forthcoming to play against top competition in Big 12 conference play and the NCAA tournament, which would give him tremendous visibility with NBA teams.
Something that NBA scouts will have to consider in evaluating Kane's draft stock is his unusually advanced age, as he will turn 25 in June, which means he's competing against players who are 3-6 years younger than him on a nightly basis. After attending high school with the likes of
DeJuan Blair
and
D.J. Kennedy
(who graduated from St. John's in 2011), Kane was forced to attend a fifth year prep school due to his poor academic situation, and then redshirted his freshman season at Marshall as a partial qualifier.
While Kane is undoubtedly having a tremendous season for Iowa State, the track record of mature-aged college players in the draft is extremely poor, particularly amongst non-big men. The oldest players drafted in the last 15 years include just two players:
Bernard James
(age 27) and
Travis Hansen
(25) who were the same age or older than him, with 24 year olds
Mark Madsen
,
Melvin Ely
,
Darius Songaila
,
Joey Dorsey
,
Colton Iverson
,
Vernon Macklin
,
Magnum Rolle
,
Sam Young
,
Taj Gibson
,
Jack McClinton
,
Robert Vaden
,
Patrick Ewing
Jr,
Sammy Mejia
,
Stephane Lasme
,
Antonio Burks
and
Marcus Douthit
being the next closest. NBA teams have mostly shied away from players over the age of 24 in the draft in recent years, but some exceptions, such as Hansen and James, do exist.
While question marks do exist about his age relative the level of competition he's facing, Kane has a NBA ready body and the maturity and athleticism to provide useful minutes right away. He will need to continue to show he can run an efficient offense will picking his spots to get to the rim off the dribble. It will be a tough sell due to his age but Kane has several opportunities the rest of the season to show he can provide value to a NBA team.