Derrick Marks Interview
June 24, 2015
Discussing a variety of topics with Derrick Marks in Santa Barbara, including what he's working on on and off the court, his time at Boise State, and how he's looking forward toward the pre-draft process.

(Video may not load with Internet Explorer. Use Chrome or Firefox)
---
More Pre-Draft Interviews/Workout Videos
-[url=/profile/Norman-Powell-6268/]Norman Powell
Workout Video and Interview[/url]
-[url=/profile/Alan-Williams-42069/]Alan Williams
Workout Video and Interview[/url]
-[url=/profile/T.J.-McConnell-20149/]T.J. McConnell
Workout Video and Interview[/url]
-[url=/profile/Kevon-Looney-7156/]Kevon Looney
Workout Video and Interview[/url]
-[url=/profile/Christian-Wood-7182/]Christian Wood
Workout Video and Interview[/url]
-[url=/profile/Larry-Nance-42170/]Larry Nance
Workout Video and Interview[/url]
-[url=/profile/Kristaps-Porzingis-7119/]Kristaps Porzingis
Workout Video[/url]
-ASM Workout Outtakes: [url=/profile/Kristaps-Porzingis-7119/]Kristaps Porzingis
Dunks/Jumpers/Post-Moves[/url]
-[url=/profile/Kristaps-Porzingis-7119/]Kristaps Porzingis
Interview[/url]
-[url=/profile/Emmanuel-Mudiay-6472/]Emmanuel Mudiay
Workout Video and Interview[/url]
-[url=/profile/Josh-Richardson-42015/]Josh Richardson
Workout Video and Interview[/url]
-[url=/profile/Dakari-Johnson-6470/]Dakari Johnson
Workout Video and Interview[/url]
-[url=/profile/Devin-Booker-7216/]Devin Booker
Workout and Interview[/url]
-[url=/profile/Jonathan-Holmes-42028/]Jonathan Holmes
Workout Video and Interview[/url]
-[url=/profile/Alpha-Kaba-76960/]Alpha Kaba
Workout and Interview[/url]
-[url=/profile/Willie-Cauley-Stein-6441/]Willie Cauley-Stein
Workout[/url]
-[url=/profile/Karl-Towns-61831/]Karl Towns
Workout[/url]
-[url=/profile/D-Angelo-Russell-7175/]D'Angelo Russell
Workout[/url]
-[url=/profile/D-Angelo-Russell-7175/]D'Angelo Russell
Interview[/url]
-CAA Workout Outtakes: Towns/Cauley-Stein Dunks from LA
-CAA Workout Outtakes: Russell/Towns/Cauley-Stein Jumpers
-[url=/profile/Justin-Anderson-5676/]Justin Anderson
Workout Video and Interview[/url]
-[url=/profile/Cliff-Alexander-7138/]Cliff Alexander
Workout Video and Interview[/url]
-[url=/profile/R.J.-Hunter-65208/]R.J. Hunter
Workout Video and Interview[/url]
-[url=/profile/Bobby-Portis-7167/]Bobby Portis
Workout Video and Interview[/url]
-[url=/profile/Sam-Dekker-6438/]Sam Dekker
Workout Video and Interview[/url]
-[url=/profile/Kelly-Oubre-70215/]Kelly Oubre
Workout Video and Interview[/url]
-[url=/profile/Stanley-Johnson-46065/]Stanley Johnson
Workout Video and Interview[/url]
-[url=/profile/Terry-Rozier-58730/]Terry Rozier
Workout Video and Interview[/url]
-[url=/profile/Michael-Qualls-59353/]Michael Qualls
Workout Video and Interview[/url]
-[url=/profile/Rondae-Hollis-Jefferson-6466/]Rondae Hollis-Jefferson
Workout Video and Interview[/url]
-[url=/profile/Rashad-Vaughn-71472/]Rashad Vaughn
Workout Video and Interview[/url]
-[url=/profile/Andrew-Harrison-6456/]Andrew Harrison
Workout Video[/url]
-[url=/profile/J.P.-Tokoto-6285/]J.P. Tokoto
Workout Video[/url]
-[url=/profile/Jarell-Martin-7159/]Jarell Martin
Workout Video[/url]
-[url=/profile/D-Angelo-Russell-7175/]D'Angelo Russell
Interview[/url]
-[url=/profile/Quinn-Cook-6237/]Quinn Cook
Interview[/url]
-[url=/profile/Frank-Kaminsky-41066/]Frank Kaminsky
Workout Video[/url]
-[url=/profile/Robert-Upshaw-6447/]Robert Upshaw
Workout Video[/url]
-[url=/profile/Rakeem-Christmas-5722/]Rakeem Christmas
n Workout Video[/url]
-[url=/profile/Myles-Turner-72850/]Myles Turner
Workout Video[/url]
-[url=/profile/Stanley-Johnson-46065/]Stanley Johnson
Interview[/url]
-[url=/profile/Kelly-Oubre-70215/]Kelly Oubre
Interview[/url]
-[url=/profile/Frank-Kaminsky-41066/]Frank Kaminsky
Interview[/url]
-[url=/profile/Satnam-Singh-46333/]Satnam Singh
Interview[/url]
-[url=/profile/Satnam-Singh-46333/]Satnam Singh
Workout Video[/url]
-[url=/profile/Alan-Williams-42069/]Alan Williams
Interview[/url]
-[url=/profile/Aaron-White-41367/]Aaron White
Interview[/url]
-[url=/profile/T.J.-McConnell-20149/]T.J. McConnell
Interview[/url]
-[url=/profile/Chasson-Randle-6265/]Chasson Randle
Workout Video[/url]
-[url=/profile/Chris-Walker-6457/]Chris Walker
Interview[/url]
-[url=/profile/Chris-Walker-6457/]Chris Walker
Workout Video[/url]
-[url=/profile/Cameron-Payne-70346/]Cameron Payne
Workout Video[/url]
-[url=/profile/Cameron-Payne-70346/]Cameron Payne
Interview[/url]
[
Read Full Article
]
Top NBA Prospects in the Non-BCS Conferences, Part Six: (#26-30)
November 13, 2013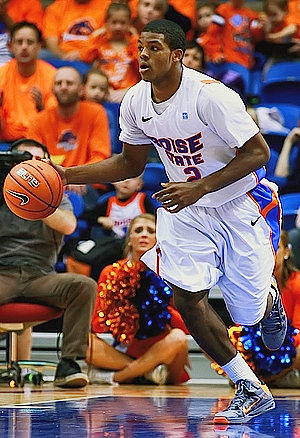 US Presswire
Josh Riddell
After failing to secure the school's first ever NCAA tournament win, dropping their opening round game to La Salle, Boise State returns the entire core of their team and will look to take advantage of having one of the most experienced teams in the nation to win their first tournament game in seven tries.
In his sophomore season, Derrick Marks saw a sharp increase in his offensive responsibility, as he doubled his field goal attempts from 6.4 per game to 12.3 per game, which subsequently rose his points per game average from 9.0 to 17.0. With his increased usage, Marks did see a slight drop in his two point field goal attempt percentage, as it slipped from 48.5% to 46.6%. Marks is a reliable scorer, putting up double digit points in 25 of Boise State's 32 games last year.
Measured at 6'3", 206 pounds, Marks will not wow scouts with his physical attributes. He has an average build with only decent speed and acceleration. He doesn't have tremendous explosiveness and because of this, he struggles to finish consistently in the paint at the Missouri Valley Conference level. Marks finds crafty ways to score for Boise State, but he may struggle to replicate this in the NBA against more athletic defenders.
Due to his lack of athleticism, Marks struggles to get to the rim off the dribble which causes him to settle for mid-range pull up jump shots. He does shoot well off the dribble, converting 44% on such shots according to Synergy Sports, as he is great at squaring to the rim and getting on balance for his attempts. Marks is able to offset some of his struggles of getting to the rim by possessing an excellent series of ball and shot fakes, which allows him to get to the line 7.6 times per 40 minutes pace adjusted
one of the top marks among shooting guards
last season.
With most of his attempts coming off the dribble, it would be nice to see how Marks can fare in catch and shoot opportunities this season. He only shot 52 3-point attempts last season, but he made 42.3% of that small sample, which shows he might be a useful shooter going forward, especially considering he has a fundamentally sound shooting form. However, most of these attempts came off the dribble and scouts will want to see whether he can find success spacing the floor and hitting open shots in catch and shoot situations as well. His tendency to dribble at least once before almost any shot will slow his development as a shooter, as defenders will have a much easier time closing out on him with this wasted action. This would be a nice piece to add this season to make him a more well-rounded offensive player.
Most of Marks' offense came out of the pick and roll, as he creates offense coming off screens, either a pull up mid range jump shot for himself or drawing the defense and finding his open teammate. He is careless with the ball when looking to create for his teammates, as his 4.5 turnovers per game ranked
3rd worst among shooting guards
. Marks needs to improve his decision making with the ball, which will make the offense flow smoother.
Defensively, Marks is a liability at this point in his career and will need to make some major leaps to become a serviceable defender going forward. Marks is already at a disadvantage due to his below average physical tools, and he compounds the issue with poor footwork and awareness. He often runs into screens or take poor routes around them due to having tunnel vision on his man and not recognizing the screen being set on him.
Marks pressures the ball well, which helps him force
2.4 steals per 40 minutes pace adjusted
. However, he has poor footwork when moving laterally which allows offensive players to easily beat him off the dribble. He can sometimes be lazy playing defense off the ball and teams will want to see him put forth better effort on this side of the court.
This season, scouts will want to see whether Marks has added anything to his offensive game to supplement his pull up mid-range game. While the defensive end of the court will not endear him to scouts, his potential to come off the bench and provide instant offense makes him a player to watch this season.
[
Read Full Article
]