Damion Lee NBA Draft Scouting Report and Video Breakdown
March 7, 2016
Scouting Report by Jonathan Givony, Video Analysis by Mike Schmitz

Damion Lee has been a prolific scorer since stepping foot on a college campus at Drexel all the way back in 2011, averaging 12 points per game as a freshman, and upping that to 22 points per game as a redshirt junior.

But as with all small-school scorers, there were question marks about how that might translate to the highest levels of college basketball. That was something we were able to get a much better read on once Lee elected to spend his fifth and final season at Louisville as a graduate transfer.

Unfortunately Lee's career ended prematurely at the end of the ACC regular season when his school elected to self-impose a postseason ban due to accusations that a former assistant coach paid prostitutes to entertain potential recruits.

That still left us with a decent sample size to evaluate him off, with 17 ACC games and two non-conference games against the likes of Kentucky and Michigan State. Lee's effectiveness in these games predictably dropped off, as he was able to score just 16.8 points per-40 minutes, while shooting 47% from 2-point territory and 31% for 3.



Lee has adequate height and length for a NBA shooting guard, standing 6'6 with a solid wingspan. He does not possess a great frame (although he's improved since arriving at Louisville, particularly in the upper body) and is just an average athlete by NBA standards.

Lee's biggest calling card as a prospect revolves around his ability to make shots from the perimeter in a variety of ways. He has been a prolific shooter his entire career, making 255 3-pointers in 124 college games, hitting a solid 36% of his attempts and 84% of his free throws. He has deep range on his jumper, often knocking down shots from well beyond the NBA arc, while also being capable of coming off screens, shooting off dribble-handoffs and pulling up off the dribble.

He's been fairly streaky throughout his career, more-so due to shot-selection than because of his actual shooting prowess, but is fairly easy to project as being a capable floor spacer who can do a little bit more than just make shots with his feet set due to his outstanding scoring instincts and overall aggressiveness.



As a shot-creator, Lee is somewhat of a mixed bag, as he does not possess a great first step, is not particularly strong or explosive around the basket, and is just an average ball-handler when forced to operate in tight spaces in the half-court. He drives left almost exclusively, and has struggled finishing inside the paint against top-level competition (35/75 [47%] vs BCS opponents this seasons), often being forced to settle for difficult runners and floaters due to his average frame and inability to turn the corner.

Lee has struggled in particular to make pull-up jumpers at a high rate this season, converting just 24% of his attempts vs BCS competition this season. His low release point makes it easier for opponents to contest his shot effectively.

With that said, things might get a little easier for Lee with the superior spacing and teammates he'll enjoy at the NBA level, as he won't be asked to be a focal point offensively for a team the way he was for Louisville this season. He already has NBA range on his shot, has proven to be capable of attacking defenses in a straight line, and very rarely turns the ball over, showing an above average feel for the game.

Defensively, Lee puts a solid effort in and likely benefited from the year he spent at Louisville under a very demanding coach in Rick Pitino. He shows good instincts getting in the passing lanes, but is susceptible to getting lost off the ball and losing his focus at times. He has adequate tools to guard most wings at the NBA level and looks fairly competitive, even if he doesn't project as a multi-positional defender and may struggle to guard quicker or stronger players on some nights.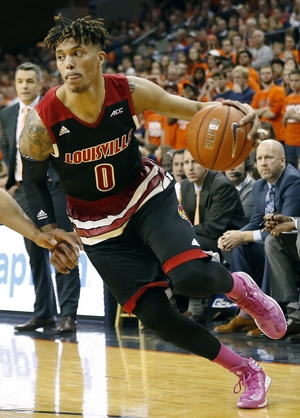 US Presswire
In a league that is increasingly looking for wing players to space the floor and play a role, Lee is a solid candidate to get drafted, make a NBA team and potentially stick if he's able to adapt quickly enough to the pro game. His scoring instincts and aggressiveness will serve him well, even if he may not have the upside of some of the other shooting guards in this draft, as he'll turn 24 before his first NBA game. If he were an international prospect, he would have been draft-eligible in 2014 already as a 1992-born player, so he may struggle to generate much first round buzz, but will likely be a solid value pick somewhere in the second round.
---
More DX 2015-2016 Season Video Breakdowns
-Skal Labissiere Video Analysis vs Florida
-Isaiah Hartenstein NBA Basketball Without Borders Video Breakdown
-Omer Yurtseven NBA Basketball Without Borders Video Breakdown
-DeAndre Ayton NBA Basketball Without Borders Video Breakdown
-Frank Ntilikina NBA Basketball Without Borders Video Breakdown
-Deyonta Davis vs Nigel Hayes Matchup Video Breakdown
-Ivan Rabb vs Marquese Chriss Matchup Video Breakdown
-Brandon Ingram vs Brice Johnson Video Breakdown
-The Evolution of Buddy Hield
-Isaia Cordinier Strengths and Weaknesses Breakdown
-Brandon Ingram vs Louisville Video Breakdown
-Malik Beasley Strengths and Weaknesses Breakdown
-Dorian Finney Smith Strengths and Weaknesses Breakdown
-How Ben Simmons Compares to Past NBA Prospects
-The Evolution of Kristaps Porzingis
-Prince Ibeh vs Kansas Video Breakdown
-Ante Zizic Strengths and Weaknesses Breakdown
-Wade Baldwin vs Kentucky Video Breakdown
-Gary Payton II vs Kansas Video Breakdown
-Damian Jones vs Jameel Warney Head to Head Matchup Analysis
-Juan Hernangomez Strengths and Weaknesses Breakdown
-Malik Newman vs Kentucky Video Analysis
-Ben Simmons vs Kentucky Video Analysis
-Buddy Hield's 46 point Explosion vs Kansas
-Kay Felder Strengths and Weaknesses Breakdown
-Tyler Ulis vs Louisville Video Analysis
-Pascal Siakam vs Baylor Video Analysis
-Ben Simmons vs Henry Ellenson Head to Head Matchup Analysis
-Karl-Anthony Towns vs Kristaps Porzingis Head to Head Matchup Analysis
-D'Angelo Russell vs Emmanuel Mudiay Head to Head Matchup Analysis
[
Read Full Article
]
Top NBA Prospects in the ACC, Part Nine: Prospects #21-25
October 15, 2015
Jonathan Givony

Five games into his junior season, in December of 2013, Drexel's Damion Lee tore his ACL in a game against Arizona at Madison Square Garden. After missing the rest of the year, and subsequently granted a medical redshirt by the NCAA, Lee came back strong the following season, averaging 22 points a game and being named to the Colonial's first-team All-Conference team. His season was again ended by injury, this time a fractured hand he suffered in February, with just three games remaining.

Because he had already spent four years in college, but still had one year of athletic eligibility remaining, Lee was able to transfer to Louisville as a graduate student, without having to sit out another season. Reeling in the third best returning scoring prospect in college basketball was viewed as a major boon for Rick Pitino at the time, who had lost a number of players to the NBA draft and transfers.

Louisville's upcoming season is now surrounded by a cloud of controversy with the recent allegations that a former coaching staff member used prostitutes to lure in recruits. Regardless of whether or not he's able to play in the postseason, Lee will have a major opportunity to show what he can do at the highest levels of college basketball playing in the ACC, as well as in non-conference outings against the likes of Kentucky and Michigan State.

Lee has good size for a shooting guard at 6-6, although he possesses just an average frame and athletic ability. He's been able to score a boatload of points at the college level regardless, doing so both prolifically (29% Usage Rate) and efficiently (61% True Shooting Percentage) for a team that struggled to win games last year, finishing the season at just 11-19.

Lee's biggest calling card as a NBA prospect revolves around his jump-shot. He possesses deep range, a smooth, effortless stroke, and a quick release. Lee was one of the most closely guarded players in college basketball last season, which forced him to develop highly evolved footwork and the ability to get his shots off in a very compact manner. He attempted more than six 3-pointers per game last season, and made 39% of his attempts. His shots came in a variety of ways, be it coming off screens, in dribble hand-off situations, as a trailer in transition, or even creating off the dribble at times. He's at his best in catch and shoot situations, where, according to Synergy Sports Technology he hit 46% of his attempts last season, good for 1.34 points per possession.

While he wasn't always in a position to showcase this, Lee is actually a very smart passer who does a nice job of moving the ball and finding the open man. He almost never turns the ball over, coughing the ball up on under 10% of his possessions.

Lee does a great job of moving off the ball, stopping and starting and running his defender all over the court to chase him around a barrage of screens. He can stop on a dime since he only needs an inch of daylight to get his shot off, and will draw quite a few fouls simply off the amount of grabbing and holding his opponents do to try and slow him down.

When defenses close out aggressively on his jumper, as they often do, Lee has the ability to put the ball down in a straight line and make his way to the basket. He's very intelligent about driving right into the teeth of the defense to try and draw fouls, which helped him get to the free throw line at a tremendous rate last season—eight times per-40 minutes. Lee is near automatic from the charity stripe, he hit 89% of his attempts last year, one of the best rates in college basketball.

When Lee didn't get to the free throw line, he otherwise struggled to score efficiently inside the arc at the Colonial conference level. He converted under 40% of his "inside the paint" attempts in the half-court according to Synergy Sports Technology, which is a dismal rate. His thin frame really affects him here, as does his lack of explosiveness and struggles finishing with his left hand.

When Lee elected to stop short of the paint and pull-up off the bounce, he didn't find much better results, hitting just 10 of his 52 attempts shooting off the dribble. Many of these shots were near-impossible attempts, fading away as the clock was running down, with a hand in his face, so it will be interesting to see how he fares in this area at Louisville this season, since there's no doubt he's capable of making shots off the dribble. Playing for a team that really struggled to score efficiently last season, Lee was forced to shoulder an inordinate amount of offense. He'll have far more talent around him this season, but also will face significantly stronger competition, which will make for a very telling comparison.

While Lee was named to the Conference's All-Defensive Team, there is little doubt that he'll have a transition to make on that end of the floor with his move to the ACC. Lee is a willing defender who has no problem getting in a low stance and trying to slow down his opponent. Unfortunately the results weren't always there last year, as his lack of strength allowed him to get pushed around frequently, when attempting to contain dribble penetration on the perimeter, or on post-up attempts inside the paint. It's possible that the huge amount of minutes and offensive possessions Lee was forced to shoulder played a role in this, but on film, it wasn't rare at all to see opposing guards go right by or straight through him en route to the basket.

Lee will be an interesting player to track this season, as 6-6 shooting guards who can score the way he can are coveted commodities in today's professional basketball. He'll have to show he can continue to score efficiently without the benefit of an entire offense being built around him this season, as well as hold his own on the other end of the floor as well. Already 23 years old, no one will draft Lee based on his upside, but a productive season in the ACC will definitely improve his standing in the eyes of NBA teams.
[
Read Full Article
]