What Did We Learn At the Champions Classic? Part 2: Michigan St-Kansas
November 18, 2015
Denzel Valentine, 6'5, Senior, PG/SG, Michigan State
29 points, 7-14 2P, 3-9 3P, 6-8 FT, 12 rebounds, 12 assists, 1 turnover, 0 steals, 38 minutes

Mike Schmitz Video Breakdown


With a horde of NBA scouts and executives in attendance, Denzel Valentine had perhaps his best game in a Michigan State uniform, posting a triple double and completely taking over in the second half to lead his team back from a double digit deficit to victory.

If Valentine didn't bring the ball up the floor for Michigan State, it didn't take long for the ball to either be swung to him to initiate the offense, or for a set play to be run to get him a jump-shot, as he ended up scoring or assisting on 57 of Michigan State's 79 points.

Valentine's elite combination of ball-handling, footwork and ability to operate at different speeds made him extremely difficult for Kansas to stay in front of, as he is liable to thread the needle with a perfect pass, pull-up for an off-balance jump-shot, or hit some kind of circus floater/runner/sky-hook from all kinds of angles inside the arc. Kansas tried every strategy possible to slow him down on the pick and roll, but he would just wait patiently to see how the defense would react, keep his dribble alive, and then make the correct read to continue to frustrate them.

In addition to his ability to handle the ball and find the open man, its Valentine's shooting ability, both with his feet set and off the dribble, that make him such a versatile offensive player. Michigan State repeatedly ran him off quick-hitting screens to free him up for perimeter looks, and he hit a number of difficult pull-ups with a hand in his face when the defense closed out too aggressively.

While Valentine does not possess prototypical NBA athleticism or a great frame, his productivity, skill-level and basketball IQ make him very appealing as a pro prospect. We didn't get a great chance to evaluate his defense, as Kansas' anemic backcourt made him easy to hide and save for the offensive end, and he did struggle somewhat finishing around the basket due to his lack of explosiveness, despite his elite shooting touch. Nevertheless, Valentine's ability to play a variety of different roles, along with his fearless style of play, make it increasingly difficult to count him out as a first round prospect.
[
Read Full Article
]
Top NBA Prospects in the Big 10, Part Eight: #8-10
October 26, 2015
Jonathan Givony

Denzel Valentine is in the midst of a storied career at Michigan State, already having a Final Four, two Elite Eight appearances and an 83-30 record under his belt. Valentine is coming off a busy summer, earning a spot on USA Basketball's Pan-Am Games roster in Toronto, and then as a member of his school's trip to Italy where the Spartans competed against a number of national teams preparing for the European Championships.

Valentine has good size for the shooting guard position, measured between 6-5 and 6-6 in shoes consistently, with a very long 6-10 wingspan and a strong 220 pound frame. He is a below average athlete by NBA standards, however, as he does not possess a great first step, overwhelming quickness or much vertical explosiveness.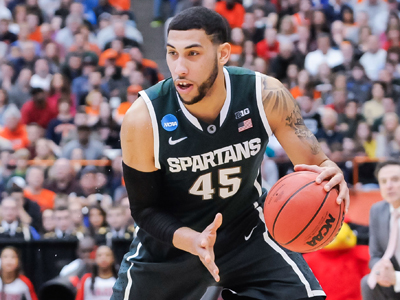 US Presswire
Valentine's calling card as a NBA prospect lies in his offensive versatility, as he is a very capable ball-handler, passer and shooter.
He shows unlimited confidence in his jumper, only needing a glimmer of daylight to fire away from extreme vantage points, and making over 100 3-pointers last season, on an excellent 42% accuracy rate. Valentine has a very compact stroke, with deep range and multiple release points, being capable of making difficult looks shooting off screens, with his feet set, or off the dribble. He has terrific touch and puts a huge amount of arc on his shot, so even though he tends to shoot a flat-footed jumper, is capable of making big shots off the bounce even with a hand in his face. He'll likely benefit from the faster tempo and increased freedom of the pro game in this regard, as he loves to fire away in transition or in the early offense, where he can more easily catch defenders off balance.
Valentine is also a terrific facilitator, dishing out over 5 assists per-40 minutes in his Michigan State career, despite always playing alongside one or more other ball-handlers. He executes extremely well in the half-court, whipping the ball all over the court with great creativity, driving and dishing and making heady post-entry passes. He has a knack for passing ahead in transition, and always has his head up to help him react to what is going on on the floor.
While Valentine does a great job of using his strength, terrific footwork and ability to change speeds to facilitate as a secondary ball-handler in Michigan State's offense, he has some limitations as a shot-creator. He does not possess a very quick first step, and relies heavily on his body and fore-arm to help create space in the half-court. For that reason, he doesn't get to the paint all that often, and is forced to shoot some very difficult floaters (which he has terrific touch on, but are very low percentage shots nonetheless) when a passing angle doesn't open up to find the open man, as he knows he does not possess the explosiveness needed to finish in traffic.
A career 47% 2-point shooter, Valentine hit just 50% of his shots inside the paint in the half-court last year, a below average rate that already came on a small sample size, and also really struggled to get to the free throw line as well, only 2.7 times per-40, one of the lowest rates in our Top-100. Valentine nonetheless finds ways to get by at the college level using his terrific jump-shooting ability and high basketball IQ, but there are real concerns about how he'll fare in this area in the NBA, where creating space is at a real premium.
While Valentine is likely smart and skilled enough to "find a way" on the offensive end against better competition, the more significant concerns revolve around his play on the other end of the floor. His lateral quickness leaves a lot to be desired here, as he's mostly relegated to guarding small forwards in college, due to how difficult of a time he has staying in front of more explosive guards. Fast-twitch ball-handlers tend to go right around him, and it's not rare to see opposing coaching staffs targeting and picking at him throughout the game trying to take advantage of his slow feet in creating mismatch advantages. Michigan State tends to send a lot of help his way in the form of extra rotations, but this will be a lot more difficult to do against teams with five scorers on the court at all times.
With that said, Valentine is certainly not an indifferent defender. He is competitive and attentive for the most part, doing his best to get through screens, close out on the perimeter, and use his length to his advantage. His strong feel for the game shows up in the work he does at times off the ball, and the 1.3 steals per-40 he's averaged throughout his career is not a terrible rate. He's a tremendous rebounder for a guard, with his 6.3 defensive rebounds per-40 being better than many of the big men in our Top-100.
Valentine is a strong contender for Preseason Big 10 player of the year honors, and is undoubtedly in position to have a huge senior season. Head Coach Tom Izzo is talking about giving him significant playmaking responsibilities this year, and judging by some of the preseason footage at our disposal, he appears to be in outstanding shape conditioning wise. While Valentine may not share the same upside as some of the younger players in the DX Top-100, few are as productive or versatile, and the amount of wins he's strung together in his career certainly can't be dismissed.
[
Read Full Article
]
Nike Academy Scouting Reports: College Shooting Guard Prospects
July 2, 2015
Mike Schmitz

Valentine separated himself as one of the best pure passers at the camp, showcasing excellent court vision and overall feel for the game. The Michigan State standout is very comfortable as the primary ball handler and distributor, despite his struggles beating his man off the bounce consistently. Valentine moves the ball, can play pick and roll, and sees plays developing a step ahead of almost every other wing at the camp.

Valentine certainly isn't perfect with the ball, as he will oftentimes try and thread the needle or get a bit sloppy making the simple play, but as an overall basketball player and distributor there's a lot to like about the Lansing, MI native. He's crafty, plays at different speeds, and knows how to use his body in tight spaces.

But while his passing most certainly impressed, Valentine didn't shoot the ball all that well overall, an area where he'll need to be nearly knockdown to make it in the NBA given his body type and limitations as a finisher and shot creator. Valentine can most certainly make shots (41.6% from three as a junior with natural touch) but he doesn't have the most natural stroke as he has some slight, unnecessary movement in his mechanics and doesn't have a very consistent release point.

Valentine also has his struggles defending quicker guards, one of the biggest reasons he may end up on the outside looking in as an NBA prospect. As a pure basketball player Valentine brings a lot to the table offensively, but he'll have to work on his body and really become a knockdown shooter to make it in the NBA. Valentine's skill set is very well suited for the Europe, where he'll most definitely have the opportunity to turn in a long and successful career if things don't work out for him on this side of the ocean first.
[
Read Full Article
]