One of the most productive young prospects in Europe,
Evan Fournier
might be the only international player picked in the first round of this year's draft. How does he stack up with his American counterparts?
Previous International Prospect Scouting Reports:
-
Dusan Cantekin
-
Ognjen Kuzmic
-
Dmitry Kulagin
-
Maik Zirbes
-
Nikola Ivanovic
-
Sergey Karasev
-
Furkan Aldemir
-
Tornike Shengelia
Jonathan Givony
After a solid rookie year, averaging 6.4 points in 14.4 minutes,
Evan Fournier
has stepped up his game in a major way in his second pro season in the French first division, leading his team in scoring at 14 points per-game in 26 minutes, at the tender age of 19.
Named Pro A player of the month in March, Fournier is the undisputed go-to guy of Poitiers, a pretty rare feat in Europe considering his age and the level of competition he's playing at, even if his team ranks towards the bottom of the league with a 8-18 record this season.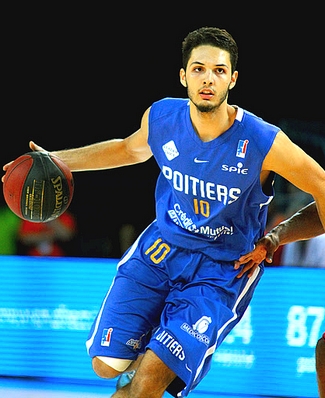 Even when adjusting for his increased playing time, Fournier has improved his production significantly in virtually every category this season, increasing his free throw attempts substantially, improving his 3-point percentage, dishing out far more assists, and getting in the passing lanes at a better rate. He ranks as one of the top five per-minute scorers in the league, as well as top five in steals and top ten in free throw attempts.
Enjoying a great deal of freedom in Poitiers' offense, Fournier gets the majority of his touches in pick and roll, transition and isolation situations, all of which he's fairly effective in.
He possesses ideal physical attributes for a NBA wing at 6-7 with a strong frame, and has the ability to create his own shot very effectively thanks to his excellent size, strength, and ball-handling skills. Despite his height, he's able to get very low with his dribble, showing terrific footwork and body control driving into the lane, often using crafty change of speed moves, spins and hesitations.
Patient and mature with his drives, he reads the secondary line of defense extremely well, frequently making intelligent passes off the dribble to cutting teammates as help-side defenders rotate towards him.
Fournier is capable of playing above the rim, even if he doesn't always feel compelled to, as he finishes extremely well around the basket, converting 63% of his attempts around the rim on the season according to Synergy Sports Technology, and a very efficient 55% of his 2-pointers overall.
Where Fournier continues to struggle is as a jump-shooter, both in catch and shoot and off the dribble situations this season. He's capable of making 3-pointers (he converts more than one per game), he just hasn't been able to do so efficiently, hitting only 26% of his attempts.
The biggest issue at the moment appears to be his shot-selection, as he just isn't as judicious as he needs to be considering his paltry percentages. When on-balanced and shooting in rhythm, Fournier appears to be a very capable shooter. The problem is that's rarely the case. When rushed, his mechanics tend to fall apart, as his release point is not consistent.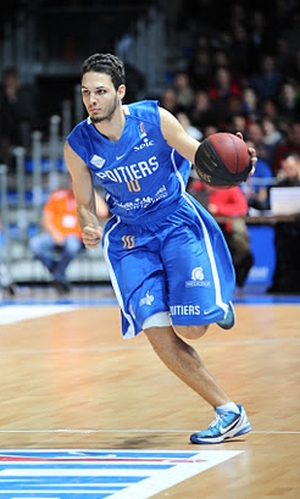 Defensively, Fournier has the ability to be very effective when he's dialed in and using his excellent size and anticipation skills to his advantage. Unfortunately, he's very inconsistent in his effort, looking quick to relax in his stance and not doing a great job bending his knees and being physical fighting through screens. This, coupled with his short (6-7 ½) wingspan and average lateral quickness, makes him fairly ineffective trying to stay in front of quicker guards on the perimeter, which is somewhat of a concern looking to the NBA.
Despite his (highly improvable) weaknesses as a perimeter shooter and defender, Fournier is a very intriguing NBA prospect thanks to his extremely intriguing combination of size, ball-handling ability, scoring instincts and productivity. Considering his age (he's younger than many collegiate freshmen, such as
Austin Rivers
and
Cody Zeller
), and the improvement he's shown over the past 18 months, Fournier obviously has plenty of room to continue to grow as a prospect over the next few years.
Fournier has already declared his intentions to enter the draft and is likely to stay in barring unforeseen circumstances. He missed out on some of the exposure a strong showing at the Nike Hoop Summit would have provided him, but will likely participate in the adidas EuroCamp this June in one form or another, something that could give his draft stock another boost.