Sports Aptitude focuses on studying how the blend of personality and situation impacts success in the NBA. Leading up to opening night, we'll take a look at twenty players who are poised to take advantage of the positions they are in.
---
More From Sports Aptitude
-NBA Market Watch: DeAndre Bembry
-
Opportunity Knocks: Personality Factors – Top To Bottom
-
NBA Market Watch: Will Barton
-
Opportunity Knocks: What's Trending in Development
-
Opportunity Knocks: Fitting In vs Fitting Out
-
Opportunity Knocks: The Pluses and Minuses of Success
-
The DeAndre Jordan Rules
-
DeMarre Carroll's Long and Winding Road to Stardom
-
The Unbearable Lightness of Patrick Beverley
-
Everybody Loves Draymond Green
-
Jimmy Butler's Rise to Stardom
-
How Situation Impacts Success, Part Two
-
How Situation Impacts Success, Part One
-
The Thin Line Between Busts and Steals
---
"Player Type" is defined by the general trends in personality a player shares with others. Additionally, three player-specific traits are listed for each player to highlight a unique combination of attributes that differentiate him from others. The "Projected Situation" factors below are defined in order to quantify specific Environment, Opportunity, and Workload criteria.
These variables are then used to analyze how different "Player Types" have historically performed under different developmental circumstances. This allows us to use the wealth of available NBA player data (spanning over a decade, and now consisting of most of the league) to measure significant differences in on-court performance and form better hypotheses regarding the cause-and-effect nature that personality and situation has on development.
By identifying these historical trends we can:
- Form more accurate player comparisons
- Create more context for past performance
- Better assess player-to-team fit
- Adjust developmental support tactics faster
We'll break down each player through the lens of the key factors and apply them to what we know about potential team needs to project who is poised for a breakout season. These are brief snapshots, rather than a deep-dive into the data, meant to highlight "Players of Interest" going into the season. These "Cliffs notes" versions are only a fraction of the picture, but should give readers something to ponder on each player as their stories unfold.
BOBBY PORTIS
PERSONALITY FACTORS
Player Type: AssertiveRisk-Taking: 22% Above NBA NormsRule-Bound: 19% Above NBA NormsConservative: 22% Above NBA Norms
SITUATION FACTORS
Experiential Status: RSCI Top 50 RecruitProjected Environment: .400 to .600 Team WL%Projected Opportunity: 20 to 29 MPG
Projected Workload: 18 to 22 USG%
Portis channels his willingness to take risks through a heavy sense of responsibility and a conservative scope of options, favorable traits in situations where the stakes are high and on-court roles flow with machine-like certainty. The combination of these traits are a unique blend found in NBA overachievers, such as Ryan Anderson and Kenneth Faried. On the flip side, players with Portis' pedigree (RSCI Top 50), tend to struggle when they feel their role marginalizes their ability to make an impact on a directionless team.
"Floor Spacing" has been the concern du jour when evaluating the Bulls. The frontcourt duo of Taj Gibson and Robin Lopez provide sound defense, but little space while the Mirotic/McDermott tandem create inverse concerns. If Chicago fails to find the winning formula and Portis is fighting for playing time, his on-court results could be uneven - he's predisposed to "press to impress" due to his competitive drive. It's hard for players like Portis to charge forward in the right direction with a broken GPS in a car stuck in second gear.
Portis' ability to become the best two-way option among the Bulls bigs is in sight. He'll have to tone down the tenacity in defensive pick and roll coverage, where he often overestimates his foot speed, attacking with aggressive angles instead of anticipating. Offensively, Portis needs to hit a higher percentage of his catch-and-shoot threes to create enough room for himself and the "three alphas" to drive. His "wide open" shooting from distance, (39.4% per NBA.com/Stats) indicates he could create more gravity with higher volume, as his footwork/form are projectable. He's in line for a strong sophomore season, with more room to grow as the team solidifies its rotation.
JUSTISE WINSLOW
PERSONALITY FACTORS
Player Type: CollaborativeFree-Thinking: 44% Above NBA NormsFearless: 39% Above NBA NormsGoal-Oriented: 27% Above NBA Norms
SITUATION FACTORS
Experiential Status: RSCI Top 50 RecruitProjected Environment: .400 to .600 Team WL%Projected Opportunity: Over 30 MPG
Projected Workload: 18 to 22 USG%
Winslow's trait mix is a compelling blend of collaboration, composure, and urgency. Typically players with his measurable level of self-assuredness are far more complacent. Winslow's confidence doesn't get in the way of his ability to self-review or his ability to empathize with those around him. His ability to balance individual objectives with team goals is exceptionally rare from a measurables perspective - as was his ability to play nearly thirty minutes per game on a veteran playoff team his rookie year.
Most Collaboratives work hard to fit in rather than stand out early on. They aren't as influenced by status as other player types, so they are often more patient and less productive as lottery picks. The quality of last year's Heat team may have had this effect on Winslow, but the void of experience and leadership on this year's team is unlikely to do the same. The combined age, experience, and level of accomplishment of most of the Heat roster makes Winslow a natural fit for filling the power void in Miami as he is both a "Words" and "Actions" type.
From a skill standpoint, Winslow should have the opportunity to do more playmaking in pick and roll and isolation settings (last season just 9% of his offense came in these situations according to Synergy Sports Technology) as well as showcase his multi-positional versatility more frequently. His perimeter shot has to improve in order to maximize his scoring potential, but the other parts of his offensive game - cutting, hand-offs, screens - should all greatly benefit from a youth-infused rotation that, ideally, provides more pace and space as well as the aforementioned ball-handling opportunities. All the factors are there for big-time breakout season.
KYLE ANDERSON
PERSONALITY FACTORS
Player Type: CollaborativeFearless: 22% Above NBA NormsSelf-Assured: 22% Above NBA NormsPerfectionistic: 32% Above NBA Norms
SITUATION FACTORS
Experiential Status: RSCI Top 50 RecruitProjected Environment: > .600 Team WL%Projected Opportunity: 20 to 29 MPG
Projected Workload: 18 to 22 USG%
Anderson's supreme self-confidence and track history as an elite level recruit likely lowered his caution and created a sense of inevitability in his success early in his amateur career. Never blessed with elite athletic tools, his bravado during the pre-draft process may have masked the underdog within. Not every player is equipped to handle such a serving of humble-pie. But Anderson's compulsive need to succeed surely helped him focus on finding a path to opportunity instead of sulking about a lack of it off the bat.
The Spurs are in a unique period of transition, where opportunity abounds while team culture and continuity remain strong. Assuming Pau Gasol continues to defy father time, the law firm of Leonard, Aldridge, and Gasol should take up a bulk of the ninety-six "Big" minutes. The cap on Anderson's court time therefore appears to be centered on how often San Antonio is compelled to go "Small". David Lee, Danny Green, and Jonathan Simmons appear to be the main competition when it comes to lineup configurations. In that regard, an Anderson/Leonard forward combo has plenty of theoretical potential on both sides of the ball.
Anderson's playmaking potential, extreme rate of growth, and dogged determination warrant a test run with more responsibility. Ideally, this translates into more small-ball lineups where Anderson and Leonard force matchups that put the ball in Anderson's hand with greater frequency. According to Synergy, Anderson's year one to year two matriculation has been impressive: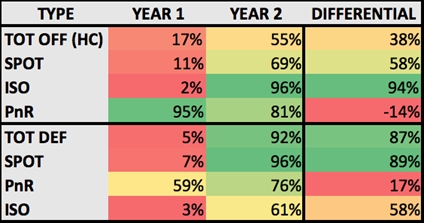 While these numbers were accomplished in limited minutes and miniscule usage, Anderson's trait comps, growth rate, and ability to shoot off the bounce suggest better things to come, especially if he can find a way to not be a liability defensively due to his below average lateral quickness. He might not be ready for thirty minutes per game yet with questions on the backline of the defense yet to be settled, but expect a nice bump in minutes and production per possession as those rotation questions are solved.
MAURICE HARKLESS
PERSONALITY FACTORS
Player Type: AssertiveAnalytical: 32% Above NBA NormsPersevering: 29%% Above NBA NormsCautious: 24% Above NBA Norms
SITUATION FACTORS
Experiential Status: RSCI Top 50 RecruitProjected Environment: .400 to .600 Team WL%Projected Opportunity: 20 to 29 MPG
Projected Workload: Under 18 USG%
Harkless' late season insertion into the starting lineup led to a sudden surge in performance. This was not surprising, because it involved something that "Assertives" crave - recognition and empowerment. Past experience has a stronger influence on how they respond to change than most. Among the most resilient, these players fight hard to prove their worth, but can have difficulty asking for help if they believe showing vulnerability will put their status at risk. For Harkless, finding himself suddenly relied on to "step up" as a starter on a playoff team must have felt liberating. As a top-25 high school recruit and top 15 draft pick, who came into the NBA as a 19-year old, Harkless' past and present had been at odds since his second year in the league.
Continuity and camaraderie are two important ingredients for Harkless to come out of his shell fully. The third C, "Control" - or his perception of it - is the X Factor in this equation. Finding success with a group of similarly aged/experienced peers is a good step. That being said, Portland has a lot of hungry players and a ton of options that they've invested in. There will be bumps in the road where lapses in defensive technique on smaller ball-handlers and a cold hand from the corners will see him subbed out. His defensive versatility should continue to keep him in the mix - as will his 42 million dollar contract - while his spot-up shooting evolves.
Reinforcing Harkless' perception of the team's belief in him could be greatly helped by naming him as a starter and sticking with that status through the ups and downs of his offensive development. Harkless' ability to trust others enough to be vulnerable and voice his needs in the face of adversity will be a critical part of his potential going forward. The symbolic status of being a "starter" is not only empowering, but it creates the perception of "playing with the lead" - helping him stay in "attack mode" to maintain the advantage instead of trying to limit mistakes in order to gain approval and earn a shot at a higher status role. The 150 million dollars that Portland invested in Evan Turner and Allan Crabbe this summer may hamper Harkless' ability to maintain the momentum he built up at the end of last season, but the fact that he's continued to start at small forward in the preseason has to be considered encouraging.
TERRY ROZIER
PERSONALITY FACTORS
Player Type: UrgentGroup-Oriented: 26% Above NBA NormsNon-Conforming: 22% Above NBA NormsSelf-Doubting: 15% Above NBA Norms
SITUATION FACTORS
Experiential Status: RSCI Top 50 RecruitProjected Environment: > .600 Team WL%Projected Opportunity: Under 20 MPG
Projected Workload: 18 to 22 USG%
Rozier's blend of accountability and independent-mindedness should serve him well as he works to grow his role from the bottom up. "Urgent" RSCI Top 50 recruits drafted just outside the lottery typically find it hard to handle the sudden shift in what's familiar. But Rozier doesn't share the same high aversion to risk and low tolerance for frustration that makes it more difficult for most "Urgents" to digest change in the absence of the opportunity to prove oneself. He is far more patient and flexible than the norms for his group, with a much greater willingness to take risks. These traits also likely feed into Rozier's propensity to leap before he looks. He doesn't always have a plan when letting his emotions dictate his assertiveness.
But his immersion in the structured Celtics team environment helps to create a narrow scope of focus that Rozier is more equipped to accept than most. Boston's team culture fits Rozier's base skill set and mentality. The team has a specific need for off-the-dribble playmaking and sound defensive fundamentals. Avery Bradley is the only guard on the roster who can cover multiple positions defensively and brings a plus game to the offensive end. Rozier is heavily influenced by the standard his teammates set without allowing their influence to subjugate his willingness to stand out. Playing the part of the "aspiring understudy" suits his self-discipline much better at this stage in his development than being a lead dog somewhere else.
While this will likely make him more mistake-prone early on, the consistency of the players around him should accelerate his growth the more reps he gets. There have already been signs of this trend emerging in his decision-making. Rozier has been more purposeful on catch-and-shoot opportunities. He is taking shots without hesitation when open and using space much more intelligently on his drives. It's difficult to project Rozier getting over the twenty-minute hump with so many viable rotation options this season. But it would not be surprising to see an accelerated growth curve for Rozier this year the more time he is on the floor. How much of that time is spent on the NBA vs. NBADL floor may be a race for establishing offensive relevancy between he and Marcus Smart.
NEXT ON-DECK
1. Gorgui Dieng
2. Taurean Prince
3. Rondae Hollis-Jefferson
4. Justin Anderson
5. Patrick McCaw