Day one of the 2015 adidas Eurocamp in Treviso, Italy is officially in the books.
---
More EuroCamp Content
-adidas EuroCamp Preview and Roster Breakdown
---
The day started with some stretching and light drills, giving the hundreds of members of the basketball industry assembled here a chance to re-connect and put faces to names before competitive action tipped off.
This year's roster held up exceptionally well, with almost no players of note withdrawing after being on the original camp roster, a testament to the hard work and planning of Maurizio Gherardini and his staff. 1995-born forward Vincent Kesteloot is the only true absentee it appears, still fighting some nagging injuries from the Belgian League finals which came to a close just two days ago.
A number of players will be late due to flight or team circumstances including
Vanja Marinkovic
,
Kostja Mushidi
, and
Diego Flaccadori
, and
Ante Zizic
will be leaving early and
Paul Zipser
will be working out separate from the daily camp schedule, but the low number of late roster changes this year is unprecedented and a positive sign for the Eurocamp moving forward.
The NBA executives in attendance had plenty of positive things to say about the group of players assembled here. Last year's camp featured
Dragan Bender
, who will almost certainly go in the top-5 picks of the upcoming draft, 1999-born stud
Dzanan Musa
, and a tremendous USA Select Team roster, but no player who appeared in last year's camp was selected in the 2015 NBA Draft aside from late second round pick
Nikola Radicevic
who did not compete in the camp's games. With Zizic, Cornelie, and Zipser here, this year's group has more immediate implications to the upcoming draft, which is always a plus.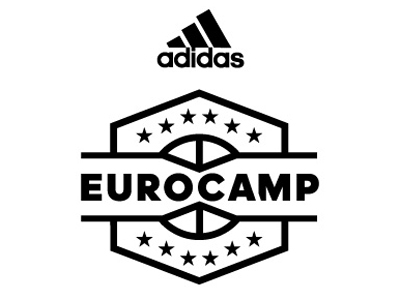 Day One Activities
The first day of the adidas EuroCamp included drills and team practices to go along with a total of four games featuring all four teams of campers, the French U20 National Team, the Ukrainian U20 National Team, the adidas USA Select Team, and an all-star team of the day's top performers.
When players aren't competing, they go through a gambit of athletic tests and measurements administered by BAM, on a separate court. We'll analyze those numbers in detail when they're released in the coming days.
Playing in a setting that separates them from the comfort zones they've settled into with their respective clubs, day one always offers an interesting frame of reference into how well a player can survive off their instincts and adapt to their surroundings.
Ante Zizic
Participating in the morning drills and playing one half of the Eurocamp All-Stars' matchup against the Ukrainian U20 National Team,
Ante Zizic
had a solid, but not spectacular showing in what will be his only day in Treviso. Reinforcing much of what we already knew about him, the near 7-footer who averaged an impressive 15 points and 9 rebounds per game for Cibona across the FIBA Europe Cup, Adriatic League, and Croatian League, didn't help or hurt himself significantly.
As has been the case throughout the season, Zizic made his presence felt here with his aggressiveness. Drawing fouls in the mid-post, crashing the glass, and even getting to the rim form the perimeter when he was given a lane, Zizic was solid in drills and scored 9 points to go along with 8 rebounds and 5 fouls drawn in 19 minutes of action against the Ukraine. He made a few bad passes, and his feel for the game offensively isn't outstanding, but he largely lived up to his reputation as a terrific rebounder and physical interior presence today.
Despite his strong play inside, Zizic struggled on the defensive end, particularly away from the basket where he had a hard time hedging the pick & roll and closing out shooters. Not a particularly explosive athlete, he also provided little rim protection, looking a bit winded and a step slow at times, clearly still recovering from the end of his season. Looking spryer throughout the year in Cibona, Zizic's play here is by no means a deal breaker, and his work ethic will certainly help him improve his defensive acumen down the road, but his struggles were a reminder that despite his productivity, he's still only 19 years and has plenty of room for growth.
Competitive Action
In the early game,
Kenan Karahodzic
led all scorers in a somewhat low scoring affair where the campers traditionally struggle to make shots. Going a combined 7-38 from beyond the arc, it will be interesting to see how this group bounces back as the weekend wears on. Spanish guards
Sergi Garcia
and
Dario Brizuela
were the top scorers in the third game, which wasn't immune to erratic shooting the plagued the early game either.
In game two, the US Select Team was blown 86-59 out by a much older, more experienced and physical U20 France squad. Though France is missing quite a few pieces including the likes of
Isaia Cordinier
and
Frank Ntilikina
, they played excellent team basketball, forced a ton of turnovers, got out in transition frequently, passed the ball well, and made open shots when the game was still in doubt. Given they opened the game with a 49-15 run, that didn't last very long.
Despite the result, this was unquestionably a great learning experience for this young US team, which has some individual talent, but has a long ways to go in terms of learning how to play together, defend physical players inside, and spread the floor without much in the way of outside shooting. UCLA commit
Jaylen Hands
led the US with 14 points, but committed 7 turnovers against the active French defense.
We'll have a more thorough report on the individual US and French prospects when we can get a better feel for them in a more competitive game than the one we saw.
In the late game, Kansas swingman
Sviatoslav Mykhailiuk
took to the floor with Ukrainian U20 National Team. On his 19th birthday, the talented sophomore showed the things he can do well and also what he needs to keep improving on. Making some shots and defending well, he scored 19 points going 8/21 from the field and 3/9 from beyond the arc. However, he struggled when forced to create on his own, which isn't surprising given this team only recently convened for this event and needed him to do more than he's probably comfortable at this stage.
Player Notes
-Perhaps the most impressive performance of the day came from
Kenan Karahodzic
, a somewhat unique player who did not declare for the 2016 NBA Draft and has no FIBA experience. Scoring 13 points on 6/9 from the field in 20 minutes in the early game, the 6'11, 230-pound stretch four impressed with his smooth stroke, perimeter skill level, and fluidity. Emerging as a prospect out of his native Serbia but signing with ACB power Unicaja Malaga in 2012 at the age of 16, Karahodzic has played much of his career at the lower levels of Spanish basketball. Although he made both his Euroleague and ACB debut last season, he's spent most of the last two years with Unicaja's 2nd team Clinicas Rincon who has bounced back and forth between the LEB and Gold and Silver. Averaging 11.3 points and 6 rebounds per game in the 3rd Division this season while shooting just 27% from beyond the arc, Karahodzic is a talented prospect with a nice stroke and impressive coordination and instincts for his size. He isn't overly consistent and his motor comes and goes, which limits him defensively and on the glass, but has some intriguing tools. If he can continue improving his frame, and plays with a bit more fire, he could be a player to keep a close eye on down the road.
-One of the biggest risers among prospects in the 1994-born age group that is automatically eligible for the 2016 NBA Draft is French point guard
David Michineau
, who has put together a very nice season coming off the bench for Chalon and continued his solid play on day one here. Standing 6'3 with a wiry frame and nice length, Michineau has always been a fairly impressive physical specimen and he possesses terrific speed and quickness as well, but he's applying those tools far better than he did early in his career, particularly on the defensive end. Putting in some truly impressive work locking down today, and all season really, the young guard's ability to apply pressure and maneuver around screens really stands out. He's more of a mixed bag offensively where his ability to change speeds and get to spots on the floor is promising, but his jump shooting mechanics and decision-making remain a real concern.
He threw a number of misguided passes today, but finished the evening session on high note scoring 12 points to go along with 4 assists to just 2 turnovers against the Ukrainian U20 team. Averaging a respectable 1.9 assists to just 0.9 turnover per game in the FIBA Europe Cup and French League this season, Michineau is capable of more than he showed here as a floor general as he tried to do too much at times, but is a lifetime 28% shooter from beyond the arc at the junior and senior levels.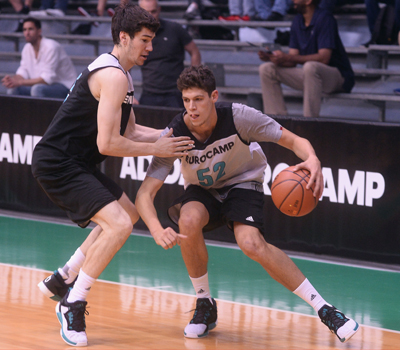 -
Oriol Pauli
also warrants mention here. He struggled with turnovers in competitive action, but had some nice moments creating off the dribble in the pick and roll. The 6'7 swingman who has spent the last two seasons coming off the bench for Gran Canaria lacks great strength, but showed the ability to generate good looks for himself and others out of the two man game. He isn't particularly adept at handling pressure, nor is he overwhelmingly quick, but his feel for making things happen off the bounce stood out to go along with an impressive tip-dunk and an flashy play in transition where he nutmegged a defender before trying to go behind the back looking for a highlight reel assist. Pauli gets a bit wild at times and is limited as a jump shooter, but had a stronger showing today than expected.