We'll be canvassing the top leagues in Europe over the next few weeks previewing the action that is just about to kick off over the Atlantic, looking at some of the top teams to be found, as well as the NBA draft prospects that are worth keeping an eye on. First off we start with the Spanish ACB League, which has lost some luster as of late and is barely holding onto the title of "best domestic league in Europe. The "petrol fueled" Russian league, armed to the teeth with expensive transfers from the NBA and Euroleague is nipping at their heels.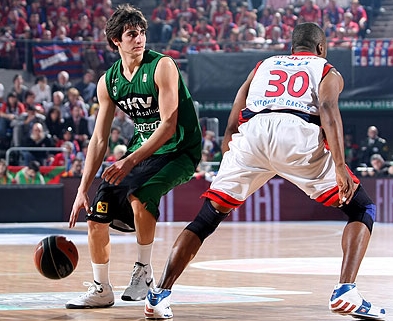 Last Year's Champions:
Tau Vitoria
The Baskonians had what would be considered a wonderful season by any team's standards anywhere in Europe, winning the ACB championship, making the Euroleague Final Four (where they lost a close game to eventual winners CSKA Moscow), and reaching the Finals of the Copa del Rey. Still, that apparently wasn't enough, and management decided to replace Slovenian head coach Neven Spahija (who is quickly becoming the Rodney Dangerfield of Europe) with Serbian Dusko Ivanovic, who was fired by Barcelona midway through last season.
Ivanovic is quite possibly one of the most conservative coaches in Europe, a product of the staunch ex-Yugoslavian school that demands an almost unreasonable standard of physical conditioning, mental toughness and tactical discipline that many of today's athletes just aren't really interested in subjecting themselves to. Tau was surprisingly rebuffed by some of the free agents they approached in turn, and ended up having to sign
Mustafa Shakur
as one of their two Americans, which certainly raised some eyebrows. Much of last year's roster returns, besides
Zoran Planinic
(bought out by CSKA) and James Singleton (signed by Dallas). Brought in to replace Planinic is talented Spanish swingman Fernando San Emeterio, a versatile and fairly athletic scorer.
Predicted Champions:
Barcelona
It's hard not to be impressed by the moves Barcelona made this summer, coming up with arguably the two biggest signings of the transfer period by returning home-grown favorite
Juan Carlos Navarro
to pair with one of the top big men in Europe in
David Andersen
.
Andre Barrett
will make his European debut this season and will take some of the ball-handling responsibilities off the offensive-minded Jaka Lakovic, and
Ersan Ilyasova
will try to show that his emergence in the second half of last year's campaign was a sign that he's finally starting to reach his full potential. There is a lot of depth here after the signing of athletic and defensive minded guard Victor Sada and the very steady swingman Lubos Barton, but the team is still looking for another big man to complete the roster, possibly Daniel Santiago. There will be a lot of pressure on inexperienced 36-year old head coach Xavier Pascual to deliver the goods on all fronts, but there is no question that he has the resources at his disposal to get the job done.
Other contenders:
Real Madrid added two big time American athletes to the roster in
Jeremiah Massey
and
Quinton Hosley
, and will likely be looking to run a bit more than they did last season. With incoming point guard
Pepe Sanchez
, a more mature
Marko Tomas
, the silky smooth shooting of
Louis Bullock
and the tough as nails duo of
Axel Hervelle
and Felipe Reyes, this a loaded squad that will contend for the Euroleague Final Four and ACB Championship.
Unicaja Malaga starts a new chapter by letting go of ultra conservative Sergio Scariolo and replacing him with the incredibly popular Aito Garcia Reneses, known for his innovative style of offense and the freedom he gives his players. Malaga retains the likes of
Marcus Haislip
, Boniface N'Dong, Carlos Jiminez and
Jiri Welsch
, but will likely only go as far as their new "Montenegrin" point guard
Omar Cook
takes them. Cook is as ball-dominant and pick and roll reliant a point guard as you'll find on this side of the ocean, and it will be fascinating to see how his style of play works against the very organized and tactically sound defenses the ACB is known for. Adding fuel to the fire will be the #2 scorer in the ACB last season (behind
Rudy Fernandez
), recently signed French combo guard Joseph Gomis.
European Competition Participants
Euroleague
: TAU Vitoria, FC Barcelona, DKV Joventut, Unicaja Malaga, Real Madrid
EuroCup
(formerly ULEB Cup): Pamesa Valencia, iurbentia Bilbao, Cajasol Sevilla, Gran Canaria
Euro Challenge
(formerly EuroCup): None
NBA Prospects:
Every year Spain gives NBA scouts a good excuse to use to come and spend time in this beautiful country. Some kid named
Ricky Rubio
sounds like the perfect reason to pay a visit to Barcelona, as he'll be given an even bigger role this season with the departure of
Rudy Fernandez
to the NBA. While they're here, the scouts can also take a look at draft-eligible
Henk Norel
, coming off a solid showing at the Reebok Eurocamp in Treviso, as well as young Spanish guard
Pau Ribas
and former NBA players
Bracey Wright
and
Pops Mensah-Bonsu
.
Athletic Spanish combo forward
Victor Claver
is another noteworthy attraction in Pamesa Valencia, even if his star has fallen a bit as of late. He has a chance to reclaim some of his shine now that a good deal of playing time looks to be coming his way at the small forward spot in particular, on a fairly ambitious Eurocup participant squad.
Probably still a year or two away from seeing serious playing time at this level, Argentinean guard
Matias Nocedal
has managed to stir up some hype already despite being only 18 years old. He'll be a part of Tau Vitoria's extended senior roster this season.
There is an athletic, intriguing and incredibly enigmatic Brazilian big man who goes by the name of
Vitor Faverani
that is overdue for a breakout season sometime soon. His rights are still owned by Unicaja Malaga, and he will be alternating between playing on the first team and spending time with their very competitive farm team in the second division (LEB Gold) with Clinicas Rincon Axarquia.
Last but not least, lurking in the third division, LEB Silver, will be Bosnian scoring machine
Nihad Djedovic
(on loan from Barcelona), still young as a 1990 product, but definitely a player to keep an eye on considering his skill-set and maturity level.
In terms of free agents that NBA teams might want to think about, guys like
Quinton Hosley
and
Pops Mensah-Bonsu
are certainly young enough to garner an extended look considering their physical tools, while
Marcus Haislip
is clearly an NBA plus level athlete with a well rounded skill-set, but somehow shockingly continues to be ignored. Does
Omar Cook
have what it takes to be a backup in the NBA? We will probably find out this season.
Pooh Jeter
is also certainly deserving of a look.
On the domestic front, Felipe Reyes is no less talented than someone like
Fabricio Oberto
, and has clearly been an NBA-level player for some time now. He showed as much in the Beijing Olympics against Team USA, but would be hard to draw away from Real Madrid without a substantial offer. Still, playoff contending teams would be foolish not to try.
Only the incompetence of the Atlanta Hawks organization could keep a talent like
David Andersen
out of the NBA for so long, while
Axel Hervelle
is more than ready to join the Denver Nuggets if they are keen on making a strong push for his services.
Serge Ibaka
will be challenged in moving up to the ACB league to play for Manresa, and the Oklahoma City Thunder will be watching him intently.
Tiago Splitter
is likely a lost cause for the Spurs considering the incredibly restrictive rookie salary scale.
All in all, this promises to be another very interesting year in Spain.