For the second consecutive night the USA Team scrimmaged a group of former collegiate players in the Trail Blazers practice facility, once again coming out on top, 87-63, over the course of three 10-minute quarters. Unlike Thursday night, the scrimmage wasn't open to NBA scouts and executives.
---
More DX Nike Hoop Summit Coverage
-Ivan Rabb Interview
-Nike Hoop Summit Shooting Drills: Skal Labissiere
-Nike Hoop Summit Shooting Drills: Tai Wynyard
-Team USA Scrimmage One Recap
-Cheick Diallo Interview
-Tai Wynyard Interview
-One on One Drills: Skal Labissiere vs Thon Maker
-Federico Mussini Interview
-2015 Nike Hoop Summit: International Practice: Day Three
-USA Practice Day One
-Skal Labissiere Interview
-Ben Simmons Interview
-International Practice Recap Days One and Two
-World Select Team Measurements and Analysis
-USA Junior National Select Team Measurements and Analysis
-2015 Nike Hoop Summit International Roster Breakdown
---
Team USA's perimeter play was yet again the difference as Eric Flannery's team moved the ball crisply around the perimeter, knocked down a barrage of open jumpers, and slashed to the rim with consistency. This US squad played with a cohesion and continuity that the World Select Team has been working to find since first hitting the hardwood on Monday afternoon.
Flannery started
Jalen Brunson
,
Malik Newman
,
Ivan Rabb
and
Jaylen Brown
, who sat out of Thursday night's scrimmage due to a sore hip. He mixed in different lineups from that point on, and even went small throughout the game with Brown at the four next to either
Chase Jeter
or Rabb, a look they could show on Saturday to neutralize the World Team's size and length.
Brown looked good both at the three and the four on Firday night, flashing some of the physical tools and skill set that has him ranked No. 2 in our 2016 Mock Draft. While the 6' 6.5" 222-pound wing didn't shoot the ball consistently from the perimeter, he scored in a variety of ways both in the half court and transition.
The uncommitted small forward attacked the rim aggressively, including an impressive left-handed drive and finish through contact and over length, possible thanks to his 7' 0.5" wingspan, strong frame and leaping ability. Brown also knocked down a pick and pop jumper as the four man, a spot three, and a one-footed jumper in the lane. Brown has ideal physical tools for an NBA wing, fairly advanced ball skills for his level of development, and an excellent foundation as a shooter, all qualities that should make his transition to college and eventually the NBA seamless.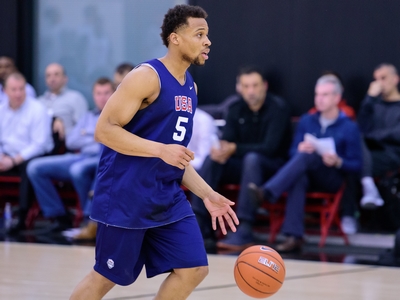 Brown wasn't the only one doing damage on the perimeter, however.
Isaiah Briscoe
once again made Team USA's offense go as he moved the ball ahead in transition with regularity, used his size, strength and change of speeds to get into the lane and find shooters or bigs, and even finished a tough And 1 in transition.
Briscoe once again had some issues keeping the scrimmage squad's speedy point guard in front of him, but he showed better effort on the defensive end for stretches, and will be a handful for the World Select Team on Saturday afternoon.
Uncommitted scoring guard
Malik Newman
struggled to find his jumper early on but got cooking as the game progressed by making dynamic plays in the open court and knocking down a handful of contested catch and shoot jumpers on the move. Newman is one of the most offensively gifted guards in the country and is extremely tough to slow down once he gets going, as he can get his shot off at will and make defenders miss both in the half court and transition.
The US Team also got a nice contribution from long, lanky wing
Brandon Ingram
. The 17-year-old, who measured 6' 9.5" in shoes with a 7' 3" wingspan on Friday, showed off his offensive versatility and soft touch from the perimeter by knocking down a few jumpers from mid-range spots, tipping in his own miss in the lane, and flashing to a soft spot in the opponent's zone and earning a trip to the line. Ingram has very good scoring instincts and a world of potential given his soft touch, size, length and fluidity.
Wings
Luke Kennard
and
Allonzo Trier
, who both had excellent games on Thursday, were able to take more of a backseat on Friday as the US Team has so many different weapons from the perimeter.
The USA bigs also did some nice things on the offensive end, as
Caleb Swanigan
and Jeter both knocked down mid-range jumpers and had a pair of nice finishes around the rim, while Rabb had a nice drive and finish over length and also dropped in his patented left handed jump hook.
Stephen Zimmerman
was also fairly active on the offensive glass and showed off his mobility and athleticism with a dunk in transition.
While the US Team was flowing offensively, they had some issues containing the scrimmage squad on the defensive end. It was clear Coach Flannery's team was using the scrimmage to work on its diamond and man-to-man presses, as well as it's 1-1-3 and 2-3 zone in the half court.
They were able to force a handful of turnovers but for the most part the scrimmage squad gashed the US Team's zone and even torched them in transition from time to time. It was clear that Team USA had tired legs, and rightfully so, given their rigorous schedule this time of year.
With that said, the US Team, especially the bigs, will have to do a much better job on the defensive glass and protecting the paint on Saturday. The World Team is loaded with long, athletic, versatile bigs who can finish inside and make shots from mid-range spots, which could cause the US team a world of problems.
Given the usual up and down nature of the Nike Hoop Summit game, the US Team can also do a much better job getting back in transition and protecting the paint, an area where they really struggled on Friday.
Saturday's game will be a matchup of two very different teams – a World squad that thrives on its size, length, athleticism and versatile frontcourt, and a US Team that features a handful of different weapons at the 1-3 positions.
Despite their struggles on the interior on Thursday, the US Team is gelling offensively and loaded with scorers and shot-makers that should give the World Select Team fits on Saturday afternoon.