Shabazz Muhammad is one of the most controversial prospects in the 2013 NBA Draft. He's clearly one of the best scorers and most fierce competitors around, but he has been criticized for his unconventional style of play, aversion for passing, and the recent revelation that his age was falsified. What kind of NBA prospect is he?
-
NBA Draft Prospect of the Week: Mike Muscala
-
NBA Draft Prospect of the Week: B.J. Young
-
NBA Draft Prospect of the Week: Tony Mitchell
-
NBA Draft Prospect of the Week: Giannis Adetokunbo
-
NBA Draft Prospect of the Week: Nerlens Noel
-
NBA Draft Prospect of the Week: Marcus Smart
-
NBA Draft Prospect of the Week: Victor Oladipo
-
Kelly Olynyk Video Scouting Report
-NBA Draft Prospect of the Week: Russ Smith
-
NBA Draft Prospect of the Week: C.J. McCollum
-
NBA Draft Prospect of the Week: Anthony Bennett
-
NBA Draft Prospect of the Week: Ben McLemore
Shabazz Muhammad, 6-6, Freshman, Small Forward, UCLA
The past six months or so haven't gone exactly according to planned for
Shabazz Muhammad
. From a NCAA-imposed suspension for eligibility issues, to relatively disappointing play in his freshman season, to an explosive story in the L.A. Times uncovering his age was falsified, and culminating in a first round exit from the NCAA tournament, resulting in his coach being fired – Muhammad's freshman season was a real roller coaster ride.
Standing 6-6, Muhammad is perhaps an inch undersized for the small forward position his skill-set appears best suited for. His strong 223 pound frame and massive 6-11 wingspan help quite a bit, though, as it doesn't appear this is what will hold him back from finding success in the NBA.
Completing the picture in terms of his physical tools, Muhammad is a good, but not great athlete, relying more on instincts and superior strength than fantastic quickness or explosiveness, which is a bit more concerning when projecting to the NBA than his height.
Video Analysis:
Skill-wise, Muhammad is a scorer through and through, a hungry, aggressive offensive player who hunts shots and is constantly looking to put pressure on opposing defenses. He averaged 22 points per-40 minute pace adjusted, good for 16th in our top-100 rankings and third amongst freshmen, often carrying UCLA late in games to a number of important victories which helped them win the Pac-12 outright and make the conference tournament championship game.
Muhammad's style of play is highly unconventional, as he rarely scores in isolation or pick and roll settings in the half-court, seeing just 6% of his offense in these situations. Instead, he gets most of his points leaking out in transition, moving off the ball, as a spot-up shooter, posting up relentlessly, crashing the offensive glass, and coming off short curls in the mid-range area where he's only forced to put the ball on the floor once or twice to get all the way to the basket. He gets to the free throw line nearly seven times per-40, which is a testament to his aggressiveness and scoring instincts more than anything, as well as his ability to overpower opposing players.
Left handed, Muhammad very rarely drives or finishes with his right, which makes him somewhat predictable in half-court settings. When he does drive right, it's almost always to spin back to his left. Because he features just an average first step, he isn't always able to get all the way to the basket before the defense recovers, making him very reliant on his ability to convert all kinds of creative and highly unconventional leaners and floaters, often from just outside the paint. Even though he shows phenomenal touch on these shots, they aren't the most high-percentage attempts you'll find, which helps explain his very pedestrian 2-point percentage (46%). He's also a fairly below the rim finisher, relying on his length and quick jumping ability more than an extremely impressive vertical leap, which likewise helps explain why he's not quite as effective in transition (.981 points per possession) as you might hope.
From the perimeter, Muhammad has been better than advertised this season, as his reputation coming out of high school was that of a non-shooter. He's very good with his feet set as a catch and shoot threat, making 40% of his jumpers in this situation, which renders him a legit floor-spacer, even if his shot-selection can leave something to be desired at times. Off the dribble is another story altogether however, as Muhammad made just 12 of his 53 (23%) pull-up attempts.
While he's wasn't quite as effective as you might hope (13-39 from the field), Muhammad also has potential as a post-scorer, as he's strong and skilled enough to punish similarly sized or smaller opponents in one on one situations on the block. His mature frame and relentless style of play help a lot here, and this appears to be an area in which he can continue to find success in at his position as time moves on.
Muhammad ranks as the second best offensive rebounding wing player in our top-100 rankings after
Victor Oladipo
, which is another strong indication of the tremendous hunger and competitiveness he brings to the offensive end of the floor, as well as his excellent length and frame. Strangely enough, his prowess as a rebounder doesn't translate to the other end of the floor, as he actually averaged more offensive rebounds than defensive, which is somewhat rare. Muhammad's propensity for leaking out in transition, sometimes downright cherry picking, play a role in this as well.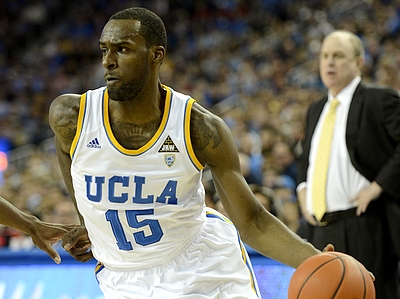 Generally speaking, Muhammad is not the most intense player you'll find defensively. His energy level is highly dependent on how he's faring on the other end of the court. When he misses a shot or doesn't touch the ball on a given possession he can be slow to get back on defense, and his lateral quickness appears to be just average on top of that. When Muhammad is dialed in, he can be extremely effective, though, as his combination of length, strength and aggressiveness allow him to make some very impressive plays contesting shots on the perimeter or challenging opponents inside the paint. If he can find a way to stay aggressive on every possession, there's no reason why he can't become at least a solid defender in the NBA.
Like other former UCLA players, such as
Arron Afflalo
,
Malcolm Lee
or
Tyler Honeycutt
, Muhammad does not get in the passing lanes very often, averaging under one steal per-40 minutes. As analysts such as
ESPN's Kevin Pelton
have pointed out, it's rare to find too many successful wing players who have been successful in the NBA without generating many steals in college, as that appears to be a major indicator of athleticism. Players who fit that profile as freshmen or sophomores include the likes of
Harrison Barnes
,
Damion James
,
Luke Babbitt
,
Kirk Snyder
,
Wilson Chandler
,
Nick Young
and
Joe Alexander
– which is not the most impressive list you'll find.
Perhaps more alarming is how few assists Muhammad generated this season, just 27 in nearly 1000 minutes of action. He ranks 78th among the 81 college players in our Top-100 rankings in assists per-40, and 79th in assists per possession. The only non-big men first round picks we found in the past 10 years who averaged fewer assists per possession as a freshman or sophomore are
Michael Beasley
,
Morris Almond
,
Lazar Hayward
,
Al Thornton
, and that's it. Beasley, Hayward and Thornton played mostly at power forward before being converted to the wing in the NBA. Is Muhammad a selfish player as his poor body language occasionally suggests, or was his role as a finisher in Ben Howland's offensive simply not conducive to generating assists?
Muhammad is a very unique prospect in this draft, blessed with tremendous scoring ability and a real killer instinct, which NBA teams love. On the other hand, he has some real deficiencies in his game that he must work to correct, while the question marks about his true age and his
father's heavy-handed involvement
surely won't help matters either. Once considered the surefire #1 prospect in his high school class, Muhammad has work to do on and off the court during the pre-draft process to ease the concerns of NBA decision makers. But there is little doubt he has the talent to do so, and eventually carve out a long career as well.