The picks have been made and the 2008 NBA Draft is in the books. Using
Win Score analysis
, we can instantly analyze the draft's winners and losers.
Immediate Impressions
Trade Analysis
Regardless of who they actually drafted, the Indiana Pacers won the draft on Wednesday night. In dumping Jermaine O'Neal, the Pacers acquired the holy trinity of an expiring contract, future considerations, and the best talent in the deal. Expect to see the Pacers return to the playoffs given this excellent take.
On the flip side, the Raptors lost significant depth and are now a threat to miss the playoffs, despite the presence of solid talent in
Chris Bosh
,
Jamario Moon
, and
Jose Calderon
.
Jermaine O'Neal
G PER PAWS/40
2007-2008 42 14.4 -2
2006-2007 69 18.7 0.2
2005-2006 51 20.4 0.8
Contract Two years remaining at over $20M/Yr
T.J. Ford
G PER PAWS/40
2007-2008 51 20.3 1.12
2006-2007 75 18.2 0.32
2005-2006 72 13 -0.58
Contract Three years remaining at around $8M/Yr
Radoslav Nesterovic
G PER PAWS/40
2007-2008 71 16.3 1.8
2006-2007 80 14.2 0.8
2005-2006 70 12.4 2
Contract Last year remaining at around $8M/Yr
For a full Win Score trade analysis, watch
the Wages of Wins Journal
in the coming days.
Draft Pick Analysis
As for the impact of draft picks themselves, sure, the Bulls look better with
Derrick Rose
, though they spent a very valuable asset in the first overall pick to acquire him. Given the
value of a team's draft picks
and
Win Scores analysis
, let's give a quick assessment of the draft's winners and losers.
Teams making wise investments which will pay dividends in wins:
-Miami's
Michael Beasley
projects as a productive player right now and is the favorite for Rookie of the Year. Even given the high value of the second overall pick, Beasley's monster projection beats it. In the second round, Miami hit again by trading for promising PG
Mario Chalmers
. Miami's lottery days were short, but very sweet.
-The Houston Rockets made some sleek moves in picking up new big men prospects. After last year's success with Scola and Landry, the Rockets acquired two new power forwards in
Joey Dorsey
and Maarty Luenen. Dorsey's Win Score marks were exceptional for all four years of college while Luenen continually grew his game over his collegiate career. Since four young, promising power forwards are enough,
Donte Greene
was also taken, showing both Win Scores potential early in the season and bust-like qualities in the second half.
-The best Win Score draft goes to the Indiana Pacers for picking up solid players in
Brandon Rush
and
Roy Hibbert
. Both are NBA-ready and excellent Win Score prospects. Along with their trades, the Pacers are primed to pass .500 this season and are a franchise on the upswing.
-Other teams making smaller gains include the 76ers with the selection of
Marreese Speights
and the Nets given the selection of
Chris Douglas-Roberts
.
Teams that lost ground:
-Lottery pick
Anthony Randolph
is purely a project, and Golden State once again is taking a chance (
Patrick O'Bryant
,
Ike Diogu
). Golden State's future is a little dimmer today, though they slightly redeemed themselves by selecting
Richard Hendrix
in the second round.
-With the third overall pick, Minnesota took
O.J. Mayo
. While Mayo can grow into a productive player, his brief college career suggests he's just not a productive player yet. Specifically, Mayo's turnovers indicate he's many years away from playing as an effective point guard, and Minnesota will have to hope he can live up to his defensive reputation to make this pick look good. Overall, the Timberwolves last three drafts had them taking Mayo over
Kevin Love
,
Corey Brewer
over
Joakim Noah
, and
Randy Foye
over
Brandon Roy
. Each of these decisions can be seriously questioned given Win Score analysis.
Last NCAA season's PAWS/40:
O.J. Mayo
0.7
Kevin Love
10.1
Corey Brewer
2.5
Joakim Noah
6.9
Randy Foye
2.8
Brandon Roy
6.6
**Update**
"Just when I thought you couldn't get any dumber, you go and do something like this... and totally redeem yourself!"
Minnesota may be learning from their mistakes after all.
ESPN is reporting a mega-trade
with Mayo and
Kevin Love
swapping teams, dumping some ugly three year deals on Memphis, and moving
Mike Miller
to Minnesota in the process. The Wolves are left with a talented front court in front of poor guards and Memphis winds up with a glut of good guards with no skilled bigs on the inside. Surely, more trades are in line, but Minnesota sees the light at the end of the lottery tunnel while Memphis is going the other way.
-Finally, according to Win Scores, taking
Eric Gordon
is a risky proposition. Outside of his poor projection, Gordon is likely going to put up points regardless of the lack of other contributions, and that is bad. In the Wages of Wins, the authors find a high correlation between points scored and pay. While this may sound normal at first glance, the underlying effect is that scorers are overpaid when assessing their total contributions. Gor
don may
score plenty of points, but if he's doing so inefficiently or not contributing in other ways, a potential contract extension means he could cripple the Clippers for yet another decade. Here's to hoping either Gordon grows into the hype or the Clippers properly recognize his contributions come extension time.
Summer League Specials
While the sample size will be small, summer league play can provide early insight on the returns of the draft. The summer leagues represent the first professional opportunity for draftees and offer further data points for statistical analysis. A year ago,
Kevin Durant's summer league play
hinted at his position transition, focus on scoring, and subsequent Win Score underperformance. Durant snagged a mere 8 rebounds in 137 minutes, foreshadowing a disappointing season based on his NCAA Win Score projection.
This summer, there are several angles to follow, including Beasley's transition, small school players adjusting to tougher competition, and undrafted invitees fighting for an NBA job.
Due to similarities with Durant, Beasley's rebounding and role will be something to monitor. Can Beasley come through on his strong statistical promise or will he underperform expectations like his good friend Durant?
The summer leagues also display small school players transitioning to play against better competition. In particular
George Hill
,
J.R. Giddens
, and
Jason Thompson
are names to watch. Each comes from a small school with strong Win Score marks and few games against top NCAA programs. Were their high marks illusions built against weak competition or are they truly quality NBA players in waiting?
Finally, a handful of undrafted players will compete for NBA jobs. Win Score favorites
Chris Lofton
,
Aleks Maric
,
Reggie Williams
, and
Pat Calathes
did not hear their names called on draft night and will have to fight for a roster spot through the summer and preseason. Can they beat the odds and make a roster?
The summer leagues will be our first glance to the answers of these questions and the season that lies ahead.
Handicapping the Rookie of the Year Race
Looking forward to 2008/2009, four strong rookie of the year candidates step forward.
Michael Beasley
appears to be the top talent in the draft and is poised to post a barrage of offensive statistics. The Heat will assuredly vastly improve in the standings, garnering Beasley even more attention. Among these four players, Beasley sticks out as the odds on favorite.
Two 2007 draftees also come to mind.
Greg Oden
will be coming off a delayed rookie season and could be rewarded for position scarcity and a defensive presence. Fellow Trailblazer Rudy Fernandez also appears to be a high quality NBA player after a fantastic season in Europe, though he faces stiff playing time competition. While Portland is likely to break into the playoffs, voters may split their support between these teammates.
Finally, Minnesota's
Kevin Love
projects great NBA potential and is likely to surprise most observers. Of the aforementioned contenders, Love wound up on the poorest quality team, giving him a chance to steal the spotlight and help his squad beat preseason expectations.
Beasley, Oden, Fernandez, and Love easily grade out as the best projected rookies. For the statistical purists, I'll provide a 60% confidence interval that one of these four will win rookie of the year and a 70% confidence interval that one of them will actually deserve it.
Draft class of 2009
Now that the draft is over, which NCAA players should be monitored as future promising prospects? Using DraftExpress's NCAA database and 2009 early mock draft, the following table summarizes the recent performances of the projected draft class.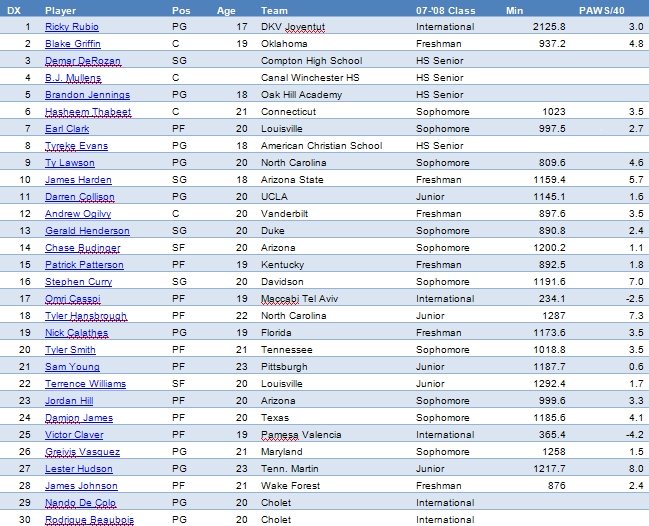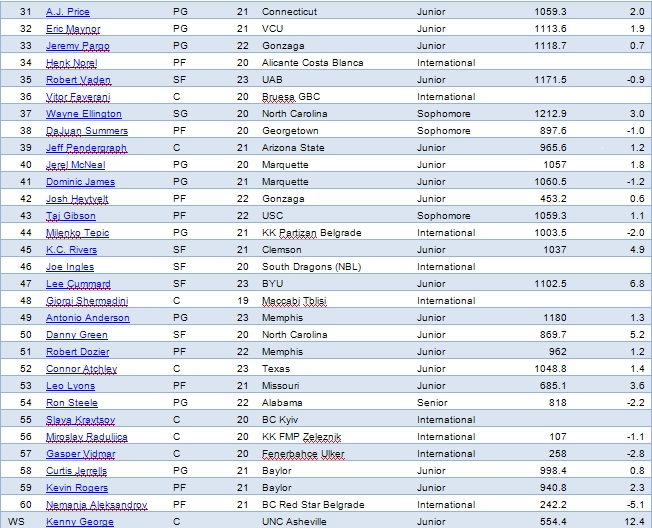 Currently projected as number 1, International player
Ricky Rubio
has a lot of things going for him. While only 17 years old, Rubio already has played professionally for three years. Over his career, his numbers have shown growth and already appear very intriguing for a guard. In 2007-2008, Rubio posted a 2.7 PAWS/40 in the ACB and a 4.7 in the ULEB. Given their PG status, it will be intriguing to watch Rubio's mock projections against
Derrick Rose
's performance over the coming season.
Blake Griffin
looks ok, but nowhere near great when compared to Beasley and Love. Hopefully a year's maturation will allow his stats to catch up to his mock draft projection.
SG
James Harden
of Arizona State shows a lot of statistical promise, though his numbers fade a bit when focusing on tougher competition. Harden would likely catch a lot more attention if Arizona State picked up the pace and allowed him to compile comparable raw stats to grab attention.
Stephen Curry
appears to be a solid prospect, statistically worthy of the lottery. His tournament performance matched Rose and far outshined Bayless, Gordon, and Mayo this year.
North Carolina's
Tyler Hansbrough
improved on the 4 PAWS/40 of his first two years and clocked a 7.3 performance in 2007-2008, putting him just behind the marks of Speights and Dorsey (albeit before a costly pace adjustment). With UNC's core returning, will a national championship
make him a projected lottery lock
?
In the second round,
Lee Cummard
will have to prove himself against some tougher competition before winning a Win Score endorsement, while
K.C. Rivers
already has done that, posting a 4.5 PAWS/40 against top 100 competition.
Finally, at the bottom of the list is 7'7" behemoth
Kenny George
, a physical outlier with plenty of questions on health and competition. His statistics are quite gaudy, easily surpassing Beasley and any other NCAA player I have ever measured. How he'll transition is a huge question, but as of right now I'd clearly rate him as worthy of a first round risk while the current mock draft doesn't include him. We'll see if the mock drafts catch up or if the questions grow deeper by next June.
Well, that about does it for Win Scores and the 2008 NBA Draft. I hope you enjoyed the material, continue to follow Win Score analysis, and look forward to the 2009 NBA Draft.
-Erich Doerr