The Italian league kicks off next weekend, two teams smaller than it was just days ago, after the late breaking tax-evasion scandal involving two fairly important league members—Naples (a Euroleague participant just two years ago) and Capo D'Orlando, last season's 6th place finishers and slated EuroCup/ULEB Cup members. In the meantime the schedule has been jambled, the former teams' players and coaching staffs unemployed, and a significant amount of damaging PR has taken away even more luster from this former powerhouse league.
This is somewhat emblematic of what has gone on here over the past few seasons, not the first controversy we've seen by any stretch. The budgets of the average Italian league team has dropped significantly compared to their counterparts in places like Spain, Russia, Greece and Turkey, while the quality of the local Italian league player appears to be deteriorating as well. For the first time in since 1961 the National team, bronze medal game losers in Athens four years ago, did not manage to qualify for next summer's Eurobasket in Poland.
The result is a somewhat watered down product dominated by mid-level American players (four are allowed per roster, possibly changing to three next season), while the more stringent immigration laws (compared to other top European leagues) does not allow teams to import European players from non-EU countries (such as Serbia, Croatia, Turkey, Israel, etc) without them counting against the American quota. Players are dropping to play in the second division and often seeing superior salaries.
The result is a league where the champion appears to be decided in advance, but beyond that, interestingly, everything is completely and utterly wide open-- anyone can beat anyone on any given night.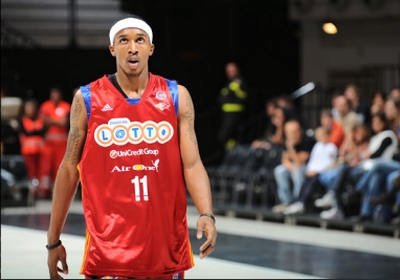 ACB League Preview
Last Year's Champions:
Montepaschi Siena
Domination is the lone way to describe what Siena has done to the Italian league as of late. The team from Tuscany rattled off 18 straight wins to start off the season last year, shrugging off an injury to star shooting guard
Rimantas Kaukenas
midway through to breeze through the Italian league playoffs and come away champions. They also made the Euroleague Final Four for good measure, looking to be in pole position to get past Maccabi Tel Aviv in the semifinals before collapsing in the second half and squandering a comfortable double digit lead.
Siena plays a disciplined and highly attractive style of basketball, heavily reliant on pick and roll play, unselfish ball-movement, outstanding 3-point shooting and steady defense.
Arguably their most important player, American point guard Terrell McIntyre, is back-- despite heavily being rumored to be bought out by teams like Barcelona, Panathinaikos and Tau Vitoria—thanks to the team having the foresight to sign him to a multi-year contract. As insurance, and probably to prepare him to fully take the reins next summer once McIntyre finds his big payday outside of Italy, Siena signed scoring point guard Morris Finley, one of the best players in the league last season, and improved incredibly from his time in college.
Also back is defensive stalwart and rock-solid wing
Romain Sato
, along with sharp-shooting, athletic and ultra productive Lithuanian big man
Ksistof Lavrinovic
. The gritty, defensive oriented American
Shaun Stonerook
also returns with his dubious Italian passport, and is a huge key to the team's system. Athletic Nigerian shot-blocker Ben Eze also somehow managed to come across an Italian passport which drew quite a bit of ire from opposing league teams. The way naturalized players can compete in the league has been restricted now. The aforementioned Lithuanian wing Kaukenas is healthy and present and will be just as important a creative force as ever.
New players include American shooting guard
Henry Domercant
, a terrific shooter and one of the best pure scorers in all of Europe. Some would say there is some duplication here when considering the presence of Kaukenas, Sato and Finley, but you can probably never have enough firepower when competing simultaneously in the Italian league and Euroleague.
It will be interesting to see how the very offensive minded and often trigger-happy Domercant fits into Coach Pianigiani's system, especially replacing such a valuable all-around role player like
Bootsy Thornton
, but no one can dispute the quality of this signing. Considering how much of last year's roster Siena managed to retain (giving them a huge advantage over their competitors), the chemistry should once again be excellent.
All in all, this is an outstanding roster that Siena has built once again, and they are heavily favored to win their third straight championship this season. Another question is, how far can they go in the Euroleague?
Other Contenders:
Money is the name of the game here, like in all leagues in Europe, and in that regard, there are only a few teams in Italy that can compete with the big bucks that Siena has at its disposal.
In the predicted order we see them finishing: Virtus Bologna, Lottomatica Rome, Air Avellino, Armani Jeans Milano, Benetton Treviso and Fortitudo Bologna. Each team has its flaws, some of them being fatal.
Virtus Bologna
could not have possibly been any more of a mess last season, partially due to their chaotic front-office situation, and partially because of the excessive amount of egos that were thrown together onto a single roster –but it appears that a very high quality product has been put in place this time around.
Earl Boykins
was obviously the most marquee signing—not for anywhere near the 3.5 million dollars that was reported on ESPN (closer to 1.2 million net is accurate we're told) by the way-- and it will be fascinating to see how his amazing blend of speed, strength and moxy will translate to European basketball at just 5 foot 5. Most veteran players struggle to adapt initially to such a new and foreign style of play, and Boykins had a terrible season last year--but considering his background, the confidence he exudes, and the success of other diminutive playmakers in Europe recently, he could be a force to reckon with as a scorer.
Athletic slasher
Keith Langford
joins him in the backcourt, and based off what we saw in the summer league, appears primed to have a big season. Backing them up will be talented, promising, but inexperienced Finnish point guard
Petteri Koponen
, bringing the added versatility of being able to play with either guard thanks to his excellent size at 6-5.
The frontcourt looks terrific as well, with athletic and ever-improving power forward
Sharrod Ford
matched with the back to the basket scoring presence of Jamie Arnold. If this roster gels under the very old-school and demanding presence of head coach Renato Pasquali, they may even have a chance at knocking off Siena if the cards fall into place.
Rome
had the honor of losing in the finals to Siena last season, and has rehauled its roster almost completely. The frontcourt looks strong, with Slovenian center and NBA fixture
Primoz Brezec
manning the pivot at 7-2, alongside sturdy and steady big man Andre Hutson. Backing them up is Italian finesse player
Angelo Gigli
, in need of a good season to finally start cashing in on the potential many saw in him a few years back.
The question mark revolves around the backcourt, where an unbelievable amount of faith has been put in teenage future NBA lottery pick
Brandon Jennings
. There will surely be many ups and downs in the "education" process of this inexperienced point guard, but there also aren't many who can compete with his rare blend of athleticism and creativity.
Second year American combo guard
Ibrahim Jaaber
returns after being bought out of his contract in Greece midway through last season. The two-time Ivy league player of the year picked up a valuable Bulgarian passport this summer in exchange for helping their national team qualify for next summer's European Championships in Poland, and thus does not count against the American quota. He is fresh off a tedious squabble between Panionios and Rome, which was just resolved after Rome agreed to pay a 300,000 Euro buyout. Jaaber's scoring potential along with his uncanny ability to get in the passing lanes makes this a price Rome was more than willing to pay.
The question marks here revolve around whether Jaaber and Jennings big enough and especially good enough shooters to play together? And will their lack of experience come back to haunt Rome in key moments? Slovenian combo Sani Becirovic is a big talent still and also will contribute quality minutes as an additional ball-handler, we must remind. Also returning is undersized shooting guard
Allan Ray
, an undisputed disappointment in his rookie European campaign last season before a foot injury put him on the shelf midway through the year, but still a dangerous shooter. Rome is a mystery after being inconsistent in both the Euroleague and Italy last season.
Avellino
is one of the few names that definitely don't typically belong in this category, but after a breakout season last year (finishing an unprecedented third during the regular season), they've managed to qualify for the Euroleague and have invested adequately in the roster.
Chris Warren
looks like a big steal considering the season he had with Cibona last year, and the snatching of Drake Diener from disgraced Capo D'Orlando was pretty shrewd as well.
Travis Best
was signed very late after
Dan Dickau
's back forced him back to the States to oddly sign with the Golden State Warriors.
Tamar Slay
had a breakout season in Capo last year and will do a good job spacing the floor for them in the half-court. There is some talent here, although finishing third again might be difficult.
With
Danilo Gallinari
off to the NBA,
Milano
decided to blow up virtually the entire roster and rebuild from top to bottom. That's always a dicey proposition, especially considering how heavily the team will be relying on its import players. A good deal of the offense will go through slasher/scorer David Hawkins, an experienced player in the Italian league after playing in Rome for the past few seasons, but notably inconsistent from game to game and shot to shot. Jobey Thomas was a big part of Montegrenaro's success last season thanks to his outstanding perimeter shooting ability. The frontcourt will be made up of super athletic shotblocker/rebounder
Pape Sow
, and rookie face-up power forward
Mike Hall
. Young Italian point forward
Luca Vitali
will do a good deal of playmaking at 6-7.
A good amount of money has been dropped on this team, and there are some nice names to be found, but there are just as many question marks about how quickly everything can come together in the Euroleague and Italian league.
Benetton Treviso
doesn't quite have the money that some of their counterparts here, but they appear to have done a much better job of building their roster this season compared with last year, which was a true disaster for this prestigious franchise. The problem is it isn't holding up too well. Young point guard
Dashaun Wood
was going to be the key, but recent reports indicate that a nagging knee problem may force him to miss the beginning of the season. Who they manage to find to temporarily replace him at this juncture and in what kind of shape he manages to return will be deciding factors obviously.
Elsewhere on the team,
Gary Neal
wasn't ready to be bought out of Turkey by Barcelona midway through last season, but this could be a good level for him in his second year in Europe. Matteo Soragna is a quality Italian swingman, and the frontcourt will be composed of two highly skilled PFs in Radoslav Rancik (a real sleeper possibly) and Judson Wallace, along with veteran Sandro Nicevic.
Fortitudo Bologna
looks very ambitious with the money they spent this season (also coming off a disappointing year), but the manner in which the roster has been composed leaves serious question marks. Legendary former Serbian player Zoran Savic finally got the ax as GM of Barcelona this summer and was promptly hired by Bologna. His first manner of business was reneging on a signed three year contract with Israeli head coach Sharon Drucker for no apparent reason—a matter which is currently going through legal proceedings to resolve.
The talent is evident, especially in the form of Brazilian/Italian point guard
Marcelo Huertas
(one of the revelations of last year's ACB league). Elsewhere, there is great physical tools, but just as many question marks, especially around rookie combo guard
Jamont Gordon
and Qyntel "never a dull moment" Woods. Also of note: returning shooting guard Joe Forte, Italian combo forward
Stefano Mancinelli
, and big men
Earl Barron
and
Uros Slokar
. On paper, there is a lot to work with here, but there is also a great deal of high-level European inexperience, questionable personalities and egos, and not much leadership, mental toughness or defensive qualities to speak of. In short, it will be fascinating to see come together.
European Competition Participants:
Euroleague: Montepaschi Siena, Lottomatica Roma, Air Avellino, Armani Jeans Milano
Eurocup: Benetton Treviso, Capo d'Orlando (disqualified, no replacement named yet), Fortitudo Bologna
EuroChallenge Cup: Virtus Bologna
NBA Prospects
Some may question the wisdom of Rome signing
Brandon Jennings
considering his inexperience and the incredible amount of pressure he will be under the deliver on a nightly basis, but no one will question the amount of intrigue it will generate. How he will fare will be the subject of intense media coverage on both sides of the ocean and could play a huge role in the decision making process of future high school players and high-level European clubs, making this easily one of the top storylines for NBA draft fans to follow. If that wasn't enough, the Euroleague draw provided us the gift of an incredible pair of matchups between teenage sensations and primary ball-handlers Jennings and
Ricky Rubio
later this month and in early December, a game that will likely be attended just as heavily by NBA decision makers as last year's
Derrick Rose
-
O.J. Mayo
matchup in Madison Square Garden.
The next best draft prospect right now is probably
Jonas Jerebko
, a Swedish combo forward with nice athleticism, an improving skill-set and some mismatch potential. He'll be playing with upstart Angelico Biella, one of the smallest budget teams in the league, but very competitive on paper, with possibly the most athletic frontcourt in the entire league. Jerebko will be joined by 2008 NBA draft picks and European rookies
James Gist
and
Trent Plaisted
, a trio that could run over any team in Italy on any given night.
The best draft-eligible Italian prospect that deserves attention right now is likely
Luigi DaTome
. We've been waiting for this combo forward to break out for quite some time, and it just hasn't happened, in no small part due to a lack of playing time. Siena decided to loan him to Rome for the next two seasons, which might give him more of a chance to develop.
Future consideration should be given to Italian combo forward
Nicolo Melli
from Reggio Emilia, from the very competitive Italian second division (Lega Due). This is a good spot for him to get playing time and continue to develop his perimeter skills, as he is being billed as having the ability to play small forward down the road. Born in 1991, and probably two or three years from serious NBA draft consideration, he's still an interesting prospect to keep in mind.
Draft-eligible Swedish point guard
Rudy Mbemba
is playing in Lega Due as well, and should be able to put up solid numbers, but considering his size and questionable playmaking skills/perimeter shooting ability, looks like a long-shot to get drafted.