Italian League Preview
Spanish ACB League Preview
Clearly the biggest wildcard in European basketball these days, this year's edition of the Russian League will be absolutely fascinating to watch, from a variety of different angles. Sporting some of the biggest budgets to be found anywhere outside the NBA, the top five or six clubs have been stockpiling heavy artillery all summer long, and will attempt to accomplish the impossible: dethrone the six-time consecutive champions—CSKA Moscow.
In the wake of the recent global financial crisis, it will be interesting to see if all of the owners can afford to write the massive monthly checks to pay off the huge debts they've accumulated—there are already some behind the scenes whispers that that might not be the case. The real test will be what happens if the results don't follow their anticipated pattern mid-way through the season—we've seen everything from powerhouse clubs (such as Dynamo St. Petersburg) completely dissolving in the blink of an eye, to others (such as Dynamo Moscow Region, now known as Triumph Moscow) changing their name to (allegedly) cleverly avoid the financial responsibilities of past administrations.
The Russian league is a big wildcard on the court as well because of its very unique rules, designed to protect local players. Teams must have two Russian national team-eligible players on the floor at all times, which severely restricts the tactical options of most clubs not named CSKA Moscow (with their near monopoly on domestic talent), and also ridiculously inflates the salary demands of even marginal Russian players.
The implementation of these rules hasn't achieved their intended purpose—as the lack of competition for playing time and the incredibly poor level of development of young Russian players has not increased the extremely thin talent base for teams to choose from. It's not because of a lack of talent—there is plenty of size and athleticism naturally found in Russian athletes, and a total population of over 140 million to draw from, but the poor fundamentals, motivation and overall intangibles are just too prevalent for any of the rules to serve their intended purpose at this point.
The creative solution that some have found is to naturalize American players—such as
J.R. Holden
(CSKA),
Travis Hansen
(Dynamo) or
Kelly McCarty
(Khimki) who are eligible to play for Russia in international competition according to FIBA regulations—but this is a cumbersome, bureaucratic process that apparently only the richest/most powerful clubs can afford.
In the year where interest in its product will obviously be at its highest, the Russian federation oddly decided to pull the plug on its official English website. So unless you know how to read the Cyrillic alphabet, good luck trying to find boxscores or even the schedule of when teams are slated to play.
That's just one small sign of how far off Russia has to go before being even considered in the same breath as a near-flawlessly organized league like the Spanish ACB, despite the massive budgets made possible by the incredibly deep pockets of a handful of oligarchs/magnates. How long will the diamond laced Rolexes and suitcases of hundred dollar bills continue to be handed out like candy after big wins? How long can teams "afford" to operate with zero revenue and massive overhead? No one can answer that question with any type of certainty right now.
Last Year's Champions:
CSKA Moscow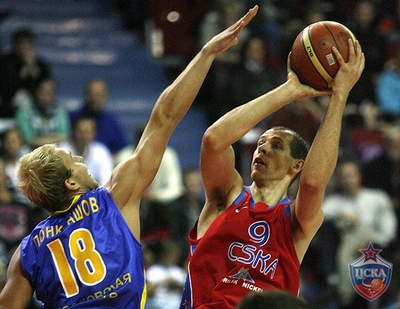 Not just last year's champions, but also in 2003, 2004, 2005, 2006 and 2007, as well as the owners of two of the last three Euroleague titles, and participants in an astounding six straight Euroleague Final Fours. With that in mind, there is obviously no way to predict anything less than a repeat of last year's triumph. Particularly since their leader and architect, the incredibly well respected Italian head coach Ettore Messina, is back despite being heavily rumored to be on his way to Barcelona for much of last year.
Gone are two of the most recognizable faces in European basketball over the past few seasons—Greek combo guard
Theodoros Papaloukas
(to Olympiakos)—on a severe decline as of late, as well as Australian big man
David Andersen
(to Barcelona), who apparently could not stand the thought of another Russian winter.
In their place are a number of more than ample reinforcements: Croatian combo guard
Zoran Planinic
, Slovenian big man
Erazem Lorbek
, American big man
Terence Morris
, and Russian big man
Sasha Kaun
, who is a valuable asset thanks to the "Russian rule" described in detail above.
Viktor Khryapa
arrived mid-season from the Bulls and will give the team more versatility at both forward spots, he looked to be in poor form last year, but should be able to recover despite playing through a nagging injury that hampered him during the Olympics.
The keys to the team lies on the perimeter, where Lithuanian swingman
Ramunas Siskauskas
could be considered the most valuable player in Europe, and American/Russian point guard
J.R. Holden
only seems to be improving year by year under the tutelage of Messina. American shooting guard
Trajan Langdon
is much more than a spot-up shooter these days, as he showed by winning the Euroleague Final Four MVP award, and Slovenian face-up power forward
Matjaz Smodis
(maybe the second best player in Europe) is back from injury and near-impossible to guard at this level thanks to his combination of back to the basket scoring ability, toughness, skill-level, basketball IQ, and perimeter shooting touch.
Russian center
Alexey Savrasenko
and Greek combo guard
Nikolaos Zisis
provide depth to the roster despite clearly being able to start on any team in Europe, and just for good measure the team added the most athletic Russian player in the league—swingman
Viktor Keirou
.
In case you haven't noticed, CSKA is loaded this year. Despite the incredible amount of talent, though, Messina has always been able to get his players to buy into playing strong defense and unselfish, disciplined half-court basketball—and this year should be no exception. Organizationally, and particularly with the conditions they provide their players, CSKA is as close to an NBA franchise as you'll find on this side of the ocean, and will clearly be the gold standard for other clubs to follow until proven otherwise. The loan chink in their armor (and a very small one at that) may be their youth program, which isn't as strong as it was in recent years.
Other Contenders:
Dynamo Moscow
has rehauled their roster almost completely from last season, hiring Russian national team head coach David Blatt and his former assistant from Maccabi Tel Aviv Dan Shamir, and investing a large sum of money into its payroll, even by Russian league standards.
The core of import players is impressive. American
Hollis Price
was one of the best point guards in the Euroleague last season with Lietuvos Rytas, and he was inked almost immediately upon Blatt being hired in late May. Joining him in the backcourt is NBA combo guard
Jannero Pargo
, an incredible shooter and all-around scorer with the natural toughness and instincts needed on both ends of the floor to make a smooth transition to European basketball. Being able to sign him, as well as Slovenian combo forward
Bostjan Nachbar
, were huge coups considering that both had numerous free agent offers from NBA teams for above the minimum. Nachbar brings athleticism, perimeter shooting touch, and is a clear mismatch at the 4/3 position. Also noteworthy is the inking of Lithuanian big man
Darjus Lavrinovic
, an athletic and skilled PF/C who can play alongside returning strong and athletic Lithuanian center
Robertas Javtokas
or without him at the center position, giving the team added versatility.
Possibly the most important player on the roster (due to league rules on local players) thanks to his Russian passport is swingman
Travis Hansen
, an athletic sharpshooter and former NBA draft pick who will likely spend heavy minutes on the court in the Russian league.
Because of the dreaded "Russian rule," Dynamo may struggle at times domestically since they do not have the same caliber of local players that their cross-town counterparts CSKA does. Combo forward
Sergei Monia
has been a marked disappointment on many fronts since being drafted in 2004 by the Portland Trailblazers, and the same can be said for
Yaroslav Korolev
since being drafted by the Clippers in 2005. Combo guard Sergei Bykov and big man Juri Vasiliev are solid backups at best, swingman Dmitri Domani has had a productive career but is on the decline at age 34, and point guard Dmitriy Khvostov is still too young to be counted on consistently.
Undersized in the backcourt--with its two tiny yet explosive scoring combo guards Price and Pargo--but featuring arguably the best collection of shooters in European basketball, Dynamo will be an athletic and up-tempo team that needs to mesh quickly as a unit under Blatt and get after it on the defensive end to stand a chance at knocking off CSKA in a five game playoff series. They will also participate in the EuroCup and will make it their goal to win the competition in order to secure a spot in next year's Euroleague.
Khimki
made just as much noise on the free agent market this summer, sharing Dynamo's ambitious goals of knocking off CSKA and securing a spot in next year's Euroleague.
Former NBA point guard
Milt Palacio
earned himself a fat contract after an outstanding season in Partizan Belgrade last season, and will be the team's catalyst and primary ball-handler. Joining him is Argentinean swingman
Carlos Delfino
, a prolific shooter/scorer and one of the five highest paid players in Europe these days. Another huge signing was Spanish power forward
Jorge Garbajosa
. While he is coming off a serious injury, he could prove to be one of the few players in Europe who can go toe to toe with a player like
Matjaz Smodis
when healthy. Somewhat forgettable was the huge contract handed to athletic French big man
Jerome Moiso
, who despite showing a pulse for possibly the first time in his career playing alongside
Ricky Rubio
and
Rudy Fernandez
last season, looks destined to mail it in for the next two years.
The returning core was already promising for last year's semi-finalists. Polish big man
Maciej Lampe
has blossomed in a huge way recently and is really starting to live up to the huge expectations many had from him when he prematurely declared for the NBA draft back in 2003. Finnish point guard Teemu Ranniko is a very valuable asset to have in the backcourt, while American/Russian small forward
Kelly McCarty
makes a great combo next to backup American/Macedonian power forward
Mike Wilkinson
(if there is any room for him on the roster). The team's other main Russian players are combo guard
Anton Ponkrashov
and swingman Vitali Frizdon, giving them a decent core, but probably not a talented enough one to give CSKA a scare.
Khimki has an unbelievable amount of talent, particularly at the forward positions. However, there seems to be a good deal of overlap and a lack of ball-handlers/shot-creators and depth at the guard positions. It will be interesting to see how the team comes together, as the Russian league only allows five import players to be registered on any given night, but Khimki has seven, meaning two will have to sit out each game.
Also upgrading their budget significantly is the fourth Russian team from Moscow,
Triumph
, only going into their second season as an organization after having "replaced" Dynamo Moscow Region, who accumulated a significant amount of debt.
The team will accumulate a significant additional amount after completing the shocking signing of NBA center
Nenad Krstic
, as well as "Bosnian" point guard
J.R. Bremer
, who is now drawing a huge paycheck after a successful season with smaller Russian club Vladivostok last year. Other big-name signings include the incredibly talented, but often underachieving American swingman
Alan Anderson
(from Virtus Bologna), experienced American big man Marcus Goree (from CSKA), and versatile Turkish combo guard Kerem Tunceri from Real Madrid. The acquisition of each of these players were significant signings on the European level, for sums close to or often well over seven figures each. One of the few holdovers from last season, but a very important player nonetheless, is Serbian face-up power forward
Ognjen Askrabic
, a productive and highly efficient cog in Triumph's rotation.
After that there is a clear drop-off as far as budgets are concerned. The next best roster likely belongs to Unics Kazan, sporting well known players on the European scene such as
Marko Popovic
,
Vladimir Veremeenko
,
Tariq Kirksay
and
Kresimir Loncar
. Lokomotiv Rostov also falls into this group after making a big splash with the signing of Zalgiris point guard
DeJuan Collins
, one of the more productive playmakers in the Euroleague last year. They also acquired the services of athletic swingman Fred House from Pamesa Valencia, as well as productive Bulgarian big man Pero Antic, but don't have a great deal of quality beyond that, especially with their group of Russians.
European Competition Participants:
Euroleague:
CSKA Moscow
Eurocup:
Khimki, Dynamo Moscow, Triumph Lyubertsy, Unics Kazan, Ural Great Perm
EuroChallenge:
VVS Samara, Lokomotiv Rostov, Spartak St.Petersburg
NBA Prospects
Russian combo guard
Alexey Shved
(1988-born) will be an afterthought on CSKA Moscow's loaded roster this season, but is the top draft-eligible NBA prospect in the league regardless. Athletic, skilled and ultra-talented, Shved is probably good enough to get minutes on most other Russian teams, but will be glued to the bench for most of the season if he isn't loaned out to another first division team. It is possible that he gets minutes on CSKA's Under-23 team in their respective league. Much of the same can be said for 7-foot beanpole
Artem Zabelin
(88), also more than talented enough for someone to take a flyer on in the second round, but too much of an unknown commodity at this point to warrant a larger investment.
Dimitriy Khvostov
(89) will get some looks too and may even enjoy some minimal playing time this year, but he's probably not going to get anyone overly excited.
Semen Shashkov
will play in the U-23 league as well. He's a good athlete and showed promising signs in Treviso a few months back, but is a long ways away from serious draft consideration.
Probably a lot more interesting for NBA scouts and executives is what's going on at the top level of the first division with the non-draft eligible free agents. There are quite a few players here who could easily be solid rotation pieces on playoff teams if franchises were willing to fork over the cash needed to make it worth their while. We've spoken at lengths about the prospects of
Ramunas Siskauskas
and
Matjaz Smodis
(click their profiles to read the still-relevant scouting reports), but there is also no reason why someone like
Terence Morris
or
Trajan Langdon
wouldn't deserve a. second look. The problem is that as far as most of these players are concerned, they already play in the NBA, so they may not see the need to take a huge paycut for the honor of sitting on someone's bench.
Jannero Pargo
and
Bostjan Nachbar
are well known commodities and clear-cut NBA rotation players (if not more than that), and will likely heavily explore the option of returning to the NBA next season if the free agent market is a little more lucrative than it was this past summer.
Travis Hansen
is no worse than most third string NBA shooting guards, while
Hollis Price
could be deemed mature and experienced enough at this point to get consideration for a guaranteed contract as a backup, ala
Will Solomon
. The same can probably be said for
Milt Palacio
who has plenty of experience in that capacity in the past.
With
Carlos Delfino
,
Jorge Garbajosa
,
Alan Anderson
,
Maciej Lampe
, and especially
Nenad Krstic
also headlining the League's top rosters, there is no shortage of NBA talent to be found here in Russia. It's really just a matter of opportunity and making the finances work.