The NBA Pre-Draft Camp kicked off today outside of Orlando, Florida at Disney's World Wide of Sports Complex. Every NBA team is in attendance, including a number of very high-profile faces, such as
Michael Jordan
,
Larry Bird
,
Chris Mullin
,
Kevin McHale
,
Scott Skiles
,
Patrick Ewing
,
Steve Kerr
and countless others, who are walking around at all times.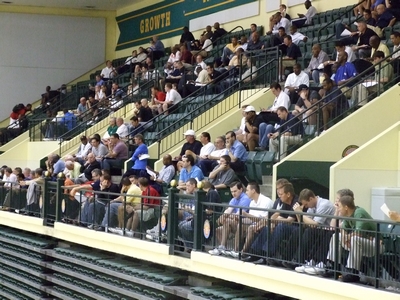 The Pre-Draft camp is getting very good reviews early on, as the rosters assembled are extremely intriguing considering the type of high-profile college players that ended up making it out here.
Wayne Ellington
,
Shan Foster
,
J.R. Giddens
,
Malik Hairston
,
Devon Hardin
,
Richard Hendrix
,
Davon Jefferson
,
Lester Hudson
,
Ty Lawson
,
Maarty Leunen
,
David Padgett
,
Trent Plaisted
,
Joey Dorsey
,
Gary Forbes
,
Pat Calathes
,
Richard Roby
and
Bryce Taylor
are just some of the names highlighting the list. "I like this roster a lot better than the last four or five years" Detroit Pistons Director of Basketball Operations Tony Ronzone.
This speaks volumes about the depth of this draft, as a large number of quality NCAA players need to work their way into the first round or the top half of the second round, unlike anything we've seen in years past. A few eyebrows were raised by players like
Jamont Gordon
and
Kyle Weaver
shockingly deciding to pass up their invites to the pre-draft camp, but very few people wanted to dwell on it besides saying that they are clearly digging their own grave, Weaver especially, who can't go back to school like Gordon can once he realizes that there is a strong possibility he will go undrafted.
This is basketball's version of a meat market—drills and scrimmages going on on three courts chaotically at the same time simultaneously with 65 players of all shapes, colors and sizes, differentiated by numbers, only trying to stand out in any way possible. The coaches are trying to instill some basic plays that will give the camp a semblance of order in the games starting tomorrow, and it was not hard to see how little chemistry the teams have at the moment.
Nerves characterized the first day of the pre-draft more than anything, which is not a huge surprise based on what we've seen here in years past. Looking at the view from above, the players on court often looked like chickens running around with their heads cut out, as many of them came out way too amped up to try and show NBA teams the extent of their entire game and what they've been working on on every possession they played, and instead seemed to just confirm many of their weaknesses by forcing the issue repeatedly.
It was hard to read too much into anything we saw in day one—players are being sent in and out of the game constantly, whistles are being blown in all directions, and turnovers, over-dribbling and bad shots abound. Isolated possessions gave you brief glimpses into some of the things these players can bring to the table, but for the most part today was about putting faces and names to the jersey numbers as your eyes constantly darted back and forth between the court and the roster list. Although we've seen all of these players on film repeatedly, and many of them in person during the regular season or in private workouts over the past few weeks, even we didn't recognize everyone, largely due to the fact that many of the players here have lost significant amounts of weight since the season ended.
Regardless of how things might sound on first glance, there were a few players that stood out. We'll be breaking the standouts here in a lot more depth over the next few days, but early on, some of the guys that made a solid first impression included
Lester Hudson
,
George Hill
,
Brian Roberts
,
Pat Calathes
and
Richard Hendrix
. These players stood out more so because of their calmness and poise picking their spots than anything really. Too many players here decided to go out and try to make things happen on their own time after time rather than let things come to them and play up to their strengths.
Today is when the camp really starts. Drills start at 9 AM, followed by three games at 11 AM, 5 PM and 6:30 PM. Stay tuned.