The Reebok Eurocamp in Treviso is still a month away, but the excitement is already brewing with what appears to be the deepest roster the event has seen yet. With each year that passes the camp continues to engrain itself as a must-see scouting event, and again we find a nice mix of draft-eligible prospects combined with players that are sure to make up future NBA drafts.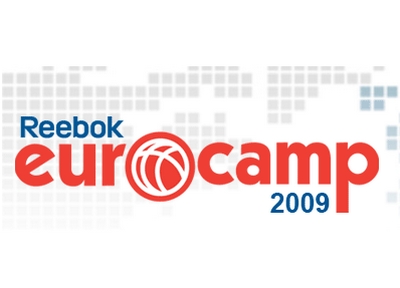 Official website
The Director of the Reebok Eurocamp, Pete Philo, was kind enough to share the tentative roster and answer a few of our questions as well.
One of the most appealing aspects of the Reebok Eurocamp as far as NBA teams are concerned is the fact that it acts as a "one-stop shop" for International prospect scouting, saving an incredible amount of time and money for executives that otherwise would have to trek around Europe for months to see each of the players individually. Instead, they are neatly assembled here in a very convenient setting, allowing us the chance to evaluate their skill-sets in numerous drills on a daily basis, as well as in five on five scrimmages—which is a valuable thing considering that the competitive aspect of the NBA Pre-Draft Camp has recently been eliminated.
We asked Pete Philo how many NBA GMs he expects to attend:
"Until now we have over 10 GMs confirmed with all 30 NBA teams attending in some fashion (coaches, scouts, personnel, etc). I am sure there are others that I am unaware of or others that have not confirmed as of now. I cannot see a GM not attending, however the ones that do are sure to come away with a better understanding as the draft nears. This being said, each team has their own reasons for covering the event or not. We shortened the event by one day this year to accommodate everyone including NBA and all European teams. The camp is played on the weekend when many teams do not workout players, thus another reason to attend."
Roster
2009 NBA Draft Early-Entry List Players
Brandon Jennings
Omri Casspi
(not confirmed ) Possible
Rodrigue Beaubois
Vladimir Dasic
Milan Macvan
Artem Zabelin
Aboubakar Zaki
Ludovic Vaty
Nemanja Bjelica
Sergey Gladyr
Miroslav Raduljica
Adam Hanga
Boban Marjanovic
Giorgos Bogris
Nikos Pappas
Carl Ono Embo
Vagelis Sakelleriou
Aleksandros Sigkounas
Fernando Raposo
Rudy Jomby
Anton Ponomarev
Baris Hersek
Draft Eligible or 87 born:
Jonas Jerebko
Henk Norel
Milenko Tepic
Patrick Beverley
Slava Kravtsov
Daniel Hackett
Joe Ingles
Nemanja Aleksandrov
Rudy Mbemba
Ivan Paunic
Jaka Klobucar
Povilas Butkevicius
Andrey Vorontsevich
Johannes Lischka
Anatoly Kashirov
Adam Lapeta
Dragan Labovic
Next Generation:
Thierno Niang
Bozhidar Avramov
Alexey Shved
Oleksandr Kolchenko
Harry Ezenibe
Edwin Jackson
Andreja Milutinovic
Semen Shashkov
Tornike Shengelia
Marko Keselj
Tomas Satoransky
Jan Vesely
Elmedin Kikanovic
Pablo Aguilar
Tibor Pleiss
Michel Diouf
Obviously the headliner of this camp is Rome's
Brandon Jennings
, the first American player to forgo college in favor of Europe, and clearly the top "international" prospect in this draft with the exception of
Ricky Rubio
. Playing in the Eurocamp is an excellent idea for Jennings and could end up being extremely important for his draft stock. Because of the limited minutes he's seen (particularly recently, logging a DNP-CD just last night for example), and the fact that NBA teams were not allowed to evaluate him in high-school, it's not a stretch to say that most decision makers don't have anywhere near as good a feel for his standing in this draft as they do with his NCAA counterparts.
For Jennings, this represents an outstanding opportunity to show teams what they missed out on as well as a chance to showcase the new tricks he's learned in the year he spent over here. With the ball in his hands and the freedom to do as he pleases as the unquestioned go-to-guy of whatever team he plays on (you can bet the organizers will make sure he has every chance to succeed), Jennings will be able to solidify his stock in the draft and still have plenty of time to work out for the dozen or so teams he needs to visit in the States.
The only question is whether the Italian league playoffs will interfere with that plan…
In a similar situation to Jennings, but in even more need of the exposure this camp will provide, is another American guard who decided to play in Europe—
Patrick Beverley
. Unlike Jennings, who played in the Euroleague and Italian Serie A, Beverley was forced to toil in the Ukrainian second division, where he was seen by very few NBA decision makers. Beverley was a very productive college player at Arkansas who did a nice job representing Team USA in the U-19 World Championships in Serbia two summers ago. A strong showing here in Treviso could easily convince some team to take a flyer on him in the second round.
Another curious twist to this year's camp is the attendance of USC point guard
Daniel Hackett
. With no pre-draft camp to hang his hat on this year, Hackett is extremely wise to take advantage of Treviso as a place to be seen by teams and show that he's worthy of a second round selection. Michigan State senior
Goran Suton
was also reportedly invited to attend, but curiously appears to have declined, as he's likely trying to still cling to the handful of good games he managed to string together in March and not hurt whatever "stock" he might have.
We asked Pete Philo about the thought process behind inviting players like
Brandon Jennings
,
Patrick Beverley
,
Daniel Hackett
and even Australian forward
Joe Ingles
.
"First, the camp is the 'Eurocamp,' however we have always brought players from other continents, such as Africa and South America. International are our borders. The thought process of Hackett was that he holds an Italian passport, which makes him eligible for the event automatically. Ingles is Australian-internationally eligible. Jennings and Beverly are a unique exercise. Both have chosen to play professional basketball in Europe prior to their draft year which enables us to put them under the international umbrella prior to the draft. We are excited to see this dimension added. It can only enhance the event."
As far as the "real" European prospects are concerned, there are a number of prospects that should get NBA teams very excited. To name just a few:
Dutch big man
Henk Norel
struggled through a difficult season due to injuries, but should be 100% for this camp. Teams may not have seen as much of him this year as they would have liked, and this is a great opportunity for him to boost his stock back to where it was before he got injured—when he was playing extremely well. He comes with one very successful Eurocamp showing underneath his belt already, and should be ready to roll straight out of the gates.
Israeli small forward
Omri Casspi
is still not 100% confirmed at this point, but would have a chance to boost his stock into the first round with a strong showing, as his Euroleague performance this season was a bit underwhelming. Obviously not a "drills guy" as you could tell by the lackluster response to his NBA private workout trek last year, Casspi is the type of scrappy competitor who can really help himself in the five on five games played here, as he's got the athleticism, aggressiveness and high-level experience to really be a force.
French combo guard
Rodrigue Beaubois
was very up and down this season for Cholet, and really has no choice but to play here in Treviso, as he's in the draft for good after entering his name in for the third time. With the ball in his hands and about as much speed as any player in this camp not named
Brandon Jennings
, Beaubois really has a chance to shine.
Swedish small forward
Jonas Jerebko
used a strong Eurocamp showing last year to jump-start his draft stock, and he hasn't looked back since. With another full year of experience underneath his belt as a starter on an Italian league playoff team, Jerebko could emerge as one of the camp's standouts.
Serbian power forward
Milan Macvan
showed he can excel in settings like these with an outstanding performance at the Nike Hoop Summit, and considering how far ahead he will be of most other campers in terms of experience and skill-level, we can expect another dominating performance out of him in Treviso as well.
Montenegrin small forward
Vladimir Dasic
was up and down in a featured role on a team that had a good season in the EuroCup, but everything is in place for him to have another strong showing after his excellent Eurocamp performance last year. He recently signed a buyout agreement with his team to get out of his contract and now will have extra motivation to play well not only in front of the NBA teams, but also the dozens of elite European clubs that attend each year.
The most interesting name (for us at least) on the always intriguing "next generation" list is that of Czech guard
Tomas Satoransky
. Still only 17 years old, Satoransky may be in over his head at times against players far older and more physically mature than him, but this is likely to be a real learning experience for him from a developmental standpoint. Part of the appeal in the Eurocamp is coming back year after year and seeing how players are progressing, and Satoransky is a very intriguing talent to follow.
That's not to say we aren't excited about seeing first-round plus talents like
Alexey Shved
and
Jan Vesely
, or checking the development of the highly intriguing
Semen Shashkov
. There are a lot of names on the list that we are not all that familiar with also (such as
Tibor Pleiss
, who we've heard good things about), and that is definitely the best part of this event…
We asked Pete Philo how the Eurocamp managed to evolve into a must-visit showcase for European prospects, and here is his response:
"Very simply stated- trust. The European club GMs, coaches and agents trust that the experience will not only be a learning experience, but it will also be a camp that they will remember for the rest of their lives, as they get a chance to compete against the best players in their age group as well as gain new friendships along the way. Players also get a chance to be seen by the "global" basketball community, be coached by NBA and top European coaches, DraftExpress is always in attendance, NBA GMs, European teams, etc.
On the other side- the NBA teams trust that we will put out a quality camp with the best prospects in the world. Once the trust was established, the rest was history.
Now we all gather in beautiful Treviso Italy for 3 days of great basketball in early June."
From what we can gather, there may be a few names added or removed from the list as other top draft prospects are pursued and possibly convinced to attend. Some of the names we're "missing" from the list include
Victor Claver
,
Nando de Colo
,
Kevin Seraphin
(playing in French junior league finals that week), Emir Prelzdic (unfortunately plays for Fenerbahce, who are notoriously bad year after year with allowing their young players to gain international exposure),
Sergio Llull
(likely playoffs),
Milos Teodosic
(likely playoffs),
Christian Eyenga
(an interesting subject we'll touch on in the next few weeks),
Vitor Faverani
and
Nemanja Gordic
.
Regardless of those who don't attend, this year's group looks incredibly strong as of right now and its always possible that Reebok manages to grab a surprising name or two at the last minute, as they always tend to do.
To sum things up, we asked Pete Philo what the best part of the Reebok Eurocamp is for him. Here is his response:
"Great question, as the camp is very special to me.
1) Knowing that I am part of an event that could change a kid's life forever, as well as knowing that this is an event that they will always remember and be proud to have been a part of.
2) Working with an unbelievable staff that has uncanny chemistry and seeing the basketball world come together at our event is a very special feeling for me.
3) The competition. The games. The all star games vs. U20 National teams. The closing ceremony, where we give the awards to many smiling young men.
4) The "Reebok" dinner where I have a chance to thank everyone for all of the trust, hard work and dedication that makes this event what it is.
5) And last but not least - the Pizza!"