With the adidas EuroCamp just four weeks away, we get our first glance at the way the event is shaping up in the form of the preliminary roster. 50 camp participants have been announced as you can see below, featuring a strong mix of draft-eligible prospects, early-entrants and "Next Generation" participants.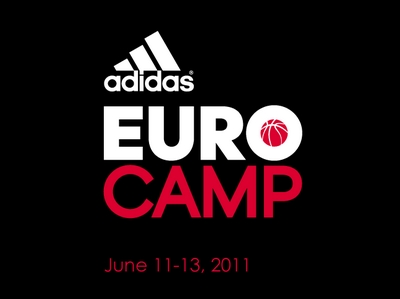 Official Website
One of the most appealing aspects of the adidas Eurocamp as far as NBA teams are concerned is the fact that it acts as a "one-stop shop" for International prospect scouting, saving an incredible amount of time and money for executives that otherwise would have to trek around Europe for months to see each of the players individually. Instead, they are neatly assembled here in a very convenient setting, allowing us the chance to evaluate their skill-sets in numerous drills on a daily basis, as well as in five on five scrimmages.
Year by year, the EuroCamp has established itself as a top-notch and highly professional event, which has allowed it to grow into a mandatory stop on the scouting trail for NBA and international teams alike, as well as all members of the basketball industry.
Participants:
Workouts and/or Interviews ONLY
Jan Vesely
: Interviews only – Depending on Serbian finals. (Possible)
Donatas Motiejunas
: Interviews only – (Possible)
Bismack Biyombo
: Workout & Measurements
Since representatives of all 30 NBA teams will be present—often being represented by their highest level decision makers—the EuroCamp serves as a handy setting for top prospects to "stop by" and conduct interviews, measurements, and at times private workouts. The alternative to which would be to fly to the US and work out for as many as 30 teams, which would obviously be a logistical nightmare. Instead, the EuroCamp staff here allows NBA teams to get some of their work accomplished here in Treviso.
NBA Draft Early-Entry List Participants
Players who have declared themselves draft-eligible in 2011, but may still withdraw by the June 13th deadline
Lucas Nogueira
Davis Bertans
Leon Radosevic
Tomislav Zubcic
Nihad Djedovic
Joffrey Lauvergne
Andrew Albicy
Abdel Kader Sylla
Furkan Aldemir
Emmanouil Koukoulas
With so many NBA teams in attendance, the EuroCamp is an ideal setting for early-entrant prospects to work out and gather feedback right before the deadline for which they must make their decision.
We see a couple of very interesting names on this preliminary list, particularly Brazilian
Lucas Nogueira
, who could help his draft stock significantly here with a strong showing. "Bebe" is a tremendous talent who played at a very low level of competition this season in the Spanish 5th division and may not have received enough playing time at the Nike Hoop Summit to convince NBA decision makers that he's worthy of investing a high draft pick.
Latvian small forward
Davis Bertans
will also gather a significant amount of attention as a potential first round prospect, while many will want to see what Turkish double-double machine
Furkan Aldemir
can do in this setting.
Leon Radosevic
and
Joffrey Lauvergne
are two more names to watch.
NBA Draft Automatically Eligible - born 1989
Bojan Bogdanovic
*
Xavi Rabaseda
Robin Benzing
Antoine Diot
Dogus Balbay
Adam Hanga
Mindaugas Kuzminskas
Pere Tomas
Sarra Camara
Angel Garcia
Denys Lukashov
Edwin Jackson
Giorgi Shermadini
Bangaly Fofana
Janis Strelnieks
Dimitriy Khvostov
* Not confirmed due to playoffs – Possible
Here we find essentially all of the top draft-eligible international prospects, for whom this will be a last opportunity to impress NBA teams and show they are worthy of investing a draft pick on.
Bojan Bogdanovic
is likely the only first round caliber prospect here, but the likes of
Xavi Rabaseda
,
Giorgi Shermadini
,
Adam Hanga
,
Pere Tomas
,
Antoine Diot
,
Robin Benzing
and others will all likely draw looks in the 2nd round, particularly from teams looking to stash players in Europe for a couple of years.
Next Generation Participants
Kostas Papanikolaou
*
6'8 SF 1990
Rudy Gobert
7'0 C 1992
Philip Neumann
6'11 C 1992
Evan Fournier
6'6 SG 1992
Josep Franch
6'5 PG 1991
Raul Neto
6'1 PG 1992
Tomas Satoransky
6'7 PG/SG/SF 1991
Augusto Cesar Lima
6'9 PF 1991
Paul Lacombe
6'5 SG 1990
Nemanja Nedovic
6'4 PG 1991
Nikos Pappas
6'5 PG 1990
Konstantinos Sloukas 6'5 PG 1990
Leo Westermann
6'6 PG 1992
David Jelinek
6'5 SG 1990
Linos Chrysikopoulos
6'9 SF 1992
Branislav Djekic
6'9 PF 1991
Dusan Cantekin
7'4 C 1990
Patrick Heckmann
6'6 SG 1992
Rasmus Larsen 7'0 PF 1994
Alberto Jodar
6'9 SF 1991
Andreja Milutinovic
6'7 SG 1990
* Not confirmed due to playoffs – Possible
Our personal favorite part of the EuroCamp are the "next generation" prospects, of which we find a very strong group this year initially. It was here that many scouts got their first look at the likes of
Jan Vesely
,
Donatas Motiejunas
,
Serge Ibaka
,
Andrea Bargnani
and many others. This is a great opportunity to start (or continue) to build the file on what type of players and people these prospects are, giving NBA teams excellent information to look back on as they become draft-eligible in the future themselves.
Particularly intriguing for us will be to see the way that highly regarded 1992-born prospects Phillip Neumann,
Rudy Gobert
,
Linos Chrysikopoulos
and
Evan Fournier
look in this setting, something that could set the table for them to start making their case as candidates for the 2012 draft already.
1991-born prospects
Tomas Satoransky
,
Augusto Cesar Lima
and
Nemanja Nedovic
are all coming off strong seasons at the senior level, and it will be interesting to see how they look in this setting.
The big wildcard is 1994-born Danish 7-footer Rasmus Larsen – by far the youngest player at this camp. How will he fare against players 2-5 years older than him?
For the eighth straight year, DraftExpress will once again be represented in Treviso, something we always greatly look forward to.