The NBA league-office has tinkered for many years with the format of the NBA Combine (previously known as the NBA pre-draft camp) in an attempt to make it as useful as possible for NBA front offices in their decision making process. With a significant portion of the first round once again electing not to participate in any of the basketball activities this year, and the top three prospects electing to not even attend period, many will call for the NBA to go back to the drawing board to try and figure out a new format that makes this event as relevant as possible again for teams, prospects, media and the general public.
To understand what's happened, let's look back at how things have evolved over the last few years to decipher how we arrived in the situation we currently are.
2006
The NBA pre-draft camp, as it was known back then, was held in Orlando for the first time this year (it was at Moody Bible Institute in downtown Chicago was the venue prior to that). Things were
a lot different back then
(detailed explanation in that article from 2006), as there was a five on five competitive component to the event, which has since been abolished due to a lack of interest in participating from most of the top-40 prospects. College players could still "test the waters" in those days, and some first rounders (like
Jordan Farmar
and
Kyle Lowry
) who were on the fence regarding whether to stay in the draft used this event as a gauge for whether or not to return to school. Farmar participated in the Combine, and went through measurements and a medical examination like everyone else. Lowry only did a workout in between sessions at the Combine, with Patrick O'Bryant and
Cedric Simmons
, organized by the NBA itself, and thus was not measured or given a physical. Back then agents were allowed to conduct their own private workouts at the same time as the camp, which led to many team executives driving around the city to attend various workouts, something that the NBA now prohibits.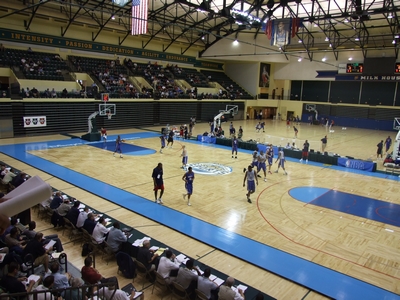 The NBA would select around 20 top prospects to invite to the pre-draft camp solely for the purpose of conducting physicals and measurements. Those who weren't in that group needed to compete in the five on five action if they wanted to participate in the event. Thus, a great deal of hand-wringing ensued between the NBA and agents regarding who should be in each group, which the end result being a contingency of the 20-40 area of the draft not attending, something that benefited no one. This is the reason why some very successful NBA players don't show up in our
extensive measurement database
(2006 pre-draft camp participants linked).
After a few years of this, the NBA decided to change their strategy, and try something new, which was fairly successful initially.
2007
Very quietly, the NBA was able to get most of the top prospects in the draft on the court with an actual basketball in hand, something that was rumored to happen but was unannounced until the lottery picks just streamed onto the court in Orlando.
The 19 players invited to the "physical only" portion of the Camp included the likes of
Greg Oden
,
Kevin Durant
,
Al Horford
, Mike Conley,
Joakim Noah
and others. They did some very light drills, running up and down the floor in transition and attempting some outside jumpers.
For the sake of nostalgia, here's a healthy
Greg Oden
being put through drills:
Ty Lawson
participated in all action at the pre-draft camp this year, including five on five play, and then decided to withdraw his name from the draft.
2008
Once again, the NBA was successful in getting most of the top prospects on the floor, including the likes of
Derrick Rose
,
Kevin Love
,
Russell Westbrook
,
Eric Gordon
and
DeAndre Jordan
(who ended up slipping into the second round, possibly partially due to how he looked here). Its funny reading through our article from back then now, and seeing us quote a NBA executive saying that they found watching this to be "a complete waste of time," especially considering how things have evolved since.
For more nostalgia, here's
Derrick Rose
running around cones and shooting at the NBA pre-draft camp:
And here's
O.J. Mayo
It should be noted that a number of players drafted in the first round were not in attendance at the NBA pre-draft camp this year, including the likes of
Jason Thompson
(#12),
Brandon Rush
(#13),
Robin Lopez
(#15),
Marreese Speights
(#16),
Roy Hibbert
(#17),
J.J. Hickson
(#19),
Ryan Anderson
(#21),
Courtney Lee
(#22) and others who couldn't attend due to obligations in Europe, such as
Danilo Gallinari
(#6),
Alexis Ajinca
(#20),
Serge Ibaka
(#24) and
Nicolas Batum
(#25). Not having an official physical/medical examination, or measurements is something that is not ideal for NBA teams, but this very strong draft was fairly unpredictable to peg 3-4 weeks out. So many first round picks not being involved in the action at the NBA pre-draft camp undoubtedly ignited the wheels of change which resulted in the reform we saw a year later.
2009
The NBA decided to rebrand the pre-draft camp as the NBA Combine this year, possibly in hopes of mimicking the increasing success the NFL was enjoying (and continues to wisely capitalize on).
DraftExpress was hired by NBA.com that year to help cover the event, so there was only so much we could say in our
writeup back then
, particularly in terms of the behind the scenes action in terms of agents and such.
In another good example of how things have evolved from back then, the actual on-court action was completely closed off to all media (besides their broadcast partners at ESPN and NBA.com writers), which was not taken well by national media writers for obvious reasons.
The drama extended to the push and pull between the NBA league office and player agents as well, resulting in top prospects
Blake Griffin
,
Hasheem Thabeet
,
James Harden
,
Tyreke Evans
and
Jordan Hill
electing not to participate in any on-court action. With
Ricky Rubio
and
Brandon Jennings
still with their teams in Europe, only three of the eventual top-10 picks in the draft (Johnny Flynn,
Stephen Curry
,
DeMar Derozan
) ended up with a basketball in their hands in Chicago.
James Harden
also elected to do only a handful of interviews with NBA teams, not the dozen or more that were set up for him by the league.
Setting aside time for NBA teams to interview 18 players privately for 30 minutes, in a sort of speed dating process, was a new twist in the pre-draft format that was widely lauded as a very positive development by NBA teams, and continues today. Some agents, like Harden's for example, weren't quite as enthusiastic at the time, as they prefer to control their players' exposure strictly to the teams they feel are potential landing spots and not waste time interviewing with a team who are only looking to collect valuable data for their own purposes later.
A quote from
our article back then
reflects some of the sentiment we already started to hear back then: "I can't imagine that the NBA is going to allow this to happen again next year," one General Manager and Competition Committee member told us today. "The agents are making a mockery of this process, and it's making things increasingly difficult on us in terms of making decisions."
A short note is in order on
Jon Brockman
, the first player we can recall who elected not to attend the NBA Combine at all, on his own accord. As the story goes, Brockman's agency (WMG) was able to secure a promise in the second round from the Milwaukee Bucks after his strong showing at the 2009 Portsmouth Invitational Tournament in April, which precluded him from attending the NBA Combine at all a few weeks later. Unfortunately for Brockman and the Bucks, the Sacramento Kings decided to jump up and take him with the 38th pick in the draft, just three picks before Milwaukee was supposed to take him. Brockman only agreed to sign a one year deal with Sacramento, though, and Milwaukee was able to acquire him a year later in a sign and trade, making him one of the highest paid players in that draft class at the time. Brockman ended up being somewhat of a flop, though, and is currently playing in France.
2010
This is the year that things officially went off the rails, as NBA agents decided to reassert control over the pre-draft process. The following players did not partake in any on-court basketball activity. The number in parenthesis is where they eventually got drafted a month later.
John Wall
(#1)
Evan Turner
(#2)
Derrick Favors
(#3)
Wesley Johnson
(#4)
DeMarcus Cousins
(#5)
Ekpe Udoh
(#6)
Greg Monroe
(#7)
Al-Farouq Aminu
(#8)
Cole Aldrich
(#11)
Ed Davis
(#13)
Elliot Williams
(#22) – did not attend the Combine at all (reportedly due to injury)
Quincy Pondexter
(#26) – did not attend the Combine at all (reportedly due to injury)
Hassan Whiteside
(#29)
Daniel Orton
(#33)
This year marks the second time that players (Pondexter and Williams, both represented by the same agency, again WMG) outright elected not to attend the NBA Combine at all. Many speculated and still believe to this day that they had a promise in the first round at this stage and felt good enough to skip the event. Other players, such as
DeMarcus Cousins
, picked and chose which athletic testing drills to participate, seemingly looking to only partake in those he felt he could excel in.
Hassan Whiteside
(currently in Lebanon) and
Daniel Orton
(now in the D-League) both declined to participate in basketball activities despite being nowhere close to considered lottery prospects at the time, which was rare at the time. It's easy to look back at 2010 and realize that this is where agents came to realize that they can manipulate the draft process at their discretion without any repercussions seemingly.
2011
Although we didn't see the same bulk of players electing not to participate in basketball activities like the previous year, the fact that only two eventual top-10 picks (
Enes Kanter
[#3 pick] and
Jimmer Fredette
[#10]) participated speaks for itself.
All of the following elected not to participate in basketball activities, although no one outright skipped the Combine altogether.
Kyrie Irving
(eventual #1 pick)
Derrick Williams
(#2)
Tristan Thompson
(#4)
Brandon Knight
(#8)
Kemba Walker
(#9)
Alec Burks
(#12)
Kawhi Leonard
(#15)
International players like
Jonas Valanciunas
(#5),
Jan Vesely
(#6),
Bismack Biyombo
(#7), Dontatas Moteijunas (#20) and
Nikola Mirotic
(#23) were also not present, mostly due to their commitments to their teams. Biyombo was stuck in the Congo with visa issues.
Kyrie Irving
elected not to participate in any athletic testing drills.
Media again was shut out of the event, with the exception of ESPN.
2012
The list of players who decided not to participate in any basketball activities at the Combine got significantly longer this year, and included all of the following:
Anthony Davis
(#1)
Michael Kidd-Gilchrist
(#2)
Bradley Beal
(#3)
Dion Waiters
(#4) - Did not attend
Thomas Robinson
(#5)
Harrison Barnes
(#7)
Andre Drummond
(#9)
Austin Rivers
(#10)
Jeremy Lamb
(#12)
Kendall Marshall
(#13) - wrist injury
Arnett Moultrie
(#27)
Damian Lillard
and
Terrence Ross
were the only top-10 picks who elected to participate in everything this year. Both Lillard and Ross were late risers in the draft. Lillard's scintillating shooting display at the Combine may have helped ignite his stock and eventually saw him land at #6 on draft night.
Dion Waiters
' story was very interesting, as he came to the Combine in Chicago but elected not to partake in any activities whatsoever after reportedly landing a promise from Phoenix at #13. Waiters did not conduct any workouts or interviews, which did not discourage Cleveland from picking him at #4 overall. Many NBA teams point to this event as another incident that further eroded the value of the NBA draft process, due to the message it sent. The way Waiters has panned out for Cleveland may have played a part in the GM who made the pick, Chris Grant, losing his job.
Media was not allowed in the gym, with the exception of ESPN's broadcast crew and Fox Sports' Jeff Goodman.
2013
Last year's Combine saw the trend of non-participation continue in the wrong direction. All of the following players elected not to partake in basketball activities:
Anthony Bennett
(#1) (injured shoulder--did not attend period)
Victor Oladipo
(#2)
Otto Porter
(#3)
Cody Zeller
(#4)
Alex Len
(#5) (injured foot)
Nerlens Noel
(#6) (torn ACL)
Ben McLemore
(#7)
Trey Burke
(#9)
C.J. McCollum
(#10)
Michael Carter-Williams
(#11)
Shabazz Muhammad
(#14) - participated in only the first day of workouts
Giannis Antetokounmpo
- #15 (did not attend, was with U20 Greek National team)
Dennis Schroeder
- (#17) - had wisdom tooth pulled prior reportedly
Gorgui Dieng
- (#21) (ankle)
Mason Plumlee
- (#22)
Jamaal Franklin
(ankle)
Ryan Kelly
(foot surgery)
Seth Curry
(shin surgery)
C.J. Leslie
(wrist tendonitis)
2013 marked the first time that just one top-10 pick participated in all basketball activities at the Combine.
Kentavious Caldwell-Pope
saw his stock rise as the draft process moved on and ended up being selected 8th overall by Detroit even though he did not look particularly impressive in Chicago.
Lucas Nogueira
who ended up being drafted 16th, elected to attend the adidas EuroCamp instead, while
Sergey Karasev
(#19 pick) was busy with his team in Russia and settled for conducting a private workout in Las Vegas later on.
Overall just four of the top-19 players selected participated in all basketball activities in Chicago, which certainly contributed to us arriving in the situation we're in today.
Will the decision of
Andrew Wiggins
,
Joel Embiid
and
Jabari Parker
not to attend the NBA Combine at all cause all potential #1 pick candidates to skip the event entirely in the future? Will the NBA be forced to do away with basketball activities entirely if all major first round candidates elect not to participate?
Can the NBA somehow force players and their agents to come to Chicago somehow, possibly by tying in their ability to attend the NBA Draft Green Room? Could they take things a step further and make any player that doesn't participate in all league-mandated events ineligible to receive the extra 20% most rookies receive as part of their rookie scale contract? Would that hold up in court without being in the collective bargaining agreement? How do you separate players who are legitimately injured, or still playing with their teams in Europe, from the group of players who are simply marching to their own drum?
These are some of the questions NBA team executives and league officials will discuss in the coming days in Chicago, as this current cycle of the pre-draft process seems to have run its course.