The EuroCamp kicks off this Saturday in Treviso, Italy, and DraftExpress will be present covering the event for the 8th straight year.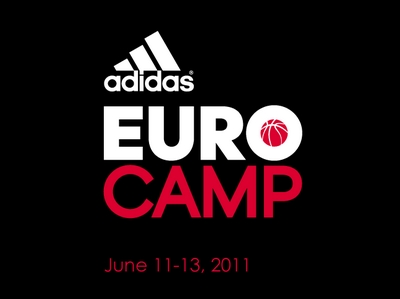 Following the acquisition of Reebok in 2005, the EuroCamp (
official website
) will be run by adidas for the second time. Last year's camp was a transition, as adidas made some tweaks and personalized the previous format.
Taking advantage of the opportunity to promote adidas athletes at the camp, this year the company is upping the ante and featuring NBA star
Dwight Howard
as a special guest.
"adidas EuroCamp is the premier international basketball pre-draft camp and we're excited to host the league's next stand out players," said Lawrence Norman, adidas vice president of Global Basketball. "As we're watching in the NBA Playoffs right now, international players continue to make an immediate impact in the league and we're proud to showcase that talent before this year's draft."
The EuroCamp will also host influential guest speaker Sergio Scariolo, head coach of the Spanish National Basketball Team.
Also present and playing multiple times will be the Croatian and Serbian Under-19 National Teams, as well as Benetton's junior squad, adding another half-dozen or more highly intriguing NBA prospects for scouts to evaluate on their trip.
The camp will be conducted from June 11th to 13th at the La Ghirada Sports Complex in Treviso, and will be held under the watchful eyes of all the most influential members of the world-wide basketball community.
Since representatives of all 30 NBA teams will be present, the EuroCamp is a streamlined process by which top prospects can conduct interviews, measurements, and at times private workouts. The alternative of flying to the US and working out for as many as 30 teams would be much less efficient. Instead, the EuroCamp staff allows NBA teams to get their work accomplished here in Treviso with a convenient set-up.
The camp provides various settings in which evaluators can gauge the players' skill-sets, in numerous drills on a daily basis and also in five on five scrimmages – an element now sorely lacking in the domestic NBA Pre-Draft Camp/Combine.
Participants:
A total of 44 players will be participating this year, due to some last minute-cancellations because of scheduling conflicts and other reasons.
Workouts and/or Interviews ONLY:
Donatas Motiejunas
: Workout and interviews – (confirmed)
Bismack Biyombo
: Workout and measurements (confirmed)
Davis Bertans
– Likely conducting a private workout only according to agent
Nihad Djedovic
- Like conducting interviews only
Early Entry
Players who have declared themselves draft-eligible in 2011, but may still withdraw by the June 13th deadline.
Lucas Nogueira
Leon Radosevic
Tomislav Zubcic
Joffrey Lauvergne
Andrew Albicy
Abdel Kader Sylla
Emmanouil Koukoulas
Automatically Draft Eligible Participants (Born 1989)
Dairis Bertans
Robin Benzing
Antoine Diot
Dogus Balbay
Adam Hanga
Mindaugas Kuzminskas
Sarra Camara
Angel Garcia
Denys Lukashov
Edwin Jackson
Bangaly Fofana
Janis Strelnieks
Dimitriy Khvostov
Next Generation Participants
Samuel Deguara
7'4 C 1991
Alessandro Gentile
6'5 SG/SF 1992
Ilkan Karaman
6'9 PF 1990
Rasid Mahalbasic
6'11 PF 1990
Dejan Musli
7'0 C 1991
Joan Sastre
6'7 SF 1991
Josep Franch
6'5 PG 1991
Raul Neto
6'1 PG 1992
Tomas Satoransky
6'7 PG/SG/SF 1991
Augusto Cesar Lima
6'9 PF 1991
Paul Lacombe
6'5 SG 1990
Nemanja Nedovic
6'4 PG 1991
Nikos Pappas
6'5 PG 1990
David Jelinek
6'5 SG 1990
Eimantas Bendzius 1990 6'7 Lithuania Perlas
Linos Chrysikopoulos
6'9 SF 1992
Branislav Djekic
6'9 PF 1991
Dusan Cantekin
7'4 C 1990
Patrick Heckmann
6'6 SG 1992
Rasmus Larsen 7'0 PF 1994
Alberto Jodar
6'9 SF 1991
Andreja Milutinovic
6'7 SG 1990
Nicolo Melli
6'9 F 1991
Pavlin Ivanov
6'5 SG 1993
Who Won't be in Treviso?
Jonas Valanciunas
Enes Kanter
Jan Vesely
Nikola Mirotic
Evan Fournier
6'6 SG 1992
Bojan Bogdanovic
Furkan Aldemir
Giorgi Shermadini
Xavi Rabaseda
Michael Dunigan
Jeremy Tyler
Milan Macvan
Pere Tomas
Chu Chu Maduabum
Pablo Aguilar
Philip Neumann
Rudy Gobert
Dmitry Kulagin
Rafa Freire
Zoran Dragic
Leo Westermann
Bryan Pamba
Christophe Leonard
As always, the EuroCamp (under the steady guidance of Pete Philo, Jelena Soce and Michele Gherardini) has done an outstanding job assembling an intriguing mix of different types of prospects, some who need to be evaluated immediately for this year's draft, and some who will emerge as serious draft prospects in the future.
While some may be disappointed initially with the 10 prospects or so that were removed from the roster at the last minute due to extenuating circumstances (teams still competing in their playoffs, etc), this is still a strong group of players with at least a couple of first round draft picks mixed in, whether in 2011 or beyond.
Former adidas EUROCAMP participants include 48 first and second round NBA Draft picks and 75 NBA players including:
Danilo Gallinari
,
Serge Ibaka
,
Andrea Bargnani
,
Marco Belinelli
,
Nicolas Batum
,
Rudy Fernandez
,
Marcin Gortat
and many others.
The players with the best chance of being picked in the first round this year are probably
Bismack Biyombo
(Republic of Congo),
Donatas Motiejunas
(Lithuania) and
Davis Bertans
(Latvia).
Additionally, plenty of eyes will also be focused on Brazilian first round prospect
Lucas Nogueira
, the player who can likely help himself the most with a strong showing.
Perhaps the EuroCamp's greatest value lies in getting an early read on promising young players who are just on the verge of becoming important players at the professional level, something that holds true for both the NBA and European talent evaluators in attendance.
The last few camps gave us the opportunity to evaluate the likes of
Jan Vesely
and
Donatas Motiejunas
for example, now considered two of the top Euro prospects in this year's draft, which was extremely helpful.
Particularly intriguing for us will be to see the way that highly regarded 1992-born prospect
Linos Chrysikopoulos
looks in this setting, something that could set the table for him to start making his case as a candidate for the 2012 draft already.
1991-born prospects
Tomas Satoransky
,
Augusto Cesar Lima
and
Nemanja Nedovic
are all coming off strong seasons at the senior level, and it will be interesting to see how they look in this setting. They're all first round prospects for the 2012 draft early on, which means they'll be watched just as closely by scouts as anyone.
The big wildcard is 1994-born Danish 7-footer Rasmus Larsen – by far the youngest player at this camp. How will he fare against players 2-5 years older than him?
Several NBA and European Basketball coaches will participate at this year's camp including Kenny Atkinson (New York Knicks), Dennis Lindsey (San Antonio Spurs), John Welch (Denver Nuggets) and Vincent Collet (French National Basketball Team, Strasbourg) as well as ESPN global basketball analyst Fran Fraschilla.
DraftExpress will be in thick of the action in Treviso, so stay tuned daily for updates and the latest at the 2011 adidas EuroCamp.