The EuroCamp kicks off this Saturday, and DraftExpress will be present covering the event for the 10th straight year.
Full Rosters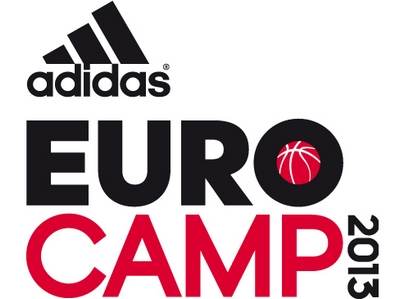 The camp will be conducted from June 8-10 at the La Ghirada Sports Complex in Treviso, Italy.
Former adidas EuroCamp participants include dozens of former NBA Draft picks and current NBA players including:
Danilo Gallinari
,
Serge Ibaka
,
Omer Asik
,
Nicolas Batum
,
Rudy Fernandez
,
Goran Dragic
,
Andrea Bargnani
,
Marcin Gortat
,
Marco Belinelli
,
Evan Fournier
,
Patrick Beverley
,
Bismack Biyombo
,
Alexey Shved
,
Kevin Seraphin
,
Donatas Motiejunas
,
Jonas Jerebko
,
Joel Freeland
,
Victor Claver
,
Jan Vesely
,
Rodrigue Beaubois
,
Patrick Mills
,
Tornike Shengelia
,
Johan Petro
,
Nando De Colo
,
Slava Kravtsov
,
Jeremy Tyler
and others.
Representatives of all 30 NBA teams will be present, watching the drills and games in competitive five on five action, conducting interviews with prospects, collecting measurements and athletic testing data, and taking in private workouts set up by agents.
The EuroCamp (
official website
) went through a transition period the past few years following the acquisition of Reebok by adidas and a rebranding of the camp. Long-time camp director Pete Philo was replaced by Arturas Karnisovas of the Houston Rockets, while new additions were brought in as the format of the Camp was modified and improved under the guidance of organizers Jim Gatto, Jelena Soce and Michele Gherardini.
Karnisovas has a unique resume to help organize an event of this nature, being born in Lithuania, having played college basketball at Seton Hall, and making his residence in the United States. He was a decorated player at the international level, competing in all of the top leagues in Europe (Spain, Italy, Greece, France), being named European Player of the Year by FIBA in 1996, and winning two bronze medals representing his home country at the 1992 and 1996 Olympics. He worked in the NBA league office for five years and has been with the Houston Rockets since 2008, focusing heavily on international scouting, but also having an active presence throughout the US in helping his team prepare for the NBA Draft and Free Agency as their Director of Scouting.
This year's EuroCamp is especially intriguing, as it will not only feature a number of potential (and future) first round picks in
Rudy Gobert
,
Lucas Nogueira
,
Nemanja Nedovic
and
Dante Exum
, but will also bring in a wide range of additional prospects for NBA scouts to evaluate from outside the traditional camp roster.
The U-19 national team of Serbia and U-20 team of France will both be present in Treviso, as part of their preparations for the U19 World Championship and U20 European Championship respectively. Both squads have a few prospects that are worthy of attention, such as
Boris Dallo
and Alexandre Chassang for France or
Nikola Radicevic
and
Nikola Milutinov
for Serbia.
Serbian U19 National Team Roster
Luka Andusic 6-5 G Proleter Zrenjanin 1994
Petar Aranitovic 6-4 PG Partizan 1994
Luka Nikolic 6-10 C Vrsac 1994
Jovan Novak 6-0 PG Vrsac 1994
Nikola Jovanovic 6-8 PF Arlington County Day 1994
Stefan Pot 6-5 G Vojvodina 1994
Milos Jankovic 6-8 C Mladost Cacak 1994
Nikola Milutinov
7-0 C Partizan 1994
Nikola Radicevic
6-5 SG Sevilla 1994
Doko Salic
6-10 C Spars Sarajevo 1995
Dusan Kutlesic 6-5 SG Sloboda Uzice 1994
Nikola Jankovic
6-8 PF Spirou Charleroi 1994
Ognjen Dobric 6-6 SF Red Star 1994
Vasilije Micic
6-4 PG Mega Vizura 1994
Adidas has also assembled a "Next Generation" team, "an elite program to enhance both on-court and life skills" according to the company, which is composed of many of the top prospects in Europe under the age of 16. This group has a single two and a half hour practice on the schedule, likely serving as a small taste for the NBA and European scouts of what the future holds. They will be coached by former Panathinaikos assistant Dimitris Itoudis and Marcelo Nicola, the assistant coach of Murcia in the ACB and a former Benetton Treviso player.
Another new twist is the presence of a "Team USA" roster, which will play one game every day and likely also will go through the same morning drills as the EuroCamp prospects. This group will be composed of players from the adidas Nations program, and called the Under-18 adidas USA Select.
Exact rosters for both the Next Generation and Team USA will be announced on site according to adidas representatives.
Team USA won't be the only players flying in from America. Australian
Ryan Broekhoff
will participate coming off a stellar college career at Valparaiso. He attended the Portsmouth Invitational Tournament in Virginia in April and while considered a fringe NBA prospect, is certain to at the very least have a long and successful career at the European level thanks to his high basketball IQ and Dutch passport.
Similarly, point guard
Andrew Lawrence
from Great Britain just graduated from the College of Charleston, after participating in the London Olympics last summer. He is in a perfect place to jumpstart his European career here with a good showing in Treviso.
High school player Aquille Carr from Baltimore is also on the roster. He doesn't have any connection to international basketball at the moment, but announced recently that he plans on playing in Europe next year as he's deemed unlikely to qualify for college due to academic reasons. The EuroCamp is doing him a huge favor in providing him with a platform to display himself in front of dozens of European team representatives, and it will be interesting to see how he handles himself considering his unflattering reputation here in the States among high school recruiting experts.
Boubacar Moungoro from IMG Academy in Florida is in a similar position, except he has clear international ties being born in Mali. He came to the US to play high school basketball but is reportedly unlikely to become NCAA-eligible due to academic issues. He will attend the EuroCamp in hopes of impressing onlookers enough to find an attractive place to continue to develop next season and beyond.
Auto-Eligibles
One of the most appealing aspects of the Eurocamp as far as NBA teams are concerned is the fact that it acts as a "one-stop shop" for International prospect scouting, saving an incredible amount of time and money for executives that otherwise would have to trek around Europe for months to see each of the players individually.
With that in mind, the organizers brought in 14 players who are automatically eligible for the 2013 NBA Draft as 1991-born internationals.
Achille Polonara
6'7" Power Forward Italy Varese (injured?)
Andrey Zubkov
6'9" Small Forward Russia Lokomotiv Kuban
Augusto Cesar Lima
6'9" Power Forward Spain Unicaja Malaga
Bojan Dubljevic
6'10" Power Forward Montenegro Valencia
Danilo Andusic
6'5" Shooting Guard Serbia Partizan
Edo Muric
6'8" Power Forward Slovenia Krka Novo Mesto
Howard Sant-Roos
6'7" Small Forward Cuba Braunschweig
Jakub Parzenski
7'0" Center Poland Virtus Bologna
Joan Sastre
6'7" Small Forward Spain Cajasol Seville
Mindaugas Kupsas
7'1" Center Lithuania Lietkabetis
Nemanja Nedovic
6'3" Point Guard Serbia Lietuvos Rytas
Nicolo Melli
6'9" Power Forward Italy EA7 Milano
Oleksandr Lypovyy
6'7" Point Guard Ukraine BC Donetsk
Vitalis Chikoko
6'10" Power Forward Zimbabwe TBB Trier
Among these, Nedovic and Dubljevic are likely to get drafted regardless and can probably improve their standing in the draft with a strong showing, while Lima, Chikoko, Lypovyy, Sastre and Polonara appear to be on the outside looking in but are now in a position to help their cause in Treviso.
2013 NBA Early-Entry Candidates
In addition to the 1991 born players, there are a number of younger international prospects born from 1992 to 1994 who made themselves eligible to be selected in the 2013 NBA Draft by entering their name on the NBA Early-Entry candidate list.
The EuroCamp added eleven of the most interesting prospects from that list to give them a chance to increase their standing and gather feedback on their stock before they must decide whether to remain in the 2013 Draft on June 17th. Some of the prospects below will elect to withdraw but NBA scouts will continue to follow them for 2014 and beyond.
Adin Vrabac
6'8" Small Forward Bosnia and Herzegovina OKK Spars 1994
Artem Pustovyi
7'1" Center Ukraine Khimik 1992
Janis Timma
6'7" Power Forward Latvia Ventspils 1992
Linos Chrysikopoulos
6'9" Small Forward Greece Paok 1992
Livio Jean-Charles
6'9" Small Forward France Asvel 1993
Louis Labeyrie
6'10" Power Forward France Paris Levallois 1992
Lucas Nogueira
7'0" Center Brazil Asefa Estudiantes 1992
Nemanja Besovic
7'2" Center Serbia Free Agent
Raul Neto
6'1" Point Guard Brazil Lagun Aro GBC 1992
Rudy Gobert
7'2" Center France Cholet 1992
Viktor Gaddefors
6'8" Small Forward Sweden Virtus Bologna 1992
Last year
Evan Fournier
participated in all Camp activities and ended up being selected with the 20th overall pick by the Denver Nuggets.
Tornike Shengelia
did the same, having a very strong camp which undoubtedly played an important role in the Brooklyn Nets deciding to take a chance on him in the second round and bring him to the NBA straight away.
Among this year's early-entry prospects,
Rudy Gobert
,
Lucas Nogueira
and
Livio Jean-Charles
are well known prospects and considered strong first round candidates at this stage. Players like
Adin Vrabac
,
Artem Pustovyi
,
Janis Timma
,
Louis Labeyrie
,
Linos Chrysikopoulos
and
Raul Neto
are slightly lesser known, but could very well draw attention to themselves from teams picking in the second round with good showings.
NBA teams who have multiple draft picks and may not be interested in adding more young prospects to their rosters right away could decide to "promise" a player that they will draft him in hopes of stashing him in Europe for a few more years. Treviso is as good a place as any to identify candidates and conduct these types of transactions.
2014 NBA Draft and Beyond
Many of the best prospects participating in the EuroCamp are not draft-eligible, as they are either too young or didn't feel ready to put their names in just yet. That doesn't mean that NBA scouts won't be watching them, though.
Perhaps the EuroCamp's greatest value lies in getting an early read on promising young players who are just on the verge of becoming important players at the professional level, something that holds true for both the NBA and European talent evaluators in attendance.
Some of the following 20 prospects have already established strong reputations for themselves, while others are completely unknown:
Alessandro Gentile
6'7" Small Forward Italy EA7 Milano 1992
Clint Capela
6'9" Power Forward Switzerland Chalon 1994
Daniel Diez
6'8" Small Forward Spain Lagun Aro GBC 1993
Dante Exum
6'6" Point Guard Australia AIS 1995
Dmitry Kulagin
6'6" Shooting Guard Russia Triumph 1992
Edgaras Ulanovas
6'6" Small Forward Lithuania Pieno Zvaigzdes 1992
Emir Sulejmanovic
6'9" Power Forward Bosnia and Herzegovina Olimpija Ljubljana 1995 (injured?)
Guillermo Hernangomez
6'10" Center Spain Real Madrid 2 1994
Jaime Fernandez
6'2" Shooting Guard Spain Asefa Estudiantes 1993
Janis Berzins
6'8" Power Forward Latvia Valmiera 1993
Klemen Prepelic
6'3" Shooting Guard Slovenia Olimpija Lubljiana 1992
Lucas Mariano 6'9" Center Brazil Franca – Brazil 1993
Marko Lukovic 6'9" Small Forward Serbia Mega Vizura 1992
Nemanja Dangubic
6'5" Small Forward Serbia Mega Vizura 1992
Nikola Ivanovic
6'3" Point Guard Montenegro Buducnost 1994
Nikola Radicevic
6'5" Point Guard Serbia Cajasol Seville 1994
Ondrej Balvin
7'1" Center Czech Republic Cajasol Seville 1992
Vyacheslav Bobrov
6'7" Small Forward Ukraine BC Kiev 1992
Vasilije Micic
6'5" Point Guard Serbia Mega Vizura 1994
Vladislav Trushkin
6'7" Power Forward Russia Spartak Vidnoye 1993
There are a number of extremely interesting prospects here that could become major factors in the 2014 NBA Draft, starting with Australian
Dante Exum
. Fresh off a terrific showing at the Nike Hoop Summit, Exum is a lottery caliber prospect that may elect to attend college (possibly at Indiana?) starting in December.
Other prospects that scouts will be watching include Serbian pure point guard
Vasilije Micic
, versatile Bosnian scoring power forward
Emir Sulejmanovic
, Italian scoring machine
Alessandro Gentile
and extremely athletic Swiss big man
Clint Capela
.
Spanish forward
Daniel Diez
had a strong showing at the 2012 EuroCamp and will try to build on that this year, while
Dmitry Kulagin
will try to improve his reputation among scouts on and off the court after a very inconsistent season.
The rosters are likely still fluid as teams in Europe get eliminated from the playoffs, injuries inevitably occur and players elect to pull out for different reasons.
Coaching Staff
Arturas Karnisovas – adidas Eurocamp director
Bill Bayno (Minnesota Timberwolves, adidas Eurocamp Coaching Director)
Kenny Atkinson – Atlanta Hawks
Kaleb Canales – Dallas Mavericks
Eric Hughes – Toronto Raptors
Armond Hill
– Boston Celtics
Chris Finch – Houston Rockets
Maz Trakh – Oklahoma City Thunder
Kelvin Sampson – Houston Rockets
Melvin Hunt – Denver Nuggets
Jim Boylen – Indiana Pacers
Ilias Zouros – Anadolu Efes (2012)
Sarunas Marciulionis
–
Sarunas Marciulionis
Basketball Academy
Special Guests
One guest speaker per day will talk to the players and try to share insights from their experience in professional basketball. They are:
-
Sarunas Marciulionis
, an international legend and pioneer for European basketball players in the NBA
-Flip Saunders, President of Basketball Operations for the Minnesota Timberwolves, and former NBA head coach
-Bill Bayno (Minnesota Timberwolves assistant coach, adidas Eurocamp Coaching Director)
NBA players and adidas representatives
Kenneth Faried
(Denver Nuggets),
Omri Casspi
(Cleveland Cavaliers), and
Serge Ibaka
(Oklahoma City Thunder) will also be present.