The EuroCamp kicks off this Saturday, and DraftExpress will be present covering the event for the 11th straight year.
Full Rosters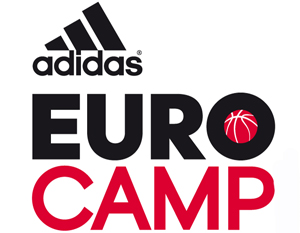 The camp will be conducted from June 7-9 at the La Ghirada Sports Complex in Treviso, Italy.
Former adidas EuroCamp participants include dozens of former NBA Draft picks and current NBA players including:
Danilo Gallinari
,
Serge Ibaka
,
Omer Asik
,
Nicolas Batum
,
Rudy Fernandez
,
Goran Dragic
,
Andrea Bargnani
,
Marcin Gortat
,
Marco Belinelli
,
Evan Fournier
,
Patrick Beverley
,
Bismack Biyombo
,
Alexey Shved
,
Kevin Seraphin
,
Donatas Motiejunas
,
Jonas Jerebko
,
Joel Freeland
,
Victor Claver
,
Jan Vesely
,
Rodrigue Beaubois
,
Patrick Mills
,
Tornike Shengelia
,
Johan Petro
,
Nando De Colo
,
Slava Kravtsov
,
Jeremy Tyler
and others.
The 2013 EuroCamp featured four participants subsequently selected in the 2013 NBA Draft,
Lucas Nogueira
of Brazil (16 - Atlanta Hawks),
Nemanja Nedovic
of Serbia (30 - Golden State Warriors),
Raul Neto
of Brazil (47 - Utah Jazz) and
Janis Timma
of Latvia (60 - Memphis Grizzlies).
Representatives of all 30 NBA teams will be present, watching the drills and games in competitive five on five action, conducting interviews with prospects, collecting measurements and athletic testing data, and taking in private workouts set up by agents.
2014 EuroCamp Overview
The EuroCamp (
official website
) went through a transition period recently following the acquisition of Reebok by adidas and a rebranding of the camp. Long-time camp director Pete Philo was replaced by Arturas Karnisovas, now of the Denver Nuggets, who with the help of organizers Jim Gatto, Jelena Soce and Michele Gherardini, made some key changes to the event that enhanced the experience for scouts and have a chance to pay even bigger dividends this year.
After taking a job with USA Basketball, Karnisovas made way for the return of the venerable former Benetton Treviso GM Maurizio Gherardini, this season with the Oklahoma City Thunder, as Camp Director. Gherardini, recently named General Manager of Euroleague powerhouse Fenerbahce Ulker Istanbul, played a huge part in the development of this camp throughout the years, so it's only fitting to see him return in an official capacity.
For the second straight year, adidas has assembled a "Team USA" roster, which will play one game every day. Last year's group was led by
Devin Robinson
, who finished his senior year of high school this spring ranked as one of the top-25 players in the class of 2014 according to 247Sports's Composite Ranking. The value of seeing young American prospects such as Robinson up close in addition to group of international players assembled is obviously significant for the scouts in attendance.
This year's Team USA roster is a game changer for the EuroCamp if the players on their preliminary roster do indeed make the trip across the Atlantic. While last year's group featured a number of top-100 RSCI-level players aside from Robinson, this year's list features a number of elite talents, many of which scouts will be seeing extensively in person for the first time.
Preliminary Team USA Roster
| PLAYER | HT | WT | POS | HIGH SCHOOL | GRAD YEAR | 247 COMP |
| --- | --- | --- | --- | --- | --- | --- |
| Thon Maker | 7'0" | 210 | C | Carlisle (VA) | 2016 | 3 |
| Danta Hales | 6'9" | 205 | C | Bowie (TX) | 2015 | NR |
| Matur Maker | 6'10" | 190 | C | Carlisle (VA) | 2017 | NR |
| Jaylen Brown | 6'7" | 207 | SF | Wheeler (GA) | 2015 | 7 |
| Carlton Bragg | 6'8" | 210 | PF | Villa Angela-St. Joseph (OH) | 2015 | 9 |
| De'Ron Davis | 6'10" | 210 | PF | Aurora (CO) | 2016 | 22 |
| Brandon Ingram | 6'7" | 180 | SF | Kinston (NC) | 2015 | 21 |
| Maverick Rowan | 6'7" | 180 | SG | Lincoln Park Performing (PA) | 2016 | 68 |
| Dennis Smith | 6'2" | 160 | PG | Trinity Christian (NC) | 2016 | 15 |
| Kobi Simmons | 6'4" | 170 | PG | St. Francis (GA) | 2016 | 23 |
This is terrific group of prospects on paper, enlisting many of the top performers from this spring's inaugural adidas Gauntlet and a number of potential one-and-done prospects who could factor into the NBA Draft as early as 2016.
Next Generation Practices
Adidas has also assembled a "Next Generation" for this year's EuroCamp. Continuing the tradition started in 2013, this group will be composed of many of the top prospects in Europe under the age of 16. Showcasing their skills in a single two and a half hour practice, the players invited will offer NBA and European scouts a glimpse of what the future holds.
Official rosters for both the Next Generation and Team USA will be announced on site according to adidas representatives.
Additional teams in attedence
As has historically been the case, the EuroCamp will include a few additional teams attending as a way to prepare for FIBA Competition this summer. Last year, the U-19 national team of Serbia and U-20 team of France will both be present in Treviso. This year, the U-20 French National Team will be attending once again, but will be joined by Carleton University, a Canadian program which competes in the country's NCAA equivalent, the CIS.
Carleton University EuroCamp Roster
| PLAYER | HT | POS | HOMETOWN | YEAR |
| --- | --- | --- | --- | --- |
| Brody Maracle | 6'7" | F | Napanee, ON | 1 |
| Victor Raso | 6'3" | G | Hamilton, ON | 4 |
| Gavin Resch | 6'2" | G | Ottawa, ON | 4 |
| Cole Penman | 6'4" | G | Vancouver, BC | 1 |
| Jean Emmanuel Pierre-Charles | 6'8" | F | Ottawa, ON | 2 |
| Cameron Smythe | 6'11" | F | Vancouver, BC | 1 |
| Connor Wood | 6'4" | G | Guelph, ON | 2 |
| Guillaume Payen Boucard | 6'5" | G | Montreal, QC | 3 |
| Philip Scrubb | 6'3" | G | Richmond, BC | 4 |
| Thomas Scrubb | 6'6" | F | Richmond, BC | 4 |
| Kevin Churchill | 6'7" | F | Toronto, ON | 5 |
| Tyson Hinz | 6'7" | F | Ottawa, ON | 5 |
There are two things worth nothing about Carleton University's roster. First, it features a number of 5th year players, which is because CIS institutions operate with a 5-year eligibility clock unlike the 4-year eligibility clock of the NCAA. Second, it includes Phil Scrubb, who has won the last 3 CIS MVP awards. Scrubb was invited to training camp with Canada's Senior National Team a summer ago, and while he was cut after a pair of scrimmages, he returned to Carleton where he averaged 18.6 points per-game while shooting 47% from beyond the arc this season and is certainly a prospect.
Grantland's Jordan Conn
detailed
Carleton's decade-long run of success in the CIS a few months ago. It is unclear which members of the team will be attendance at the EuroCamp, but it will be interesting to see how this team performers, whether this is a platform on which Scrubb can generate some buzz among NBA scouts, and what impact this may have on the perceived quality of play in the CIS.
It has been some time since a CIS player was drafted by a NBA franchise and even longer since one has appeared in a regular season game. William Njoku of St. Mary's University (Halifax), who was drafted by the Pacers with the 41st overall pick in 1994 but never played in the NBA, is the association's most recent draftee, while
Jim Zoet
, an Ontario native who started his career at Kent State but finished it with Lakehead (Thunder Bay) became the last CIS graduate to play in the NBA when he appears in 7 games during the 1982-1983 season.
Despite its lack of recent NBA players, the CIS has produced a number of quality pros who have enjoyed long careers overseas. University of Ottawa product Warren Ward is one of the league's recent hoops success stories. He finished up his rookie year in the German 1st Division with TBB Trier a month ago.
This is a great opportunity for NBA scouts to gauge the level of play in Canada, and for these athletes to showcase themselves. Gherardini's longtime role as assistant GM of the Toronto Raptors undoubtedly played a part in this decision, and it will be interesting to see how things play out.
France U20 National Team Roster
Unofficial final roster via Eurohopes
| PLAYER | HT | POS | BIRTHDAY | AGE | TEAM |
| --- | --- | --- | --- | --- | --- |
| Alexandre Chassang | 6'8" | PF | 11/22/1994 | 19.5 | Villeurbanne |
| Kevin Harley | 6'6" | SF | 4/20/1994 | 20.1 | Poitiers |
| Mouhammadou Jaiteh | 6'11" | C | 11/27/1994 | 19.5 | Nanterre |
| Charly Pontens | 6'2" | SG | 7/13/1995 | 18.8 | Hyeres-Toulon |
| Arthur Rozenfeld | 5'10" | PG | 2/8/1995 | 19.3 | Villeurbanne |
| Anthony Labanca | 6'4" | SG | 7/20/1994 | 19.8 | Strasbourg |
| Benjamin Sene | 6'1" | PG | 5/13/1994 | 20.0 | Nancy |
| Axel Bouteille | 6'6" | SF | 4/14/1995 | 19.1 | Chalon |
| Timothe Luwanu | 6'6" | PF | 5/9/1995 | 19.1 | Antibes |
| Petr Cornelie | 6'10" | C | 7/26/1995 | 18.8 | Le Mans |
| Mathias Lessort | 6'7" | PF | 9/29/1995 | 18.6 | Chalon |
| Guerschon Yabusele | 6'7" | PF | 12/17/1995 | 18.4 | Roanne |
While official rosters for the French U20 National Team won't be available until the event begins, this is our best guess as to which top French prospects may be included on the team's roster. Much like last year, this team figures to feature plenty of potential NBA draftees.
Mouhammadou Jaiteh
, who played in last year's Hoop Summit before declaring and subsequently withdrawing from the 2013 Draft is the headliner here, while
Alexandre Chassang
played well for the team France sent to the Eurocamp last year.
Axel Bouteille
and
Mathias Lessort
are two of the most interesting 1995 prospects France has to offer. Both put together dominant individual seasons playing for Chalon at the junior level.
2014 Roster Analysis
College Players
| PLAYER | HT | POS | NATL | YEAR | TEAM |
| --- | --- | --- | --- | --- | --- |
| Orlando Sanchez | 206cm - 6'9'' | SF | DR | 1988 | St. John's |
| Niels Giffey | 201cm - 6'7" | SF | GER | 1991 | Connecticut |
| Ovie Soko | 203cm - 6'8" | PF | ENG | 1991 | Duquesne |
| Amedeo Della Valle | 192cm - 6'4" | SG | ITA | 1993 | Ohio State |
This year's Eurocamp will features four players who competed in the NCAA last season, including
Niels Giffey
, who played a key role in Connecticut's run to the 2014 National Championship. Ovio Soko may not be very well known in draft circles, but the English forward averaged 18.4 points and 11 rebounds per-game en route to All-A10 third team honors for Duquesne.
Amedeo Della Valle
signed with Italian team Reggio Emilia late this season after finishing his sophomore year at Ohio State. Dominican big man Orlando Sanchez, at age 26, will be the oldest player in attendance by a sizeable margin, and possibly the oldest player (officially) to ever participate at the EuroCamp.
Patty Mills ushered in this trend of college players participating at the EuroCamp in 2009, something that has continued every year. It's interesting to see someone like Sanchez, who averaged just 7 points and 6 rebounds per game on a non-NCAA Tournament team, and is nearly a decade older than some of the participants (like
Dragan Bender
), get invited here over other draft-eligible European players who seemingly have much better chances of being drafted.
Giffey on the other hand, is a natural choice for this setting, as he started for the German National team already last summer, and is coming off a great Portsmouth Invitational Tournament to cap off a fantastic NCAA career. One of the biggest success stories we've seen from the European ranks in college basketball the last few years, he has a chance to further improve his NBA draft hopes in Treviso, as well as show off for the European basketball general managers in attendance, as he'll certainly be a hot name for the ACB market as well as all the top teams in Germany.
Auto-Eligibles
One of the most appealing aspects of the Eurocamp as far as NBA teams are concerned is the fact that it acts as a "one-stop shop" for International prospect scouting, saving an incredible amount of time and money for executives that otherwise would have to trek around Europe for months to see each of the players individually. That's especially true this season with the inclusion of key Latin American prospects
Lucas Mariano
and
Cristiano Felicio
.
With that in mind, the organizers brought in 14 players who are automatically eligible for the 2014 NBA Draft as 1992-born internationals.
Unlike last year, there are not many sure-fire draft picks in this group.
Viktor Gaddefors
is the one who is best suited for this type of setting, with his excellent physical profile, and a strong showing here could help him solidify his stock as a draft-and-stash option in the latter half of the second round. NBA teams will want to see how much he's improved his skill-level since his solid performance at last year's EuroCamp.
Philipp Neumann
,
Artem Pustovyi
,
Victor Arteaga
and
Moustapha Fall
are interesting big men who could help themselves playing outside of the constricted roles they play with their professional teams, while
Louis Labeyrie
and
Dmitry Kulagin
will have a chance to rebuild their draft stock after struggling for parts of the last two years.
Neumann is one of the most skilled big men you'll find at this camp, while Pustovyi's freakish length will draw long looks from NBA teams as they analyze how his frame and mentality has changed since they last saw him in this setting two years ago. Arteaga had a great season in LEB Gold, and has solid size, mobility and shot-blocking ability to go along with his impressive statistical profile. How will that translate to this setting?
Kulagin's performance on and off the court two years ago marked his downfall as a NBA prospect, so it will be interesting to see how he behaves this time around. He's talented enough to have a strong showing, but will it be too little, too late?
Despite the lack of obvious NBA talent, there's plenty of intrigue here with one-time Oregon commit
Cristiano Felicio
ranking among the players with the most to gain here. Playing last season in Brazil for Flamengo, Felicio was not scouting as heavily during the year as many of his European counterparts, making this a great chance for him to make a strong impression and for scouts to get a feel for his game. He's got terrific physical tools, and could very well help himself in this setting.
This group also includes a pair of players whose automatically eligibility for the 2014 NBA Draft was the result of their decision to sign professional contracts overseas.
Boubacar Moungoro
signed with Fuenlabrada straight out of high school, spending the majority of the year playing for the club's second team in the LEB Silver. Born in 1994, Moungoro still has upside despite being auto-eligible for this year's draft. He had an average season in a low level of competition, but has good physical tools and could draw looks as a potential "three and D" role-player.
Ioannis Papapetrou
is a potential draftee who surprised some with his decision to sign with Greek powerhouse Olympiacos after a solid freshman year at Texas after a strong showing at the FIBA 2013 U20 European Championship. A small forward with good size and a terrific feel for the game, he had a strong season in a small complimentary role in the Euroleague.
The Eurocamp will provide both of these players a now-or-never opportunity to impress NBA decision-makers.
2014 NBA Early-Entry Candidates
In addition to the 1992 born players, there are a number of younger international prospects born from 1993 to 1995 who made themselves eligible to be selected in the 2014 NBA Draft by entering their name on the
NBA Early-Entry candidate list
.
The EuroCamp added 12 of the most interesting prospects from that list to give them a chance to increase their standing and gather feedback on their stock before they must decide whether to remain in the 2014 Draft. Some of the prospects below will elect to withdraw but NBA scouts will continue to follow them for 2014 and beyond.
Vasilije Micic
and
Nemanja Dangubic
are two of the more interesting names on this list, and not just because they're two of the top-10 prospects in the 1993 age group. The pair is skipping out on the Serbian league playoffs to play at the EuroCamp. Their team, Mega Vizura, already qualified for next year's Adriatic League, which was their primary goal this season. Another big goal of theirs is developing young players and helping them gain exposure, which is how they stay viable financially, so it makes sense for them to make this decision, even if it defies the norm.
The third major 2014 Draft prospect on that team,
Nikola Jokic
, will stand by his performance at the Nike Hoop Summit.
Moussa Diagne
,
Marcus Eriksson
, and
Guillem Vives
all played key roles for their teams in the ACB this season and will look to solidify their resumes here.
For Diagne in particular, Treviso could be somewhat of a coming out party. He has the physical tools to do some really interesting things in this setting. This will also be an opportunity for NBA teams to meet with him, learn more about his background, and gain more of a comfort level with him.
Marcus Erikkson is one of the best shooters in the draft, but can he do more than that?
Eleftherios Bochoridis
,
Adin Vrabac
, and
Nedim Buza
are both a few years away from becoming auto-eligible for the draft, but if they can impress an NBA teams who has multiple draft picks and is not be interested in adding more young prospects to their rosters right away, either could earn a "promise" as players that they will stay in Europe for a few more years. Treviso is as good a place as any to identify candidates and conduct these types of transactions.
Latvian big man
Ilja Gromovs
is another player to keep an eye on. He finished the season very well on loan in the playoffs against VEF Riga, and could help himself a lot here with a strong showing. Standing around 6-10, with impressive length and mobility, he's a shot-blocker who is in the draft and looking to impress, as he's not very well known at all, even in European circles.
Draft-Eligible prospects in our Top-100 that seemingly declined the EuroCamp invites and won't be in attendance:
Dante Exum
,
Clint Capela
,
Kristaps Porzingis
,
Walter Tavares
,
Artem Klimenko
,
Damien Inglis
,
Nikola Jokic
,
Rasmus Larsen
(injured),
Ondrej Balvin
,
Maximilian Kleber
(injured)
2014 NBA Draft and Beyond
Many of the best prospects participating in the EuroCamp are not draft-eligible, as they are either too young or didn't feel ready to put their names in just yet. That doesn't mean that NBA scouts won't be watching them, though.
Perhaps the EuroCamp's greatest value lies in getting an early read on promising young players who are just on the verge of becoming important players at the professional level, something that holds true for both the NBA and European talent evaluators in attendance.
Some of the following 12 prospects have already established strong reputations for themselves, while others are completely unknown:
This year's Eurocamp has a few very young prospects scouts will be keeping a close eye on.
Dragan Bender
is considered one of the top 1997 prospects in Europe and wouldn't be able to declare himself eligible for the NBA Draft until 2016. It will be interesting to see how he fares here as the youngest player in attendance, especially compared with another very highly touted 1997-born prospect in
Thon Maker
.
Ludde Hakanson
and
Zoran Nikolic
are in the same boat, though not quite as highly regarded.
Other prospects that scouts will be watching include Russian guard
Mikhail Kulagin
, Lithuanian swingman
Marius Grigonis
(coming off a great year in the Spanish LEB Gold [2nd division]), and Bosnian power forward
Emir Sulejmanovic
.
Coaching Staff
Kenny Atkinson – Atlanta Hawks
Bill Bayno - Toronto Raptors (adidas Eurocamp Coaching Director)
Kaleb Canales – Dallas Mavericks
Maurice Cheeks
Joe Connelly – Washington Wizards
Alex Dzikic – Krka Novo Mesto (Slovenia)
Chris Finch – Houston Rockets
Armond Hill
– Boston Celtics
Lionel Hollins
Popeye Jones
– Indiana Pacers
Trajan Langdon
– San Antonio Spurs
Mike Longabardi – Phoenix Suns
Nick Nurse – Toronto Raptors
Maz Trakh – Oklahoma City Thunder
Special Guests
NBA players and adidas representatives
Ricky Rubio
(Minnesota Timberwolves),
Nicolas Batum
(Portland Trail Blazers),
Danilo Gallinari
(Denver Nuggets),
Luigi Datome
(Detroit Pistons)
Vlade Divac
(NBA legend) and Aleksandar Djordjevic (Serbia National Team head coach) will also be present.